34,400cts medium and higher quality rubies exported and independent experts appointed to produce a maiden JORC Resource at Montepuez Ruby Project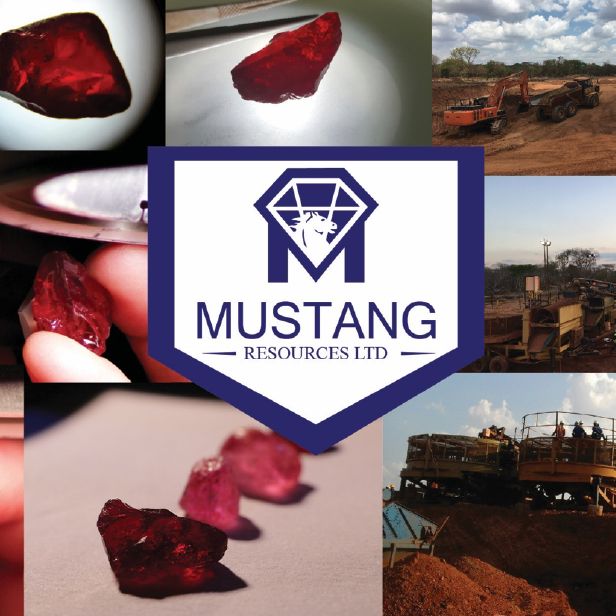 Montepuez Ruby Project Operational Update
Sydney, May 24, 2018 AEST (ABN Newswire) - Mustang Resources (

ASX:MUS
) (

OTCMKTS:MTTGF
) is pleased to announce that it is exporting a further 34,400 carats of medium and higher grade rubies to its sales office in Thailand. The rubies were recovered as part of Mustang's bulk sampling operations at its Montepuez project in Mozambique from January to May 2018.
This parcel includes 10,238cts recovered from the processing of 22,180 tonnes at 46 cpht from the recently discovered Block B at Montepuez.
The whole parcel will be graded and is planned to be sold in Thailand as part of ongoing market development and test sales activities.
Key Points
- Mustang currently exporting a further 34,400cts of medium and higher quality rubies to Thailand from its Montepuez project
- Exported rubies planned to be sold through the Thailand office as part of the Company's ongoing market development and test sales campaign
- Newly discovered "Block B" delivered 10,238cts from the processing of 22,180 tonnes at a grade of 46 carats per hundred tonnes (cpht) since April 2018
- Independent experts Sound Mining Solutions appointed to undertake Resource modelling in preparation for a maiden JORC Resource in the December quarter 2018
- Pitting and exploration activities increased to define further extensions of secondary ruby deposits
- Plant upgrades scheduled to start in June 2018 to double processing capacity through the installation of an additional rotary pan, which is expected to reduce processing costs and total cost per carat
- Subject to a favourable maiden JORC Resource, exploration results and economic evaluation, Mustang aims to start commercial-scale mining operations in the first half of 2019
- Delegation from Thai Department of Commerce inspected the project in Mozambique and gave their full support to Mustang and future auctions in Thailand.
Mustang is also pleased to announce that it has appointed independent consultants Sound Mining Services (SMS) based in South Africa to start geological and resource modelling based on the comprehensive exploration and bulk sampling to date.
SMS will model and interpret the data with the aim of establishing a maiden JORC Resource for the Montepuez Ruby project in the December quarter of 2018.
Mustang has been increasing it exploration and pitting activities to provide additional data for the Resource and geological modelling and to define further extensions of the various ruby-bearing gravels on its licence areas.
Montepuez Ruby Project Development Plan and Milestones
The Company has now scheduled significant capacity upgrades for its ruby processing plant. These will start in June 2018. The upgrades will double the plant's processing capacity and are expected to significantly reduce processing costs (and therefore total costs) per carat through the installation of an additional rotary pan.
Following completion of these upgrades and the successful completion of the current exploration phase and subject to a favourable maiden JORC Resource, further exploration results and economic evaluation, the Company is targeting to commence commercial-scale mining operations in the first half of 2019 in accordance with the terms and conditions of the mining concessions.
Mustang Managing Director Dr. Bernard Olivier said: "We are pleased to report continuing progress on the development of the Montepuez Ruby Project. Our revised exploration and development strategy is now well on track.
"We look forward to completing the maiden JORC Resource and economic viability work later this year which, along with the planned plant capacity increase, we hope will pave the way for commercial-scale production operations to start in the first half of next year."
A delegation of 15 representatives from the Thai Department of Commerce visited Mustang's Montepuez Ruby Project. The Permanent Secretary, the Thai Ambassador to Mozambique and the Vice-President of the Thai Gem and Jewelry Traders Association were members of the delegation, together with other senior individuals from the gem industry in Thailand.
The Company was very pleased that the delegation was impressed by the ruby project and that it considers the project is run by Mustang on a highly ethical basis and is 'world-class' in all respects. The Thai Permanent Secretary of the Department of Commerce, Mrs Nuntawan Sakuntanaga confirmed that the Thai Government is very supportive of the project and of Mustang seeking relevant official approvals to conduct regular ruby auctions in Thailand in 2019.
To view figures, please visit:
http://abnnewswire.net/lnk/G0B2806E
About Mustang Resources Ltd

Listed on the Australian Securities Exchange, Mustang Resources Limited (ASX:MUS) (FRA:GGY) is an emerging gemstone developer and producer focused on the near-term development of the highly prospective Montepuez Ruby Project in northern Mozambique.
The Montepuez Ruby Project consists of three licences and now one mining concession covering 19,300 hectares directly adjacent to the world's largest ruby deposit discovered by Gemfields PLC in 2012. Since supply of rubies from sources outside Mozambique has become fractured and unreliable, Mustang stands to capitalise on the current high demand around the world for ethically produced rubies by becoming a reliable, consistent supplier of high-quality rubies.
The Company is currently fast-tracking its work program on the Montepuez Ruby Project with extensive secondary deposits discovered and low-cost bulk sampling well underway. First rough ruby sales are scheduled for 27 to 30 October 2017 in Port Louis, Republic of Mauritius under a closed bid tender of more than 350,000 cts gem quality rubies.
Visit the Mustang website at http://www.mustangresources.com.au for more information.
Managing Director:
Bernard Olivier
E: bernard@mustangresources.com.au
M: +61-4-08948-182
T: +27-66-4702-979

Media & Investor Relations:
Paul Armstrong
E: paul@readcorporate.com.au
T: +61-8-9388-1474
Related CompaniesMustang Resources Ltd