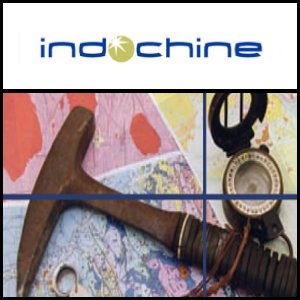 Half Yearly Report and Accounts
Sydney, Feb 29, 2012 AEST (ABN Newswire) - Indochine Mining Limited (

ASX:IDC
) directors are pleased to submit the financial report of the consolidated group for the half-year ended 31 December 2011. In order to comply with the provisions of the Corporations Act 2001, the Directors report as follows:
Directors
The names of Directors who held office during or since the end of the interim and until the date of this report are noted below. Directors were in office for this entire period unless otherwise stated.
Ian W Ross
Gavan H Farley
Stephen G Gemell
John T Shaw (Appointed: 5 December 2011)
Review of Operations
Indochine Mining Limited (IDC), closed out the acquisition of Mt Kare EL 1093 in Papua New Guinea ("PNG") through its 100% owned subsidiary Summit Development Limited ("Summit") by satisfying all the conditions precedent of the transaction and has now embarked on a concerted drilling programme leading to a Pre- Feasibility Study (PFS) and is continuing with the exploration programme in Cambodia.
On a consolidated basis, the Company made a loss of $1,000,000 for the period. Net assets increased from $41,858,000 on 30 June 2011 to $59,008,000 on 31 December 2011.
Mt Kare - Papua New Guinea
George Niumataiwalu, a prominent mining engineer, was appointed as Country Manager Papua New Guinea and Project Director, to drive the development of the Mt Kare Project. George brings a wealth of experience in PNG through his previous assignments as Country Manager and head of Morobe Consolidated Goldfields Ltd, the owners of Hidden Valley and Wafi-Golpu projects, which were successfully advanced to full feasibility study. In addition, the Company was also successful in assembling an experienced technical development team.
A JORC - compliant resource statement was released during December 2011. The new resource statement confirmed the previously estimated size and tenor of gold/silver mineralisation at Mt Kare. The total Indicated and Inferred Mineral Resources were estimated at 2.1 million ounces gold equivalent (or 1.8 million ounces gold and 20 million ounces silver) in 28.3 million tonnes at 2.3 g/t gold equivalent or 1.9 g/t and 22 g/t silver. A cut off grade of 0.5g/t was used.
Three drill rigs are currently operating as part of a PFS stage drilling programme of up to 10,000m to improve and increase the current resource. Large diameter drill core is also being collected, as part of the first phase of ~2,000 metre drilling for metallurgical test work as part of the PFS, scheduled for completion in August 2012. These drill holes will provide additional "value-adding" with new information on hydrology and geotechnical data and improve the quality of past drill data as part of the PFS.
A new camp was completed in January 2012. This has provided much needed quality accommodation for the site staff, drilling and helicopter crews. Accordingly, drilling, helicopter and camp support has improved markedly, as have Community Affairs issues.
Cambodia
Indochine holds the largest package of exploration leases in Cambodia in two large project areas - Kratie and Ratanakiri - spanning approximately 4000km2. Most of these (14 leases) were renewed during the September quarter for a further two years of exploration. Until recently Cambodia had undergone very limited modern exploration. As widely reported in the media, this year the wet season was substantially larger in Cambodia and Thailand, which hampered exploration in the half year.
Kratie
Recently a substantial rockchip sampling (90 samples) and mapping program was completed of outcropping quartz veins which occur in 5 areas, partly identified by new areas of prospecting activity. A summary of the mapping and assay results will be released soon. The exploration was conducted after the wet season. Artisanal mining areas continue to expand in the Kratie area which indicates the potential for a significant source of gold mineralisation in the area.
Ratanakiri
At Ratanakiri, in northern Cambodia, on the border with Laos and Vietnam, field crews have been conducting detailed follow-up on the best three gold-copper anomalies. The Ratanakiri area hosts geological settings favourable for large-scale island-arc style copper-gold deposits and gold veins. Two targets, Pong Peay and Tapok, in the south-west and south-east respectively of the Ratanakiri leases were mapped and rock chip sampled, with a detailed soil grid completed over Tapok (250 samples). Results are awaited.
Board Appointments
Mr John Shaw was appointed to the Indochine Board as a Non-Executive Director. John has over 40 years' experience as a geologist, operating manager, senior executive and independent Non-Executive Director of mining enterprises in diverse cultural and political regimes in North America, Australia, Papua New Guinea, Africa and South East Asia. He is currently a Non-Executive Director of Discovery Metals Limited, Quadra Australia Pty Ltd and IAMGOLD Corporation.
John's experience as Vice-President of Australian Operations of Placer Pacific and Managing Director of Kidston Gold Mines, during which time he was involved in setting-up and organising six PNG and Australian mines, including as a member of the management committee of the successful Porgera Joint Venture in PNG, adjacent to the Mt Kare project, will be of great benefit in driving forward the Mt Kare project.
Other Activities and Company Strategy
The Company continues to focus on the exploration of its projects with the aim of finding and developing world class deposits. The Company continues to monitor resource exploration opportunities both locally and internationally.
Auditor's Independence Declaration
Section 307C of the Corporations Act 2001 requires our auditors, RSM Bird Cameron, to provide the Directors of the Company with an Independence Declaration in relation to the review of the interim financial report. This Independence Declaration is set out on page 12 and forms part of this Directors' Report for the half-year ended 31 December 2011.
Rounding off of amounts
The company is a company of the kind referred to in ASIC Class Order 98/100, dated 10 July 1998, and in accordance with that Class Order amounts in the directors' report and the half-year financial report are rounded off to the nearest thousand dollars, unless otherwise indicated.
This report is signed in accordance with a resolution of the Board of Directors made pursuant to S.306(3) of the Corporations Act 2001.
To view the complete Indochine Half Yearly Report, please refer to the following link below:
http://media.abnnewswire.net/media/en/docs/ASX-IDC-669302.pdf
About Indochine Mining Limited
Indochine Mining Limited (ASX:IDC) is a gold-copper exploration and development company. In Cambodia, it has the largest mining property holding in a country that has had very limited modern exploration, and is within a region known for world-class gold and copper deposits.
In Papua New Guinea (PNG), also known for large gold and copper deposits, Indochine holds an option over a major gold resource at Mt Kare. In Laos, potential exploration areas are being evaluated.

Related CompaniesIndochine Mining Limited