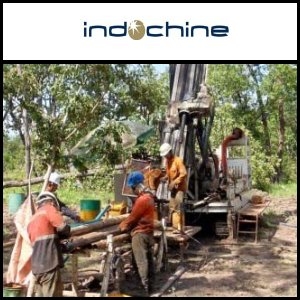 Indochine Mining Limited (ASX:IDC) Announces Initial JORC Compliant 2.1 Million Ounce Gold Equivalent Resource at Mt Kare Gold/Silver Deposit, PNG
Sydney, Dec 19, 2011 AEST (ABN Newswire) - Indochine Mining Limited (

ASX:IDC
) announces its initial JORC-compliant Mineral Resource Statement for the Mt Kare Gold/Silver Deposit within EL1093, in the highlands of Papua New Guinea (PNG). This Statement achieves a major milestone for the company on the Mt Kare deposit.
The total Indicated and Inferred Mineral Resources as at December 2011 are estimated as 28.3 million tonnes at 1.9 grams per tonne of gold (g/t Au) and 22.5 g/t silver (Ag) containing 1.76 million ounces of gold and 20.40 million ounces of silver or a grade of 2.3 g/t gold equivalent (AuEq) for 2.13 million ounces of gold equivalent at a 0.5 g/t gold cutoff grade.
The new Resource Statement has confirmed the previously estimated size and tenor of gold/silver mineralisation at Mt Kare, contained in Snowden's Canadian NI 43-101 resource estimate.
Mineral Resource Statement, Mt Kare Gold/Silver Project, December 2011
The 2011 Mt Kare Resource Statement follows the guidelines of the Australasian Code for Reporting of Exploration Results, Mineral Resources and Ore Reserves, the JORC Code, 2004 Edition, and updates an earlier estimate prepared by Snowden Mining Industry Consultants under Canadian National Instrument NI 43-101 in August 2007. This previous publicly reported Foreign Resource Statement was released in March 2011 under a waiver to ASX Listing Rule 5.6. The 2007 Foreign Resource Statement reported combined Indicated and Inferred Resources of 1.7 million ounces of gold in 24.5 million tonnes at 2.1 grams per tonne gold and 15 grams/tonne silver, or 1.9 million ounces of gold equivalent, at a 1 g/t gold-equivalent lower cut-off grade.
For comparison purposes, a report was generated from the new resource model using the same 1 g/t gold-equivalent lower cut-off grade, which produced combined Indicated and Inferred Resources of 1.7 million ounces of gold in 23.8 million tonnes at 2.2 grams per tonne gold and 26.4 grams/tonne silver, or 2.0 million ounces of gold equivalent.
The 2011 Resource Estimate is based on information as of August 2011, with the last drillhole data added in 2007. A total of 365 holes are included in the new estimate, including 25 holes not utilised in the 2007 estimate. All holes were drilled by previous owners and explorers over an 18 year period and the drill pattern now approximates a 30m x 30m grid pattern. The assay data, geological logging and interpretations from previous workers were used to generate a new resource model. This more robust approach to the modelling process resulted in higher grades and slightly less tonnes. Total combined resources in the new resource statement increase in comparison to the Foreign Resource.
The new Resource Estimate is classified on data density, data quality, and confidence in the geological interpretation and grade interpolation, which has led to a reduction in the amount of material classified as Indicated Mineral Resources when compared to the 2007 estimate. Approximately one third of the inferred material (containing 300-350,000 ounces gold) has been identified as adequately drilled to be considered in the Indicated category. It is expected that ongoing data validation and additional data collection already underway, will improve understanding and alleviate the risk related to confidence in aspects of the data quality. An improvement in the classification may be achieved with new data.
Geological Model
Gold and silver mineralisation is located in structurally controlled settings hosted in folded Oligocene calcareous sandstones and siltstones which are thrust faulted against older mudstones to the west and faulted against limestone to the east. The structural setting forms part of a broad north-east striking transfer fault zone which extends through to the Porgera deposit, 15km to the north-east.
Two stages of gold and silver mineralisation are identified:
Stage 1 mineralisation: Sulphide-rich, northerly striking, steeply dipping veins formed in extensional fractures adjacent to controlling structures;
Stage 2 mineralisation: Localised Quartz-Pyrite-Roscoelite veins overprinting stage 1 veins.
Five bodies (or domains) of mineralisation are recognised and modelled separately for grade interpolation:
The Western Roscoelite Zone (WRZ): predominantly quartz-roscoelite mineralisation, located along a major north striking fault, crosscut by north-west striking thrusts, which contains 52% of the interpolated mineralisation.
The Black Zone (BZ): this mineralisation is located on the faulted contact with limestone and contains 12% of the interpolated mineralisation.
The C9 Zone (C9): this mineralisation occurs in a pipe-like sub-vertical breccia and is located between the WRZ and BZ and contains 15% of the interpolated mineralisation.
The Central Zone (CZ): this mineralisation appears to be focussed at the intersection of a significant N-S and NNE striking structures, but is less well drilled and contains 4% of the interpolated mineralisation.
The Upper Zone (Upper): this mineralisation occurs above the recognised fresh mineralised zones with confidence in the zone affected by past surface workings; it contains 16% of the interpolated mineralisation at Mt Kare.
The mineralisation is modelled over an area of 650m x 1000m to a depth of 350m and is open at depth in the C9 Zone and at depth and along strike in the Central Zone. Potential exists for "blind" faulted blocks of mineralisation associated with the WRZ and associated with repetitions of the structural setting on faulted offsets along strike and at depth.
The Mt Kare Resource Statement, November 2011, (Hackman & Associates) was the basis for this public release and is available from Indochine Mining Limited by shareholder request.
For the complete announcement including tables and figures, please view the following link:
http://media.abnnewswire.net/media/en/docs/71051-ASX-IDC-661504.pdf
About Indochine Mining Limited
Indochine Mining Limited (ASX:IDC) is a gold-copper exploration and development company. In Cambodia, it has the largest mining property holding in a country that has had very limited modern exploration, and is within a region known for world-class gold and copper deposits.
In Papua New Guinea (PNG), also known for large gold and copper deposits, Indochine holds an option over a major gold resource at Mt Kare. In Laos, potential exploration areas are being evaluated.

Stephen Promnitz
Chief Executive Officer
Indochine Mining Limited
Related CompaniesIndochine Mining Limited