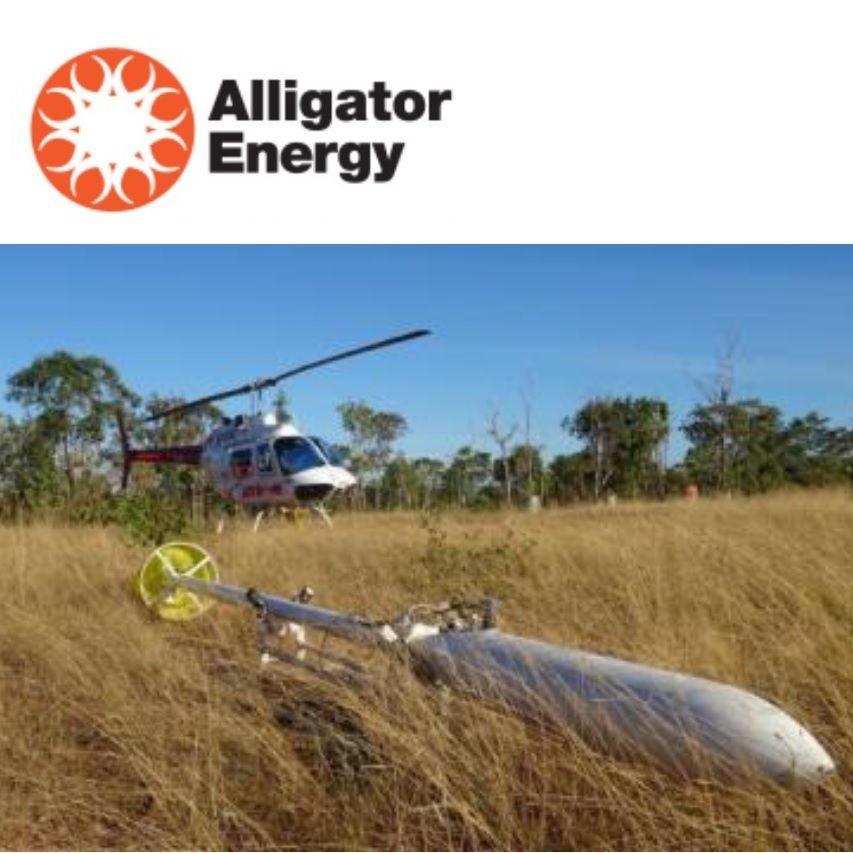 Arnhem Land TCC4 Project Drilling Update
Brisbane, Oct 10, 2018 AEST (ABN Newswire) - Alligator Energy Limited (

ASX:AGE
) (Alligator or the Company) advises that it has completed its exploration drilling program at the TCC4 uranium prospect in the Alligator Rivers Uranium Province (ARUP) in Arnhem Land, Northern Territory. This work is in support of AGE's strategy to discover 100 Mlbs of uranium in the ARUP region.
Highlights
- Seven holes were completed to depths of between 200 and 400 metres over a strike length of 1600 metres (refer Figure 1 in link below).
- This is the first drilling in a very prospective 4 by 2km undercover target area and has been highly encouraging, and will provide valuable information for future targeting.
- The Cahill Formation (host formation for Ranger and Jabiluka) was intersected and drilled as anticipated.
- The unconformity between the overlying sandstone and the basement Cahill Formation was intersected as predicted, with depths varying from 108 metres to 209 metres.
- Significant alteration of host rocks was found in five holes, this is similar alteration to that found at known uranium deposits of the province.
- It is believed this alteration successfully reflects the SAM geophysics conductivity results.
- Alteration is located in both the Cahill and the overlying sandstone.
- While no significant intercepts of uranium were found based on scintillometer readings, selected assays are being sent for analysis and will be reported when complete.
There is now significant work to be undertaken over the coming weeks in finalising core logging and assaying, along with stratigraphic and lithological interpretation. This will then be collated into Alligator's geological database to allow re-interpretation of the geology and targeting based on these results.
Alligator has engaged one of the worlds most experienced uranium geologists to assist our exploration team in this task. The geologist has extensive global uranium experience and has been successful in exploration in both the ARUP, and the Athabasca basin in Canada.
AGE's CEO Greg Hall commented today: "The first drilling at the TCC4 prospect has, we believe, proved many aspects of our geophysics and geochemical targeting, and has provided excellent first in-ground geological information. We will be refining our models based around this for future planned work. While no immediate significant uranium has been identified based on scintillometer readings, we have covered only part of our target area. It must be remembered that even drilling 100m away from the Ranger deposits would have found no anomalous uranium mineralisation.
TCC4 uranium prospect drilling summary
Alligator advised on 4 September 2018 the commencement of its Alligator Rivers Uranium Province (ARUP) drilling program, targeting its advanced TCC4 uranium prospect.
Drilling at the TCC4 prospect has been conducted along four target lines across 1,600 metres at the north eastern end of a 4,000 metre long zone of coincident SAM geophysical and radiogenic pathfinder surface anomalies. This represents 40% of the anomalous strike length.
Seven holes for a total of 2138m were completed between 1st September and the 10th October (refer Table 1 in link below). Being the first holes targeting concealed uranium deposits under sandstone cover using Alligator's combined proprietary geochemical sampling and geophysical methods, results have proved highly encouraging.
From the seven holes drilled, five have intersected key target features, including:
- Graphitic schists of the Cahill formation.
- Brecciated basement structures not reflected in sandstone cover.
- Chlorite and haematite alteration in both basement and overlying sandstone cover.
- Garnetiferous schists comparable to Mid-Cahill found proximal to Ranger and Jabiluka.
- Carbonate veins at depth believed to be re-mobilised from deeper Lower Cahill formation.
These key features indicate geophysical and stratigraphic targeting has been successful with Lower Cahill indicated further to the north-west. The drill rig and drilling crew have now commenced demobilisation.
Over the coming weeks, ongoing geological interpretation and modelling will be completed to further refine future targeting methods and the interpreted location of Lower Cahill formation. Drill samples will be assayed for geochemical pathfinders, including radiogenic isotopes. Values will be modelled downhole and in conjunction with existing surface samples to further vector the source(s) of the TCC4 anomaly. Select samples will also be sent to NTGS for Hylogger analysis to identify potential hydrothermal clay alteration halos similar to those observed above the Angularli deposit, also in the ARUP. Once alteration, geochemistry and geology from this drilling have been modelled, it will be utilised to direct follow up drilling where favourable Lower Cahill stratigraphy is interpreted to intersect fertile structures proximal to the unconformity.
To view tables and figures, please visit:
http://abnnewswire.net/lnk/4612O251
About Alligator Energy Ltd

Alligator Energy Ltd (ASX:AGE) is an Australian, ASX-listed, exploration company focused on uranium and energy related minerals, principally cobalt-nickel.
Alligator's Directors have significant experience in the exploration, development and operations of both uranium and nickel projects (both laterites and sulphides).

Mr Greg Hall
Executive Director and CEO
Alligator Energy Ltd
Email: gh@alligatorenergy.com.au

Mr Mike Meintjes
Company Secretary
Alligator Energy Ltd
Email: mm@alligatorenergy.com.au
Related CompaniesAlligator Energy Ltd