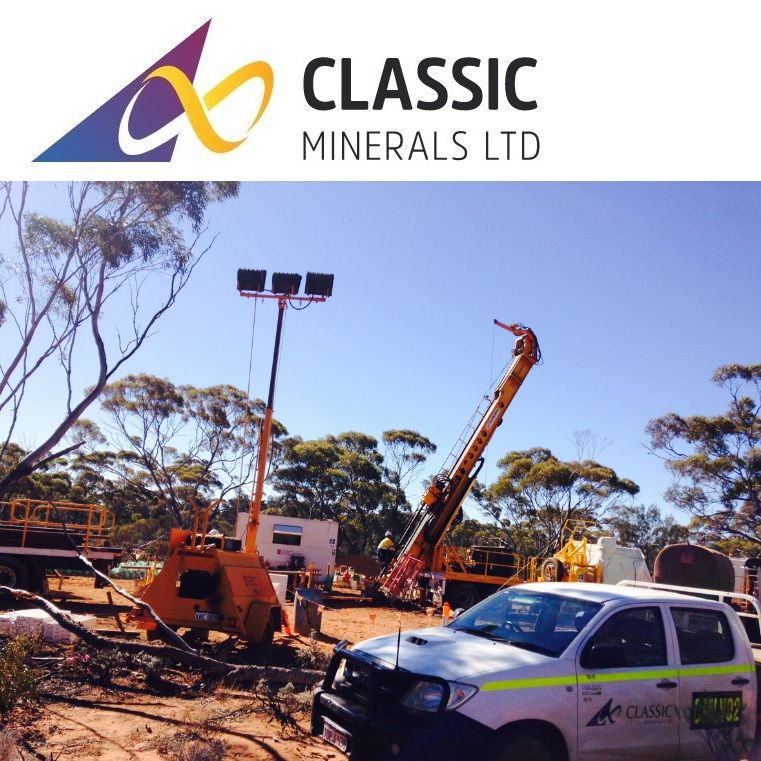 Fraser Range Update - High Grade Surface Cobalt Mineralisation
Perth, April 18, 2018 AEST (ABN Newswire) - WA-focused gold exploration and development company Classic Minerals Limited (

ASX:CLZ
) ("Classic", or "the Company") is pleased to provide an update on its Fraser Range Ni-Cu project in WA.
Highlights:
- Contiguous Cobalt surface mineralisation at Rubys Reward
- Further data review underway with onsite mapping and additional sampling to occur following completion of current FGP drilling program
- Aircore Drilling planned once final Govt approvals received
1. INTRODUCTION
Although Classic has been primarily focused on gold exploration at its flagship Forrestania Gold Project ("FGP"), the Company is pleased to announce that a recent review of its Fraser Range dataset has identified excellent cobalt anomalism at Rubys Reward including a reading of up to 1,399ppm Co.
Furthermore, the Company notes increased interest in cobalt exploration in the Fraser Range with the proposed IPO of Mark Creasy's Galileo Mining Ltd.
Classic is planning additional sampling and shallow aircore drilling in the near future to test the Cobalt mineralisation at Rubys Reward.
Classic CEO Dean Goodwin said:
Classic's Fraser Range project is an exciting asset with proven Ni-Cu mineralisation discovered by the Company at Mammoth and Alpha and apparent prospectivity for Cobalt and other minerals.
After reviewing the company's data and historical reports, it became apparent that the Rubys Reward prospect has cobalt potential worth following up. After plotting rock chip and soil sampling data, we could see a clear trend of anomalous cobalt mineralisation trending S/SW within our Tenement.
We are planning a field trip in the near term to collect further samples and to carry out some geological mapping of the prospect, with an air core drill program planned as soon as necessary approvals are received from the Govt.
Our focus is on FGP but Fraser Range remains an important asset in the stable and we look forward to releasing the results of the sampling and Air Core drill results in due course.
2. CLASSICS FRASER RANGE PROJECT - A HOTSPOT FOR COBALT EXPLORATION
The following map shows Classic's Fraser Range tenure in relation to tenements held or applied for by Mark Creasy controlled entities or related parties. It is noteworthy that famed prospector Mark Creasy has recently signalled his interest in exploring for Cobalt in the Fraser Range via the upcoming float of Galileo Mining Ltd. Classic views the proximity of its tenure in relation to Creasy Group holdings as encouraging.
3. RUBYS REWARD - SIGNIFICANT GRADE COBALT AT SURFACE
Rubys Reward is located on Classic's wholly owned E28/1904 and lies ~15km south-west of the Company's mammoth nickel deposit. E28/1904 is located within the Albany-Fraser Orogeny on the margin of the Yilgarn Craton. Occasional outcrop occurs with most of the tenement under shallow cover. From the work completed by the GSWA, the tenement group is interpreted to be underlain by the Fraser Zone and the Nornalup Zone. Previous exploration relevant to project development in the tenement area included work by Newmont (base metals exploration, 1965-1972), Growth Resources (platinum-nickel-chromite exploration, 1988 - 1990) and Geographe Resources Ltd/Homestake Gold of Australia Ltd (Fraser Range gold/base metals exploration, 1997-2001).
The potential for new discoveries remains high, as past advanced exploration campaigns have been very limited.
In 2012, Classic carried out a rock chip sample program at various prospects within the tenement, including Rubys Reward. At the time the company's focus was on nickel and copper mineralisation. Once the rock chip samples were re-plotted with cobalt readings, a clear trend emerged as shown in the plan below: (see link below)
With the price of Cobalt rising steadily as demand increases, as well as the increased interest from other explorers in the area, the Company is of the opinion that the rock chips demonstrate potential for large scale economic mineralisation and warrant further follow up.
4. NEXT STEPS AT FRASER RANGE
A closed spaced geochemical sampling program will be undertaken at Rubys Reward during the current quarter. Classic will also undertake geological mapping and reconnaissance. Following the interpretation of this data and other data sources, a first pass air core drilling program will be undertaken, most likely to occur in the June quarter.
Classic will continue to review relevant technical and historical data and will keep the market informed of developments.
To view tables and figures, please visit:
http://abnnewswire.net/lnk/93DP83OG
About Classic Minerals Ltd

Classic Minerals Ltd (ASX:CLZ) is an exploration and development company focused on gold deposits in Western Australia's famous Goldfields region. In March 2017, Classic acquired the Forrestania Gold Project, with seven tenements stretching across 450km2. Strategically located in a very prospective region, the FGP is an underexplored package surrounded by multimillion ounce deposits such as Bounty (2Moz) and Yilgarn Star (1.5Moz).

Classic Minerals Ltd
T: +61-8-6305-0221
E: contact@classicminerals.com.au
WWW: www.classicminerals.com.au
Related CompaniesClassic Minerals Ltd