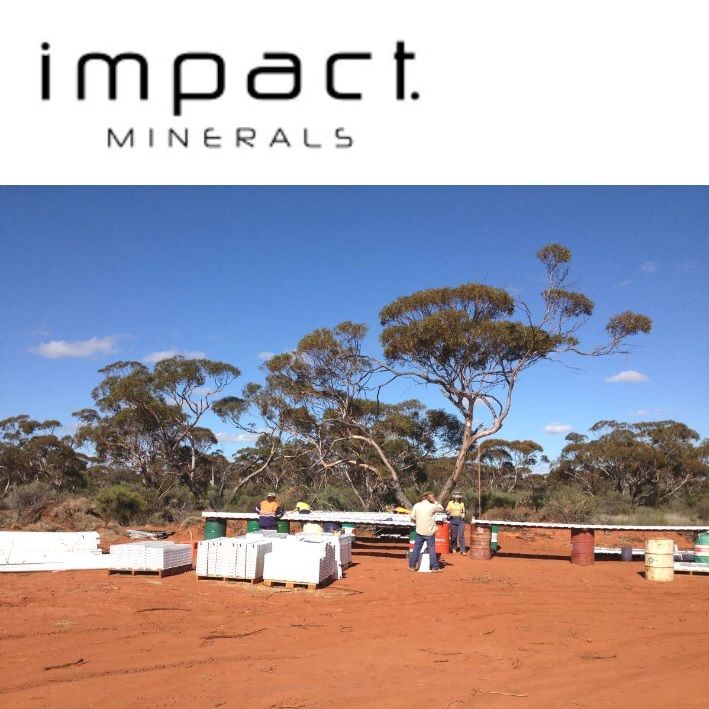 Further Evidence of Large Mineralised System at Silica Hill
Perth, Mar 28, 2018 AEST (ABN Newswire) - New drill assays and detailed studies on core from the Silica Hill Prospect at Impact Minerals Limited's (

ASX:IPT
) 100% owned Commonwealth Project 100 km north of Orange in New South Wales, further demonstrate the large scale and high grade nature of the mineralised system in the area.
Managing Director Dr Mike Jones said "Following the recent discovery of high grade gold and very high grade silver veins at Silica Hill, these new results are a further breakthrough for Impact as it demonstrates the system extends over an area of at least 500 metres by 500 metres in dimension and also to considerable depth. We are also recognising different units within the Silica Hill rhyolite that are an important control on the mineralisation and may also be the upper parts of a deep rooted intrusion that could be mineralised over a significant vertical extent. This augers well for our 2018 drill programme.
CMIPT072
Hole CMIPT72 is the eastern most hole drilled thus far at Impact's emerging high grade gold-silver discovery at Silica Hill (see Figure 1 in link below). The hole intersected two zones of strong silica-sulphide alteration with anomalous gold and silver values over a combined thickness of more than 200 metres down hole including a high grade gold and silver vein within the upper zone indicating significant potential for more veins nearby, in particular to the south (see Figure 1 in link below).
The upper zone in Hole 72 returned:
- 46 metres at 0.04 g/t gold and 5 g/t silver from 200 metres down hole including
- 0.4 metres at 2.5 g/t gold and 327 g/t silver from 257.2 metres (the narrow vein).
The lower zone returned 67 metres at 0.3 g/t gold and 1 g/t silver from 402 metres down hole.
Change in orientation of mineralised trend
In addition detailed studies on drill core show that the two east-west trending mineralised structures at Silica Hill become more north west-south east orientated to the east and that the Silica Hill rhyolite is more extensive at depth to the south than previously recognised (see Figure 1 in link below).
Accordingly Hole 72 has been drilled at the northern edge of these particular structures and the structures are open to the south east and at depth.
The southern mineralised structure has good grade and geological continuity over a strike extent of at least 150 metres and recently returned high grade gold and very high grade silver results within the north west trendng part of the zone. For example Hole CMIPT077 (see Figure 1 in link below) returned an intercept of:
- 22.5 m at 1.7 g/t gold and 276 g/t silver from 166.7 metres down hole;
including 0.3 m at 1.8 g/t gold and 4200 g/t (135 ounces or 0.42%) silver from 174.4 metres;
also including 0.8 m at 13.6 g/t gold and 40 g/t silver from 187.7 metres.
This structure has not been drilled at depth nor along trend to the east (see announcement 13 February 2018 February and Figure 1 in link below).
The northern mineralised zone whilst of lower grade also demonstrates very good continuity and recently returned a very thick intercept of:
- 117 metres at 0.3 g/t gold and 11 g/t silver from 74 metres down hole.
This is the thickest zone of mineralisation found in the northern zone to date and also suggests that, similar to the southern zone, that lower grade mineralisation is increasing in thickness and grade at depth and to the east. This is very encouraging and further drilling is also warranted here.
Recognition of new porphyry unit
The change in orientation of the mineralised trend is also associated with a chemically distinct porphyry unit newly recognised in detailed geochemical data routinely collected by Impact (Type 1 Porphyry, see Figure 1 in link below). This porphyry unit separates the two mineralised structures at Silica Hill and is an important control on the geometry of the ore shoots (see Figure 1 in link below).
Of note, the Type 1 porphyry is similar in composition to the porphyry unit at the Commonwealth deposit 150 metres to the west and comprising a gold-silver rich base metal massive sulphide lens and veins and disseminations of gold and silver mineralisation.
This suggests a common link between the two mineralised areas and importantly indicates that this new porphyry unit could be the top of a pipe or sheet like feature that extends to some depth. This is a key feature of the model previously proposed by Impact for the area which suggests the entire system may be underlain and be driven by a porphyry copper-gold similar to Cadia-Ridgeway and North Parkes (see announcement 31 July 2017 and Figure 2 in link below).
Next Steps
The robust and significant results delivered from Silica Hill from the 2017 drill programme continue to demonstrate the potential for bulk mining and to significantly increase the resources at the Commonwealth Project, which currently stand at 720,000 tonnes at 2.8 g/t gold, 48 g/t silver, 1.5% zinc and 0.6% lead (see announcement 19 February 2015).
Large areas of this system still remain untested by drilling and it is evident that there is signficant exploration upside in the area (see Figure 1 in link below). The nature of the mineralisation at Silica Hill with the extensive visible silver minerals proustite and pyrargyrite is unique in Australia and a detailed review and synthesis is in progress of all the drill hole data including assays, hand held XRF data and geological and structural data with the aim of identifying further controls on the mineralisation.
This work has been used to identify the next round of drill targets with the next drill programme to commence as soon as practicable. Statutory approvals for new drill pads have been lodged and negotiations are in progress to extend the Land Access Agreement with the main land holder at Commonwealth-Silica Hill. Further timing will be annnounced as soon as possible.
A resource update will be completed following the completion of the next drill programme in Q3-Q4 this year.
In addition further results from the nearby Welcome Jack Trend have recently been received and are being interpreted.
Also, in the past two months significant field work has been completed on cobalt-copper-gold and silver-lead-zinc prospects at the Broken Hill Project and also on the company's Clermont gold project in Queensland. Rock chip assays from this work are due within the next two to three weeks.
To view figures, please visit:
http://abnnewswire.net/lnk/V55154LC
About Impact Minerals Limited

Impact Minerals Limited (ASX:IPT) is an exploration company listed on the ASX in November 2006. The Company manages extensive tenement holdings (>2,000 km2) within Australia featuring significant potential for high-grade mineral deposits of gold, silver, lead, zinc, copper, nickel and PGM's. The Directors of the Company have extensive experience in mineral exploration and a strong history of exploration success, business development and corporate management. Impact Minerals intends to build wealth for its shareholders through a vigorous campaign of project generation and evaluation with a view towards profitable mining operations. Impact Minerals intends to build wealth for its shareholders through a vigorous campaign of project generation and evaluation with a view towards profitable mining operations.

Dr Michael G Jones
Managing Director
Impact Minerals Limited
T: +61-8-6454-6666
E: info@impactminerals.com.au
Related CompaniesImpact Minerals Limited