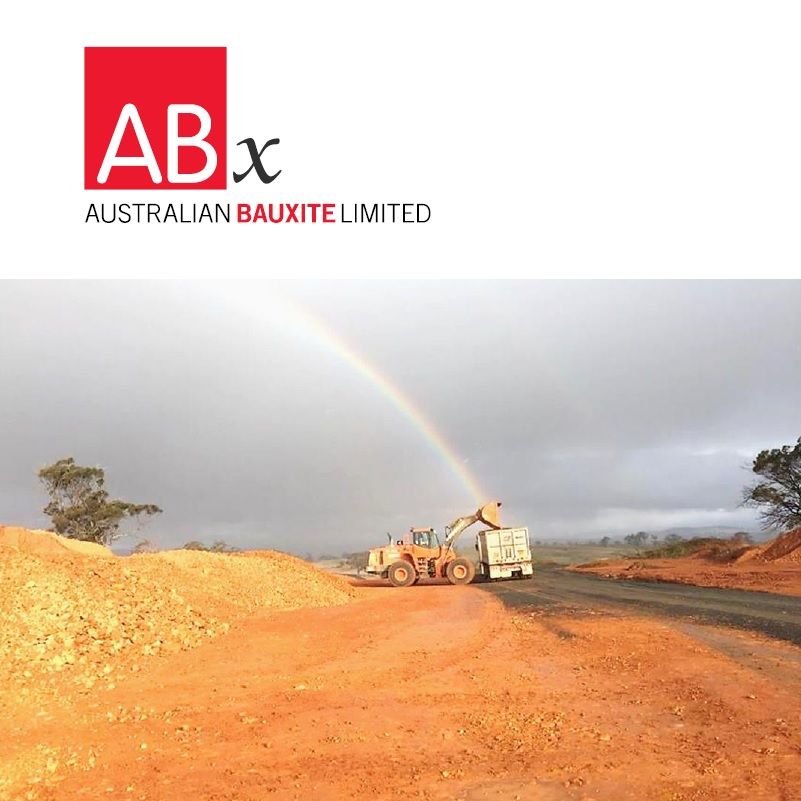 Quarterly Report and Activity Statement
Sydney, Oct 31, 2017 AEST (ABN Newswire) - Australian Bauxite Ltd (

ASX:ABX
) provides the Company's Quarterly Report and Activity Statement for three months to 30 September 2017.
Corporate
- Current group available cash at the end of the quarter was $2.42 million and is currently $1.73 million after payment of product transport and port costs.
- ABx has lines of credit for working capital if required and has no current plans for capital raisings.
Bauxite Refining Technology
- ABx has announced that it has entered into a research and development venture with technology company Refined Ore Industries Limited. The R&D Venture is a bauxite refining technology to increase the value of ABx's bauxite tenfold, capitalising on the clean chemistry of ABx bauxite, abundant available reagents and processing skills available in Tasmania or in Townsville, QLD as an alternative location.
The R&D Venture is called ALCORE which is the next stage in ABx's development of bauxite beneficiation and refining technology. This technology was patented on 5 June 2017 and is designed to produce Aluminium Fluoride (AlF3) which is an electrolyte used to increase the electrical efficiency of aluminium smelters and is also used in lithium ion batteries. The process also produces Corethane Gas (R) for energy security.
ALCORE technology upgrades low-grade bauxite fractions, by using waste acids from zinc refineries and fertiliser plants. Reagents are recycled with no emissions, particulates or waste generated. The main makeup reagent is fluorosilicic acid "FSA" which is also used to fluoridate drinking water supplies.
The production plant can operate off-grid by producing its own heat and electricity as a result of coproduction of Corethane gas which is a clean and cheap gas substitute that meets the Finkel Review recommendations on emission targets. The production plant could sell surplus electricity into the national grid at peak demand periods or alternatively, Corethane gas can provide a gas fuel to a major industrial customer (eg. brick plants or aluminium smelters), thus freeing up natural gas supply when it is most needed.
An engineering firm has begun final designs and costings for the Stage 1 plant design. The study is due to be completed in early 2018. ABX will continue wide consultations before making and announcing final funding strategies to create value for ABx shareholders.
Sales
- ABx announced the completion of two sales during the quarter comprising:
1. 30,000 tonnes of mixed grade blended cement-grade bauxite, product 04.100; and,
2. 5,000 tonnes of cement grade, product 04.15.
The two sales were delivered from Bald Hill mine at Campbell Town, northern Tasmania to Bell Bay Port in early October, 3 weeks ahead of schedule. Both cargoes were shipped from Bell Bay Port on 24th October. Invoices have been submitted for the final tonnages sold, based on independent ship surveys.
- Fertiliser grade bauxite sales from the Bald Hill mine have been ramped up to satisfy customer demand over the summer period at modest but valuable prices to supply local industry. Invoices are yet to be submitted for these sales which are ongoing.
To view the full report, please visit:
http://abnnewswire.net/lnk/3V6240K8
About Australian Bauxite Ltd

Australian Bauxite Limited (ABx) (ASX:ABX) has its first bauxite mine in Tasmania and holds the core of the Eastern Australian Bauxite Province. ABx's 22 bauxite tenements in Queensland, New South Wales & Tasmania exceed 1,975 km2 and were selected for (1) good quality bauxite; (2) near infrastructure connected to export ports; & (3) free of socio-environmental constraints. All tenements are 100% owned, unencumbered & free of third-party royalties. ABx's discovery rate is increasing as knowledge, technology & expertise grows.
The Company's bauxite is high quality gibbsite trihydrate (THA) bauxite that can be processed into alumina at low temperature.
ABx has declared large Mineral Resources at Inverell & Guyra in northern NSW, Taralga in southern NSW, Binjour in central QLD & in Tasmania, confirming that ABx has discovered significant bauxite deposits including some of outstandingly high quality.
At Bald Hill near Campbell Town, Tasmania, the Company's first bauxite mine commenced operations in December 2014 – the first new Australian bauxite mine for more than 35 years. ABx has created significant bauxite developments in 3 states - Queensland, New South Wales and Tasmania. Its bauxite deposits are favourably located for direct shipping of bauxite to both local and export customers.
ABx endorses best practices on agricultural land, strives to leave land and environment better than we find it. We only operate where welcomed.

Ian Levy
CEO and MD
Australian Bauxite Limited
T: +61-2-9251-7177
M: +61-407-189-122
E: ilevy@australianbauxite.com.au
Related CompaniesAustralian Bauxite Ltd