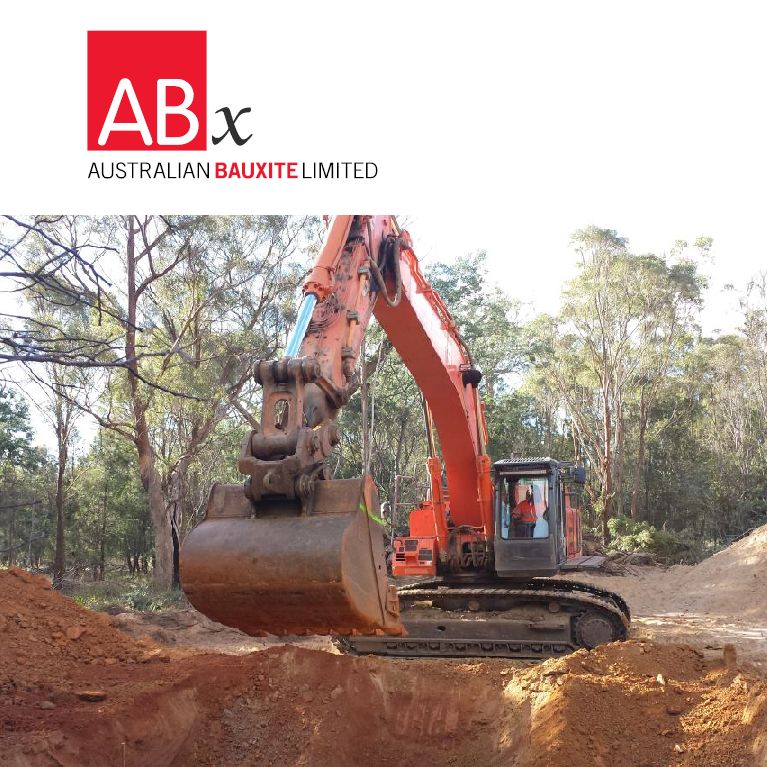 Half Yearly Report and Accounts
Sydney, Sep 13, 2017 AEST (ABN Newswire) - Australian Bauxite Ltd (

ASX:ABX
) provides the Company's Half Yearly Report and Accounts for the half-year ended 30 June 2017.
REVIEW OF OPERATIONS
Corporate
- In May 2017, at Australian Bauxite Limited's (ABx) Annual General Meeting, all resolutions put to the meeting were passed on a show of hands.
- Group cash balance was $1.1 million as at 30 June 2017.
- Number of shareholders approximately 2,700.
Operations
Sales
Continuing on from 2016 total sales of approximately 46,000 tonnes of cement grade and fertiliser grade bauxite, ABx announced on 27 July 2017 that it had finalised the sale of up to 33,000 tonnes of cement grade bauxite from its Bald Hill mine near Campbell Town, northern Tasmania (see Figure 1 in the link below) to a repeat customer. Logistics contracts were finalised promptly and delivery is well advanced. As at 12 September, some 25,000 tonnes have been delivered to Bell Bay port and the full shipment is expected to be delivered to port by 19 September, two to three weeks ahead of schedule.
While this current sale cargo is being transported to Bell Bay port, a further 45,000 tonnes of bauxite will be blended from existing mine stockpiles at the Bald Hill bauxite project at Campbell Town in northern Tasmania in preparation of future sales. ABx is in negotiation with further potential customers.
Project inspections by two major customers were held in early September and the professionalism of the supply process carried out by ABx and its contractors impressed the reviewers.
ABx bauxite is a dust free aggregate, ideal for transport and is very stable in stockpiles. ABx bauxite is rigorously processed by Stornoway contractors at the Bald Hill quarry, carefully transported pit to port by Dave Wagner & Son P/L and efficiently managed at Bell Bay port by QUBE Logistics in conjunction with TasPorts.
Stocks
Currently, ABx has over 190,000 tonnes of bauxite stockpiled in Tasmania:
- 36,500 tonnes of cement grade and fertiliser grade bauxite in its product stockpiles
- 84,700 tonnes of grade controlled, ready for blending bauxite;
- 33,000 tonnes of screened material ready for classification into product categories when required; and
- 36,700 tonnes of broken ore stocks ready for screening for future needs
TasTech Process Technology Verified
The completion of the large scale bulk testing of the TasTech processing technology at the Fingal Rail project in Tasmania confirmed that ABx can produce high specification bauxite from large tonnages for long term contracts enhancing ABx's business. Typical achievements of the TasTech processing technology were a ~25% upgrade of low grade bauxite samples to produce ultra-cleaned metallurgical-grade bauxite; cement-grade bauxite and fertiliser-grade bauxite. ABx plans to fund the introduction of the TasTech processing technology into its ongoing operations from existing cashflow.
Bauxite Refining Technology under evaluation
ABx has been granted a global exclusive licence for a bauxite refining technology that produces aluminium fluoride as its main product and a suite of by-products from Tasmanian-type bauxite:
1. Pure bauxite Al2O3.3H2O (Zero Silica Bauxite) Value: US$ 100 per tonne
2. Pure iron-ore Fe2O3 Value: US$ 100 per tonne
3. Pure silica SiO2 Value: US$2,700 per tonne
4. Pure titania TiO2 pigment Value: US$2,500 per tonne
5. Aluminium fluoride AlF3 (main product) Value: US$1,000 per tonne
The clean chemistry of ABx's bauxite is ideal for this technology which can also capitalise on the availability in Tasmania of all inputs needed, namely highly skilled workforce at the Bell Bay heavy industrial zone, renewable hydro-electricity, all necessary chemical reagents available fertiliser and zinc production in Tasmania. The technology is a zero-discharge process - all outputs are saleable products.
Summary: Bauxite refining converts Tasmanian bauxite which is valued at US$50 to US$70 per tonne into a suite of products worth in excess of US$800 per tonne of bauxite processed.
This represents a more than 10-times increase in value per tonne.
Exploration
ABx has declared bauxite resources totalling 124 million tonnes (see Note below) in eastern Australia - see Figure 8 in the link below
Binjour Project, Queensland
ABx and its Indian marketing partner, Rawmin Mining and Industries Pvt. Ltd (Rawmin) has commenced an assessment of ABx's bauxite resources around Binjour, totalling 28 million tonnes (see Note below). Binjour is located 115 kms from the Bundaberg port (see Figure 2 in the link below).
Production may commence at ABx's long term mining lease at Toondoon ML 80126 (see Figure 2 in the link below) which has an inferred resource 3.5 million tonnes of bauxite (see Note below) with potential extensions into the surrounding ABx exploration permit.
The project assessment also covers ABx's high grade discovery at Brovinia, south of Toondoon.
Negotiations with local, state and federal governments are in progress.
Binjour bauxite would be marketed to overseas based clients introduced by Rawmin.
Fingal Rail Bauxite Project Tasmania
ABx concluded bulk mining and processing trials at the Fingal Rail site in northern Tasmania which processes ore from both Fingal Rail and Bald Hill projects using the TasTech technology.
The Fingal Rail project, located 14kms north of Bald Hill Bauxite project, holds significant cement-grade bauxite resources that are ideal for large scale production and sited near the rail line. Fingal Rail resources total 6.3 million tonnes (see Note below) and is the most likely second mine for ABx, operated by the same team that operates at the Bald Hill project.
ABx's total resource base for Tasmania is currently 12 million tonnes (see Note below).
Penrose Pine Forest Quarry, New South Wales
On 27 February 2017 ABx announced its discovery of a high quality refractory grade low iron grey white bauxite at a quarry in the Penrose Pine Plantation approximately 90 kms inland from Port Kembla. Refractory grade bauxite is used for heat containment and abrasives and can sell for 5 times the current price of metallurgical grade bauxite, possibly a new high priced market for the Company's products.
The deposit is close to transport infrastructure and suited for quarrying during pine forest harvest cycles.
Extensions to the mineralisation has been secured by an additional tenement granted in June.
Commercialisation potential: The deposit has potential for high profitability even at modest tonnage rates, supplying cement and high margin refractory industries.
Through ABx's marketing partner, Rawmin of India, ABx is making enquiries with manufacturers of these high-value refractory bauxite products to assess the potential for early development.
Negotiations have commenced with a company that specialises in the refractory and abrasive bauxite industry. Considerable test work and bulk sampling will be required to optimise the development of this high quality bauxite discovery.
Note:
1 Maiden Tasmania Mineral Resource, 5.7 million tonnes announced on 08/11/2012
To view the full report with tables and figures, please visit:
http://abnnewswire.net/lnk/N4F19KA4
About Australian Bauxite Ltd

Australian Bauxite Limited (ABx) (ASX:ABX) has its first bauxite mine in Tasmania and holds the core of the Eastern Australian Bauxite Province. ABx's 22 bauxite tenements in Queensland, New South Wales & Tasmania exceed 1,975 km2 and were selected for (1) good quality bauxite; (2) near infrastructure connected to export ports; & (3) free of socio-environmental constraints. All tenements are 100% owned, unencumbered & free of third-party royalties. ABx's discovery rate is increasing as knowledge, technology & expertise grows.
The Company's bauxite is high quality gibbsite trihydrate (THA) bauxite that can be processed into alumina at low temperature.
ABx has declared large Mineral Resources at Inverell & Guyra in northern NSW, Taralga in southern NSW, Binjour in central QLD & in Tasmania, confirming that ABx has discovered significant bauxite deposits including some of outstandingly high quality.
At Bald Hill near Campbell Town, Tasmania, the Company's first bauxite mine commenced operations in December 2014 – the first new Australian bauxite mine for more than 35 years. ABx has created significant bauxite developments in 3 states - Queensland, New South Wales and Tasmania. Its bauxite deposits are favourably located for direct shipping of bauxite to both local and export customers.
ABx endorses best practices on agricultural land, strives to leave land and environment better than we find it. We only operate where welcomed.

Ian Levy
CEO and MD
Australian Bauxite Limited
T: +61-2-9251-7177
M: +61-407-189-122
E: corporate@australianbauxite.com.au
Related CompaniesAustralian Bauxite Ltd