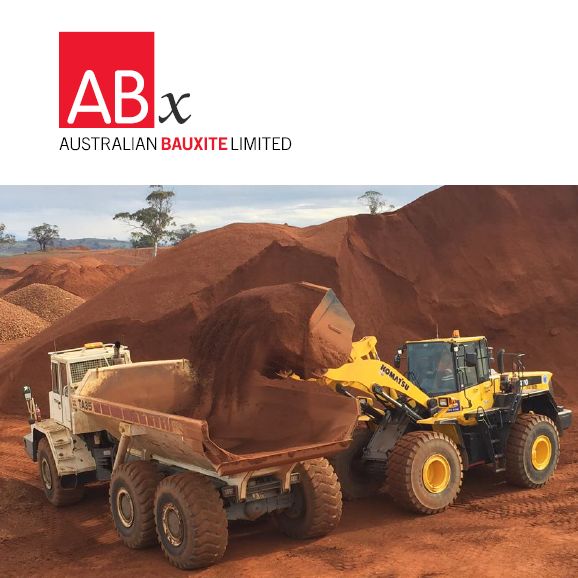 Quarterly Report and Activity Statement
Sydney, July 28, 2017 AEST (ABN Newswire) - Australian Bauxite Ltd (

ASX:ABX
) provides the Company's Quarterly Report and Activity Statement for Three Months to 30 June, 2017.
Corporate
- Group available cash as at 30 June 2017 was $1.1 million. ABx has adequate unused lines of credit for working capital as and when required.
- ABx held its annual general meeting and all resolutions put to the meeting were passed on a show of hands.
Sales Confirmed
- ABx has finalised the sale of up to 33,000 tonnes of cement-grade bauxite on favourable terms for shipping in September 2017. Logistics contracts have been finalised and the transport process is underway.
- This sale is part of an ongoing sales arrangement with a reliable, highly professional customer that requires a specific blend of grades and materials handling characteristics for its cement-grade bauxite. ABx is enhancing its processing and blending skills so as to optimise its range of products to suit all customers' requirements.
- Whilst this current sale cargo is being transported to port, ABx will blend its next 45,000 tonnes of product.
TasTech Process Technology Verified
- ABx completed a large scale bulk test of its "TasTech" processing technology at its second mine at Fingal Rail in Tasmania confirming that TasTech can produce high specification bauxite in large tonnages for long-term contracts making it an outstanding enhancement to ABx's business.
- Cement-grade bauxite resources for the Fingal Rail Bauxite Project total 6.3 million tonnes (see Resource Statement in the link below)
- Typical achievements of TasTech were a 20% to 30% upgrade in the grade of low grade bauxite samples, thereby producing metallurgical-grade, cement-grade and fertiliser-grade bauxite products. ABx plans to fund the introduction of the TasTech technology into its operations from its existing cashflow.
Bauxite Refining Technology Progressing
- ABx is also investigating the commercialisation of a bauxite refining technology to manufacture aluminium fluoride which sells for more than US$1,000 per tonne and is used in aluminium production and in lithium ion batteries. This bauxite refining technology is well suited to the clean chemistry of ABx bauxite and enhanced by the hydro-electricity and skills in Tasmania. ABx has been granted a global exclusive licence for this technology and to market the products. The favoured commercialisation strategy requires no capital raising by ABx.
Review of Binjour Project
- ABx and its Indian marketing partner, Rawmin Mining and Industries (Rawmin) commenced a review in late May 2017 of ABx's bauxite resources, around Binjour, currently estimated as totalling 28 million tonnes from its granted exploration licences and granted mining lease at Toondoon (see Resource Statement in the link below). Production from the Toondoon mining lease may commence as a precursor for the larger Binjour project site.
- Assessments and government discussions are in progress and on schedule.
Operations: blending for sales & fertiliser grade trials
- Physical dispatches of sales in the quarter were minor test batches of fertiliser-grade bauxite whilst long-term offtake sales contracts were being negotiated with major customers of cement-grade bauxite.
- ABx operations staff conducted sampling and blending testwork as a support for the marketing team carrying out the sales negotiations. These activities were successful in devising an optimum product for that customer.
- ABx is demonstrating to potential customers that it can blend products to suit each customer's requirements. ABx has sufficient processed bauxite to supply a further 2 large shipments.
- Thus far, ABx has dispatched 7 sales to 2 repeat customers and is in negotiation with 5 possible customers.
- Rehabilitation of mined-out areas at the Bald Hill Bauxite Project has been inspected by EPA and other government agencies and is proving successful. The company's continuous improvement policy which it adopted at the outset of operations is working as planned and more rehabilitation is scheduled for early Spring.
Emerging cement market boosted by US and global infrastructure upgrades
Whilst prices for metallurgical bauxite remain flat, ABx will target cement and fertiliser markets at prices higher than could be achieved in the over-supplied metallurgical bauxite market for the next few years (see market summary). The clean chemistry of ABx's bauxite has allowed ABx to sell cement-grade bauxite which:
1. Increases the late strength of concrete and meets the strictest quality specifications;
2. Is quartz-free, base metal-free and alkali salt-free for exceptional corrosion-resistance and strength;
3. Eliminates stoppages & pressure problems in kilns, lowers kiln temperatures & reduces emissions;
4. Helps cement-makers to high-specification standards that now apply in modern economies.
Infrastructure construction across the Pacific Basin is increasing cement demand and existing cement-makers can maximise cement production by eliminating stoppages and increasing late strength of the cement. ABx's cement-grade bauxite does both and simplifies materials handling by supplying both aluminium oxide and iron oxide in the correct ration for perfect cement manufacture.
TasTech Technology bulk testing project
ABx has completed a bulk-scale mining and processing project to confirm the effectiveness of ABx's TasTech technology using a two-stage processing plant (see Figures 1-3 in the link below) at Fingal Rail which is the company's 2nd bauxite mine, located 12km north of the Bald Hill Bauxite Project in Tasmania (see Figure 4 in the link below).
Results for product quality have exceeded expectations and TasTech processing increases overall yields of product per tonne of ore processed.
Water consumption rates were very low and the recycled process water settled to be clarified within 15 minutes.
The next stage is to conduct TasTech processing under laboratory conditions to confirm the reproducibility of the results achieved in the bulk test and to demonstrate that the results will apply to all parts of the orebodies at Fingal Rail and Bald Hill, not just the 3 sites that were bulk-tested. Repeated testing will confirm the relationships between:
(1) yield of product from the ore,
(2) product grade and
(3) product sizing.
so that at all times, ABx can blend a product to suit each customer's precise specifications.
Marketing Of TasTech Products
ABx's marketing team have provided several prospective customers with marketing samples of the products achieved from this TasTech bulk-test. All customers have agreed that ABx is offering a premium quality product that has hitherto not been available from any bauxite supplier.
Bauxite Refining Technology Under Evaluation
ABx has been granted a global exclusive licence for a bauxite refining technology that produces aluminium fluoride as its main product and a suite of by-products from Tasmanian-type bauxite:
1. Pure bauxite Al2O3.3H2O (Zero Silica Bauxite). - Value: US$ 100 per tonne
2. Pure iron-ore Fe2O3 - Value: US$ 100 per tonne
3. Pure silica SiO2 - Value: US$2,700 per tonne
4. Pure titania TiO2 pigment - Value: US$2,500 per tonne
5. Aluminium fluoride AlF3 (main product) - Value: US$1,000 per tonne
The clean chemistry of ABx's bauxite is ideal for this technology which can also capitalise on the availability in Tasmania of all inputs needed, namely highly skilled workforce at the Bell Bay heavy industrial zone, renewable hydro-electricity, all necessary chemical reagents available fertiliser and zinc production in Tasmania. The technology is a zero-discharge process - all outputs are saleable products.
Summary: Bauxite refining converts Tasmanian bauxite which is valued at US$50 to US$70 per tonne into a suite of products worth in excess of US$800 per tonne of bauxite processed.
This represents a more than 10-times increase in value per tonne.
Exploration: Penrose Forest Refractory Grade Bauxite
On 27 February 2017, ABx announced to the ASX the discovery of high quality refractory-grade, low-iron grey-white bauxite at Penrose Pine Plantation some 90kms inland from Port Kembla.
Refractory- grade bauxite is used for heat containment and abrasives and can sell for 5 times the current price of metallurgical grade bauxite. This is possibly a new high-priced market for ABx's bauxite products.
This tenement is close to transport infrastructure and suited to quarrying during forest harvest cycles.
Extensions of the deposit have been secured by a new exploration lease application (see Table 2 in the link below) that has recently been granted.
Commercialisation potential: through ABx's marketing partner, Rawmin of India, ABx is making enquiries with manufacturers of these high-value refractory bauxite products to assess the potential for early development.
BAUXITE MARKETS
ABx sells into the strengthening cement markets until Chinese metallurgical demand recovers
Whilst prices for metallurgical-grade bauxite remain soft, ABx will grow its bauxite business by supplying cement-grade bauxite for making high-strength cement and supplying fertiliser-grade bauxite for making superphosphate fertiliser. As demand for stronger, low alkali cement increases for infrastructure construction, demand should increase for premium cement-grade bauxite such as ABx bauxite which is exceptionally low in alkali salts, is quartz-free and has good materials handling performance.
Infrastructure construction markets
ABx's low-sodium, low alkali, quartz-free cement-grade bauxite supplies the right forms of Al2O3, Fe2O3 and SiO2 in the correct ratio to increase the production rate of high-strength, corrosion-resistant Portland cement, by stopping kiln blockages, reducing fuel consumption and reducing wear rates on the kiln refractory brick linings.
Commentary: Metallurgical-bauxite prices fell significantly in 2015-16 as bauxite from Malaysia was dumped into an already weakening bauxite market. Prices have remained flat ever since as supply from Guinea in western Africa into China have grown massively. Chinese aluminium companies have established their own mines in Guinea and have their own low-cost, large tonnage bulk-shipping supply chains from Guinea to China.
Bauxite from Guinea has grown from zero tonnes in October 2015 to become the largest supplier into China, supplying 2.74 million tonnes in June, as compared to 2.38 million tonnes from Australia. During these current times of extraordinarily cheap shipping costs, flooding supplies from Guinea effectively creates a ceiling on bauxite prices, despite the strongly growing tonnage demand for imported bauxite in China. China's strategies have succeeded.
ABx will sell metallurgical bauxite only when prices and sale terms are attractive.
To view the full report with tables and figures, please visit:
http://abnnewswire.net/lnk/D25IKZ1K
About Australian Bauxite Ltd

Australian Bauxite Limited (ABx) (ASX:ABX) has its first bauxite mine in Tasmania and holds the core of the Eastern Australian Bauxite Province. ABx's 22 bauxite tenements in Queensland, New South Wales & Tasmania exceed 1,975 km2 and were selected for (1) good quality bauxite; (2) near infrastructure connected to export ports; & (3) free of socio-environmental constraints. All tenements are 100% owned, unencumbered & free of third-party royalties. ABx's discovery rate is increasing as knowledge, technology & expertise grows.
The Company's bauxite is high quality gibbsite trihydrate (THA) bauxite that can be processed into alumina at low temperature.
ABx has declared large Mineral Resources at Inverell & Guyra in northern NSW, Taralga in southern NSW, Binjour in central QLD & in Tasmania, confirming that ABx has discovered significant bauxite deposits including some of outstandingly high quality.
At Bald Hill near Campbell Town, Tasmania, the Company's first bauxite mine commenced operations in December 2014 – the first new Australian bauxite mine for more than 35 years. ABx has created significant bauxite developments in 3 states - Queensland, New South Wales and Tasmania. Its bauxite deposits are favourably located for direct shipping of bauxite to both local and export customers.
ABx endorses best practices on agricultural land, strives to leave land and environment better than we find it. We only operate where welcomed.

Ian Levy
CEO and MD
Australian Bauxite Limited
T: +61-2-9251-7177
M: +61-407-189-122
Related CompaniesAustralian Bauxite Ltd