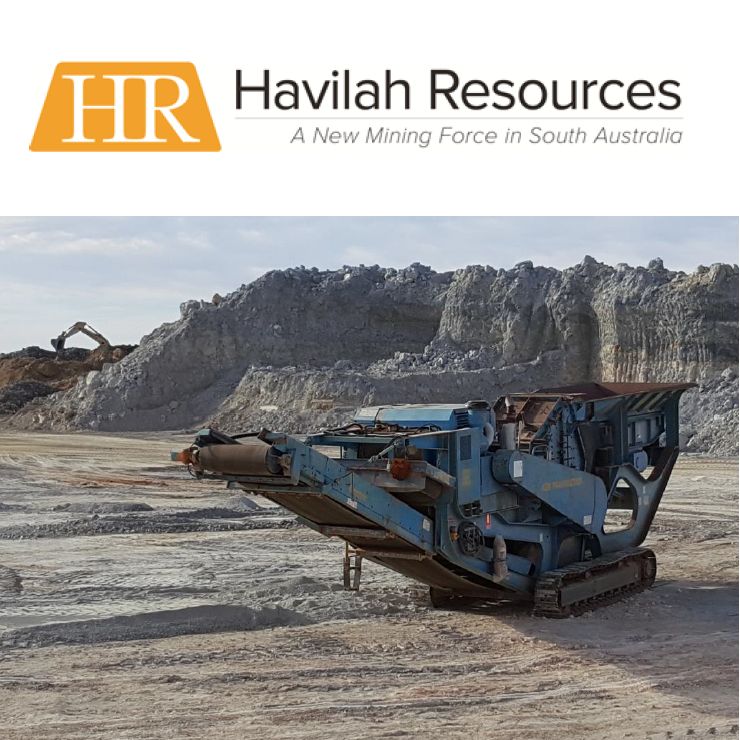 Portia Gold Mine Update - June 2017
Adelaide, July 20, 2017 AEST (ABN Newswire) - Havilah Resources Limited (

ASX:HAV
) (Havilah) reports the Portia gold mine production numbers for the month of June.
Highlights
- Gold production in June 86% higher than May at 849 oz.
- Record monthly processing plant ore throughput of 42,000 tonnes.
- Cyclone installation to be completed in July to allow further increase in throughput.
- Total nugget inventory increased to 310 ounces (Approximate value $0.5 million).
Background
Key points from the production figures presented in the table (see the link below) are:
1. Gold production increased by approximately 86% in June compared to the previous month due to processing slightly higher grade ore at record throughput.
2. Plant throughput increased by 35% for a record production month of 42,000 tonnes.
3. Adequate ore stockpiles were maintained on the ROM pad with approximately 56,000 tonnes stacked at the end of June. This comprises a mixture of higher grade Base of Tertiary material and lower grade saprolite (weathered bedrock) ore, which is normally blended in order to optimise throughput.
4. Overburden mining was minimal due to adequate ore exposures in the floor of the open pit, and consequently CMC mobilised many of their mining workforce to other operations. A small mining crew continues to mine ore when required and is involved in shaping the open pit and ramps to optimise ore accessibility.
The final stage of plant improvements is planned for July with the installation and commissioning of cyclones which will increase slurry density to the Knelson Concentrators and allow for higher throughput at improved recoveries.
Havilah continued drilling at the northern end of the open pit with the objective of discovering economic grade extensions to the Portia mineralisation (new holes drilled during May and June are marked by green crosses on the plan below) (see the link below). Results will be reported when available for all drillholes.
Commenting on the production results, Havilah Managing Director, Dr Chris Giles said: "Production in June started benefiting from the plant improvements that were initiated in May and the coming months should see further benefit from these changes.
"The final stage of the plant improvements started in early July and the installation of the cyclones should allow further increases in plant throughput without compromising recoveries.
"Medium grade saprolite gold ore zones are now well exposed in the pit floor and will continue to be channel sampled and drilled for grade control purposes ahead of mining" he said.
To view tables and figures, please visit:
http://abnnewswire.net/lnk/H055CVEA
About Havilah Resources Ltd

Havilah Resources Ltd (ASX:HAV) is a debt free South Australian gold producer having recently financed and developed its first gold mine at Portia in north-eastern South Australia. It plans to follow on with three copper-gold-cobalt mining developments at North Portia, Kalkaroo and Mutooroo, which are underpinned by a JORC resources mineral inventory of over 1.4 million tonnes of copper, 3.6 million ounces of gold, and 18,000 tonnes of cobalt.
Dr Chris Giles
Managing Director
Havilah Resources Ltd
T: +61-8-8338-9292
F: +61-8-8338-9293
E: info@havilah-resources.com.au
WWW: www.havilah-resources.com.au
Related CompaniesHavilah Resources Ltd