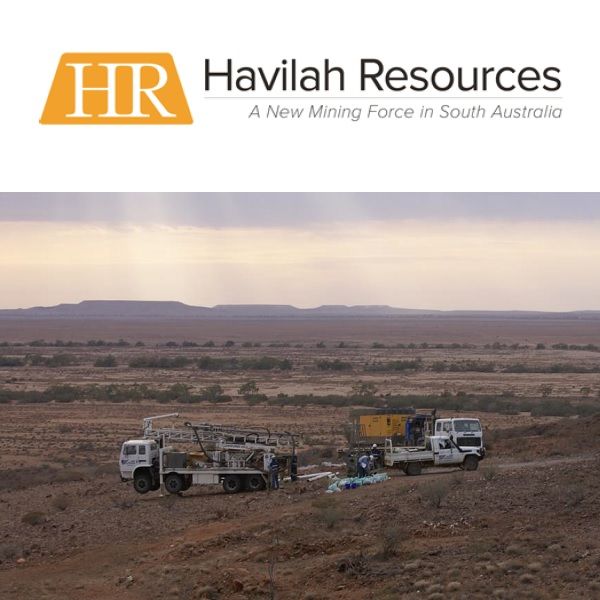 Unveils Copper Cobalt Strategy
Adelaide, Mar 6, 2017 AEST (ABN Newswire) - Havilah Resources Limited (

ASX:HAV
) has made frequent reference to its substantial 915,000 tonne copper and 2.33 million ounce gold JORC mineral resource inventory in northeastern South Australia (refer resources table in the link below). These copper-gold resources also contain substantial cobalt. With the predicted cobalt demand now materialising it is opportune to outline Havilah's strategy to develop its minerals portfolio and become a substantial cobalt and copper producer.
Highlights
- Appreciable cobalt is contained in Havilah's total JORC copper resources.
- Aim to implement a medium term strategy that will see these cobalt resources developed in conjunction with the copper resources.
- Is the third element in Havilah's strategic plan, namely to monetise its multi-metal project portfolio.
- Backed by Havilah's gold mining cash flow and proven successful exploration and mine development track record.
Background
All undeveloped copper sulphide deposits in Havilah's portfolio (namely Kalkaroo, North Portia and Mutooroo - see map below for locations) contain appreciable quantities of cobaltian pyrite, an iron sulphide mineral that has a high cobalt content. It is a geological characteristic of the Curnamona Province related to the genesis of mineralisation that almost all pyrite in the region contains significant associated cobalt.
The Mutooroo deposit is marked by consistent wide cobalt intersections in massive sulphide ore, including :
MTRC001 13 metres of 2.20% Cu and 0.29% Co from 36-49 metres (discovery hole - ASX announcement 26/05/05)
MTRC055 27 metres of 1.75% Cu and 0.22% Co from 130-157 metres (refer to ASX announcement 27/02/07)
MTDD113 27 metres of 2.26% Cu and 0.25% Co from 84.5-111.5 metres (refer to ASX announcement 13/11/07)
Mutooroo has an estimated Measured and Indicated sulphide resource of 5.9 million tonnes of 1.31% copper and 0.14% cobalt, within a total sulphide resource estimate of 12.5 million tonnes of 1.53% copper (refer to ASX announcement 18/10/10 and resources table in the link below). There is scope to materially increase the resource base as only a portion of the known 2.1 km strike has been drilled to JORC resource status.
Kalkaroo is also a potentially large cobalt resource, with substantial zones containing more than 500 ppm cobalt that is also hosted by cobaltian pyrite. It is estimated that the Kalkaroo deposit contains 5-10 million tonnes of cobaltian pyrite that ranges from 1-3% contained cobalt, which translates into a substantial cobalt inventory and could significantly boost Kalkaroo mining revenues. At both Kalkaroo and Mutooroo it is anticipated that the pyrite will be recovered as a clean concentrate in a final stage of the copper flotation process.
There are two main options to recover cobalt from the cobaltian pyrite :
1. Leaching - including acid pressure leach or bacterial oxidation.
2. Roasting and acid plant - produces by-product sulphuric acid and iron ore.
The roasting alternative produces the best revenue stream but is capital intensive and requires a long term market for the sulphuric acid produced. Leaching is potentially less capital intensive and will produce saleable cobalt salts. Havilah's basic leaching experiments to date show that an extremely acid solution (generated from oxidation of Mutooroo ore) is moderately effective in leaching the pyrite and releasing cobalt.
Havilah has formulated a staged conceptual strategy for exploiting its cobalt resources in conjunction with copper production, in accordance with the Company's previously stated objective of monetising its multi-metal project portfolio. This will commence with the Mutooroo deposit as shown on the attached diagram and outlined below :
1. Mining of the highest grade and thickest portion of the Mutooroo deposit at the southern end of the lode zone (see above cross section) and processing the massive sulphide ore in a conventional grinding and flotation circuit. This will produce a saleable high quality copper concentrate and a cobaltian pyrite concentrate.
2. Initially it is expected that cobalt in the cobaltian pyrite concentrate will be recovered via a leaching process.
3. In the longer term, investment funds will be sought to build a roaster and acid plant, contingent in large part on securing markets for the sulphuric acid that would also be produced.
4. When the Kalkaroo deposit is developed it will also generate a long term cobaltian pyrite supply feed for a roaster and acid plant in addition to the Mutooroo sulphide ore.
It is planned to implement this cobalt strategy, initially for the Mutooroo deposit, because its development capex is an order of magnitude lower than for exploitation of the Kalkarooo cobalt potential. Minor overburden, comparatively high grades of copper and cobalt, a simple processing flow sheet and proximity to Broken Hill are all positives for the Mutooroo project economics. In addition, given the 1.5% copper grade of the Mutooroo deposit, copper production at an aspirational rate of 7,500 tonnes per annum should produce good returns in its own right.
The key tasks that Havilah is planning to advance at Mutooroo over the next twelve months include :
1. Progressing the mining lease proposal and native title mining agreement as the first step in the mine permitting process.
2. Leaching tests for cobaltian pyrite to determine the best recovery method for the contained cobalt
3. Completion of a detailed mining plan and design to initially mine the high grade massive sulphide south pod.
4. Design and costing of a standard copper concentrator to recover the copper sulphide concentrate and pyrite concentrate (see attached conceptual flow sheet in the link below).
5. Studies on roaster and acid plant design and costings to determine the longer term feasibility of roasting the massive sulphide ore.
It is important to note that the above activities represent the key third leg in Havilah's strategic plan, as outlined in the AGM presentation (refer to ASX announcement 30/11/16). It is not intended that this work should diminish the drilling effort to expand the mining resource base and extend the mine life at the Portia gold mine, nor the regional exploration effort to discover new mineral deposits.
Havilah Managing Director, Dr Chris Giles, commented:
"The predicted interest in cobalt driven by lithium battery demand that was mentioned in our presentations more than two years ago is now upon us.
"Havilah has substantial cobalt resources that it can realistically expect to exploit because of the value of the associated copper and gold.
"We have sufficient cobaltian pyrite feedstock in our current minerals resources that we believe will support the longer term development of a roasting facility and acid plant that will also help fill the current large sulphuric acid deficit in Australia.
"With co-operation of government and major sulphuric acid end users we can potentially develop an integrated minerals industry in South Australia that will supply metals that are vital to the future of the global battery storage industry.
"Our track record in developing the Portia Gold Mine and our contractor relationships gives us confidence that we can deliver a successful cobalt and copper production outcome."
To view tables and figures, please visit:
http://abnnewswire.net/lnk/562SPRQ0
About Havilah Resources Ltd

Havilah Resources Ltd (ASX:HAV) is a debt free South Australian gold producer having recently financed and developed its first gold mine at Portia in north-eastern South Australia. It plans to follow on with three copper-gold-cobalt mining developments at North Portia, Kalkaroo and Mutooroo, which are underpinned by a JORC resources mineral inventory of over 1.4 million tonnes of copper, 3.6 million ounces of gold, and 18,000 tonnes of cobalt.
Dr Chris Giles
Managing Director
Havilah Resources Ltd
T: +61-8-8338-9292
F: +61-8-8338-9293
E: info@havilah-resources.com.au
WWW: www.havilah-resources.com.au
Related CompaniesHavilah Resources Ltd