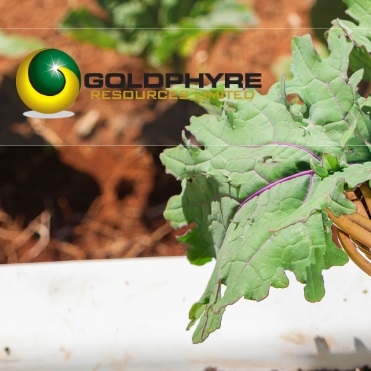 Options Underwriting Over Subscribed
Perth, Aug 25, 2016 AEST (ABN Newswire) - Goldphyre Resources Limited (

ASX:GPH
) is pleased to announce that it has entered into an underwriting agreement to fully underwrite the Company's listed option series (

ASX:GPHO
) up to a value of A$5.5 million.
Highlights:
- Goldphyre to secure A$5.5 million funding via full option underwriting
- Bookbuild closes substantially oversubscribed with strong levels of interest shown by both existing shareholders and key new investors (both domestic and international)
- Goldphyre to move into Q4 with a very well-funded balance sheet to continue advancing the Lake Wells Potash Project to commercialisation
Goldphyre has 68,856,465 listed GPHO options on issue, exercisable at $0.08 cents on or before 5.00pm (AWST), 30 September 2016. The underwriting gives Goldphyre a level of certainty that the options will result in funding of A$5.5 million, ensuring the Company is well funded for the next important programs of work as it progresses the Lake Wells Potash Project to commercialisation.
Hartleys Limited ("Hartleys" or "Underwriter") acted as Lead Manager and Underwriter to the option underwriting.
The Underwriter received demand from sub-underwriters for substantially more than the 68.86 million options on issue and Goldphyre is very pleased with the strong levels of interest shown by both existing shareholders and key new investors (both domestic and international).
Goldphyre's Executive Chairman, Matt Shackleton, said:
"Our Lake Wells Potash Project is a superior Australian potash project and one that is best positioned for early entry to market.
This substantially oversubscribed option underwriting demonstrates the considerable support we have for our project which has a core of high-grade palaeochannel brine mineralisation, is amenable to low-cost, proven brine extraction using conventional bores, and is close to infrastructure. We have a clear and now well-funded strategy to bring the Project to fruition as quickly as possible."
The GPHO options expire on 30 September 2016 and option holders are advised to contact the Company Secretary with any queries in relation to the exercise of options.
Option underwriting - further information
The underwriting agreement is conditional upon all representations and warranties made by the Company in the agreement (which are standard in nature), being accurate as at the shortfall notification date (expected to be 7 October 2016) and the shortfall subscription date (expected to be 12 October 2016).
It is anticipated that the Company will announce the number of shares to be issued as a result of this underwriting on or about 12 October 2016.
In consideration for the underwriting, the Underwriter will receive a fee of 6.00% of the amount underwritten. To the extent any sub-underwriters engaged by Hartleys are unable to fulfil their commitment in relation to the underwriting, there is provision in the underwriting agreement for the total number of options to be underwritten by Hartleys to be reduced by the amount of the relevant sub-underwriter's commitment.
The underwriting agreement contains standard termination provisions for an agreement of this nature, including (among other things) if there is a breach of the underwriting agreement.
About Australian Potash Ltd

Australian Potash Limited (ASX:APC) is an ASX-listed Sulphate of Potash (SOP) developer. The Company holds a 100% interest in the Lake Wells Potash Project located approximately 500kms northeast of Kalgoorlie, in Western Australia's Eastern Goldfields.
Following the release of a Scoping Study in 2017, APC has been conducting a Definitive Feasibility Study (DFS) into the development of the Lake Wells Potash Project. The Company is aiming to release the findings of the DFS in H2 2019.
The Lake Wells Potash Project is a palaeochannel brine hosted sulphate of potash project. Palaeochannel bore fields supply large volumes of brine to many existing mining operations throughout Western Australia, and this technique is a well understood and proven method for extracting brine. APC will use this technically low-risk and commonly used brine extraction model to further develop a bore-field into the palaeochannel hosting the Lake Wells SOP resource.
A Scoping Study on the Lake Wells Potash Project was completed and released on 23 March 2017. The Scoping Study exceeded expectations and confirmed that the Project's economic and technical aspects are all exceptionally strong, and highlights APC's potential to become a significant long-life, low capital and high margin sulphate of potash (SOP) producer.
Matt Shackleton
Executive Chairman
e: m.shackleton@goldphyre.com.au
m: +61-438-319-841
Related CompaniesAustralian Potash Ltd