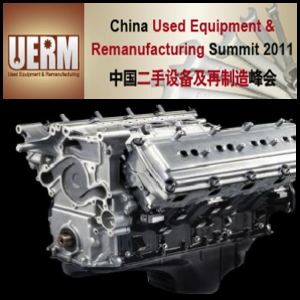 China Used Equipment And Remanufacturing Summit 2011 To Be Held In January In Beijing
Beijing, Dec 29, 2010 AEST (ABN Newswire) - Organized by Duxes Business Consulting Inc. and endorsed by powerful organizations around the world, China Used Equipment & Remanufacturing Summit 2011 will take place on 11-12 January, 2011 in Beijing, China.
In developed countries, the used equipment industry is praised as the "gold industry" while remanufacturing is also an environmental-friendly repair option. China enjoys an annual growth rate of more than 20% in transactions of second-hand engineering machinery and equipment. With the newly-released standards and rising attention towards the industry, the summit is launched.
The China Used Equipment & Remanufacturing Summit 2011 is to share with attendees the first-hand information of industrial policies and regulations and the trends of Chinese used equipment & remanufacturing development. The summit will put forward proposals to decrease the risk of equipment leasing. It will provide a platform to bring together international experts and leaders to share experience and forecast the international technology, which is to promote innovation and cooperation among the enterprises.
Event Time: 11-12 January, 2011
Venue: Kuntai Royal Hotel, Beijing, China
Organizer: Duxes Business Consulting Inc.
Website:
http://www.duxes-events.com/uerm
About Duxes Business Consulting Inc.
Based in Shanghai China, Duxes Business Consulting Inc. is a joint venture and one of the industry leaders committed to providing professional business and management consulting services to businesses in China with foreign investments as well as international businesses that intend or plan to enter the China market.

Related CompaniesDuxes Business Consulting Inc.