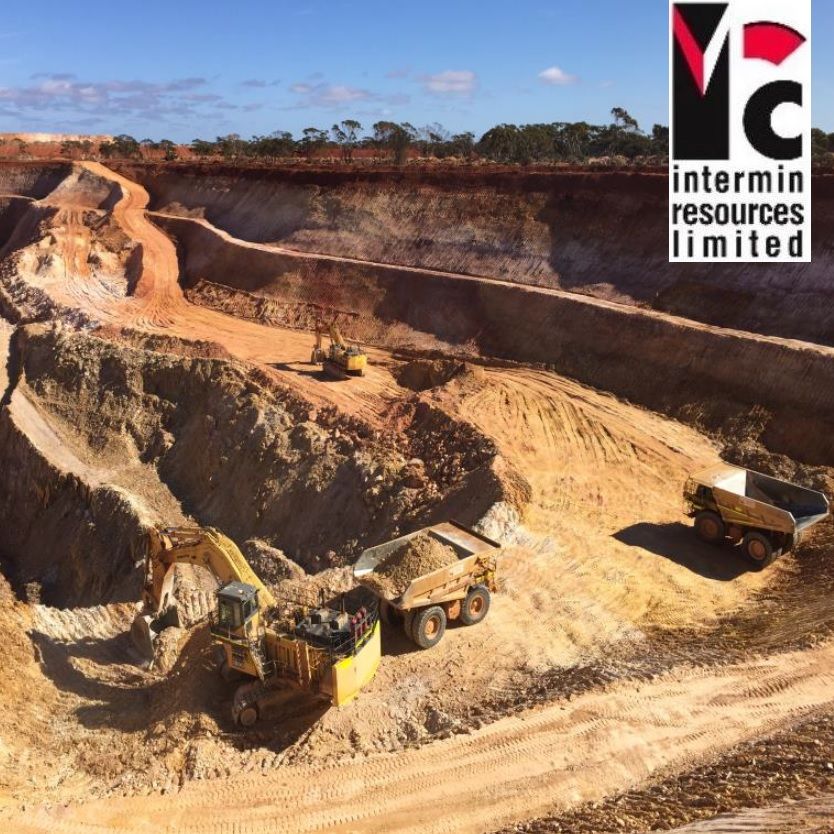 Annual Report to Shareholders
Perth, Sep 28, 2018 AEST (ABN Newswire) - Intermin Resources Limited (

ASX:IRC
) provides the Company's Annual Report to shareholders.
Chairman and Managing Director's Review
Dear Shareholder
The 2018 financial year has been one of successful growth for the Company and a year with mixed sentiment and commodity prices for the resources sector in general.
Despite continuing concerns around the global economy, trade wars and increased geopolitical tension, the safe haven of gold has seen a generally weaker US$ gold price in the second half with current prices around the US$1,200 per ounce mark. With the Australian dollar gold price holding between $1,600-$1,700 and the industry's focus on reducing costs of production, Australia is now globally competitive and attracting investment both domestically and internationally.
Locally, Western Australia and the goldfields region has had another exceptional year with the mid-tier producers reporting continued record production, cash balances and performance metrics putting them well and truly on the world stage. Organic growth has been the focus with increased exploration budgets, asset acquisitions and joint ventures with the smaller developers and explorers. This has resulted in a number of new discoveries and mine developments in what is considered one of the most successful gold fields in the world.
The Company has made significant progress during the year with the successful completion of our first mining operation at Teal which produced 22,000 ounces of gold at 3.2g/t and 93% recovery, ahead of Feasibility Study estimates. This delivered significant cash flow to the business with the Company holding $10.3M in cash as at June 30, no debt and holdings in ASX listed Companies with a value of $1.013M. No capital raisings were required during the year and the Company remains in a strong financial position to self-fund future organic growth.
Cash flow from Teal has enabled the Company to commence an aggressive 55,000m resource extension and new discovery drilling program in February 2018 across four key project areas: Teal, Anthill, Blister Dam and Binduli. A number of acquisitions were also completed with total landholding now at 890km2 on major geological structures in and around existing tenure and key infrastructure in the Western Australian goldfields.
A number of highly successful drilling campaigns totalling 55,379m were completed across the Company's existing and newly acquired tenure and our Resource position has grown 21% to 432,333 ounces net of gold production depletion. Over 23,500m have been completed at the Teal gold camp following up new discoveries made last year at Jacques Find, Yolande and Wills Find. Results released during the year have defined four parallel structures along a 6km strike zone and remain open in all directions.
Drilling at the Binduli gold project has focussed initially on the Crake Prospect with excellent results released from the first campaign. At year end, further step out drilling had been completed at Crake and three further high priority targets identified at Coote, Darter and Honeyeater. Drilling also commenced at Anthill where 14,000m of resource extension and new discovery drilling is planned for the September Quarter 2018. Drilling at Blister Dam (14,000m) and regional projects is planned to commence in the December Quarter 2018.
The Feasibility Study for the Goongarrie Lady gold project was released during the year delivering robust economics from a 7 month mine life. Statutory approvals are well advanced with the aim to have the project ready for development in 2019 as part of the Company's development pipeline. Mining studies have also commenced for the Anthill, Jacques Find and Peyes Farm gold projects.
The Company completed a number of acquisitions during the year to further consolidate assets on the major shear zones and now has a strong landholding of 890km2 including the new Yarmany and Lakewood projects. These low cost acquisitions will be the focus of significant exploration and resource development programs next year with many of the projects untested in the last 20 years.
Existing joint ventures with AXF Vanadium, EGS, Saracen and Mithril Resources progressed during the year as did discussions with new potential partners that can provide mutual benefit. The Joint Venture with AXF covering the world class 2.6Bt Richmond Vanadium project has generated considerable excitement with the development of Vanadium redox flow batteries and we look forward to AXF completing detailed metallurgical testwork to advance the project to commercialisation.
We'd like to take the opportunity to thank all our Board members, staff, contractors and you, our shareholders, for your support during the year. A special thank you to BMGS, Paddington, Golden Mile Milling, Rivet, Cardno and our other Teal operations team members on a fantastic job in delivering a very successful first mining operation.
The Intermin team look forward to keeping you fully informed as the business grows in what will be another very exciting year ahead.
To view the Annual Report, please visit:
http://abnnewswire.net/lnk/SZIBSPT8
About Intermin Resources Limited

Intermin Resources Limited (ASX:IRC) is a gold exploration and mining company focussed on the Kalgoorlie and Menzies areas of Western Australia which are host to some of Australia's richest gold deposits. The Company is developing a mining pipeline of projects to generate cash and self-fund aggressive exploration, mine developments and further acquisitions. The Teal gold mine has been recently completed.
Intermin is aiming to significantly grow its JORC-Compliant Mineral Resources, complete definitive feasibility studies on core high grade open cut and underground projects and build a sustainable development pipeline.
Intermin has a number of joint ventures in place across multiple commodities and regions of Australia providing exposure to Vanadium, Copper, PGE's, Gold and Nickel/Cobalt. Our quality joint venture partners are earning in to our project areas by spending over $20 million over 5 years enabling focus on the gold business while maintaining upside leverage.

Jon Price
Managing Director
Tel: +61-8-9386-9534
E: jon.price@intermin.com.au

Michael Vaughan
Media Relations - Fivemark Partners
Tel: +61-422-602-720
E: michael.vaughan@fivemark.com.au
Related CompaniesIntermin Resources Limited