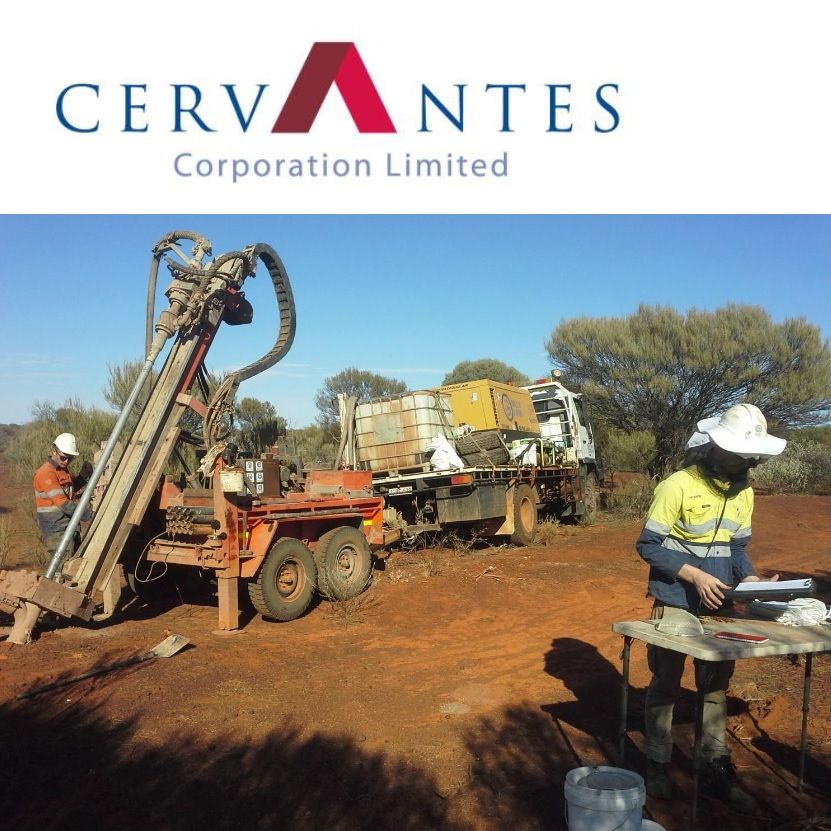 Focused AC Sampling Delivers Gold Targets at Primrose
Perth, July 11, 2018 AEST (ABN Newswire) - Cervantes Corporation Limited (

ASX:CVS
) announces focused AC sampling delivers gold targets at Primrose.
- Regional air core sampling campaign completed and final assays received from Primrose Project
- Gold zones mapped out over areas of the Primrose Shear never before tested
- New gold and nickel drilling targets identified
- Significant results include (down hole length, true width not known):
o 1m at 1.285g/t gold from 1m in hole PS21
o 1m at 1.052g/t gold from 10m in hole BB11
o 4m at 0.527g/t gold from 5m in hole BB17
o 1m at 0.18% nickel from 2m in hole PM1
o 1m at 0.16% copper from 1m in hole PS21
- Future exploration will follow up these significant opportunities
Final assays from the regional air core (AC) sampling programme on the Primrose Project (see Figure 1 in link below), and announced on 21 May 2018, have been received. A total of 100 holes for 489 metres were completed (Appendix 1, AC collar data) (see link below). The sampling programme aimed to:
- Test interpreted jogs in the Primrose Shear that may have focused gold mineralisation,
- Obtain samples from bedrock uncontaminated by more than a century of mining and gold extraction, and
- Sample areas for both gold and base metals that had not been previously tested by appropriate modern techniques.
The AC sampling programme was reconnaissance in nature. AC drilling is a first-pass geochemical exploration method that tests the potential of an area. While results are often low grade, they indicate a higher likelihood for gold mineralisation to be at depth. Gold and pathfinder elements may be depleted in the oxide zone at, or close to, the surface which, depending on a variety of local geological, environmental, and morphological factors, can further affect grades. AC sampling avoids these issues by sampling the bedrock directly.
AC Programme Details
Five areas were sampled: Blue Bell, Princess Mary, Goodingnow Pansy South, and, added to the programme in the field, the Daffodil Shear. The holes were drilled at a 60o dip towards the east and were spaced between 25 and 50 m along east - west lines. Drilling was to "blade refusal" depth; holes ranged from 1m to 39m depth and averaged 5m. Figure 3 (see link below) shows the hole locations.
AC Geochemistry Results
The results from the AC sampling show an elevated gold background. Usually, sampling of this style returns a general gold background of around 10 parts per billion (ppb) or less. This data has an average gold value of 62ppb, attesting to the auriferous nature of the geology on the Primrose Project.
Figure 4(a) (see link below) is a summary of the maximum gold assays found at each sample point. Significant gold anomalism is associated with the Primrose Shear at Blue Bell (maximum 1,192.2ppb or 1.192g/t Au), Princess Mary (1,826.9ppb or 1.826g/t Au), and Pansy South (1,270.7ppb, or 1.27g/t Au). Gold values were only moderate at Goodingnow. No significant gold assays were detected along the one line of holes testing the Daffodil Shear.
Figure 4(b) (see link below) is a summary of the nickel results. As was expected, high nickel values were detected in the amphibolite west of the Primrose Shear, particularly at the Blue Bell (1,192.2ppm, or 0.119% Ni), Princess Mary (1,826.9ppm or 0.183% Ni), and Pansy South (1,270.7ppm or 0.127% Ni) prospects.
Figure 5(a) (see link below) is a summary of the maximum copper at each sample point. Noteworthy copper anomalism is detected at Pansy South where a maximum 0.156% copper is detected in association with the anomalous nickel assays. Figure 5(b) (see link below) shows the cobalt assays. Cobalt assays are generally low.
Follow-up
Additional interpretive work will be done to determine the host of the anomalism detected. Deeper drilling will be undertaken to test for the Primrose Shear hosted gold deposits that Cervantes is targeting, including the potential for deeper Nickel targets. The timing of that follow up is dependent on project prioritisation. The Pansy Pit drilling assays have been delayed but will be released when available.
Emily May/Maggie Hay nickel deposit analogue is postulated.
Please refer to Cervantes 12th June 2018 ASX release titled "Nickel - Cobalt Opportunity Identified in RAB data" for more details on the expanding nickel occurrences. This now adds a new two dimensional target approach to two of the most market attractive metals at the Primrose.
Cervantes really is delighted to be able to add base metals such as nickel, cobalt and copper as targets for exploration within the current holdings.
Albury Heath
Please refer to the Cervantes 28th June 2018 ASX release for more details of significant gold intersections of 4oz to 6oz. A follow up release on final assays from this exploration programme is expected shortly.
About the Primrose Project
The Primrose Project covers in excess of 8km of the highly gold mineralised Primrose Shear in the Murchison District of the Eastern Goldfields, Western Australia. Over 37 gold mines, of various sizes, operated in this field from 1911 till 1982. Some 63,000 ounces of gold was mined at an average grade of 25g/t during this period. It is generally accepted that significantly more gold than this was won from alluvial and unreported production.
Cervantes now controls 25 mining leases, prospecting licences, and an exploration licence that cover the majority of this historic gold field. A large database of drilling, surface geochemistry, geological, and geophysical data has been assembled to allow the field to be better understood than at any time in its history.
To view tables and figures, please visit:
http://abnnewswire.net/lnk/E721G896
About Cervantes Corporation Limited

Cervantes Corporation Limited (ASX:CVS) is an emerging gold explorer and aspiring gold miner. It has built up a portfolio of gold properties in well-known and historically producing gold districts with a strategy to apply novel exploration and development thinking. Cervantes has identified opportunities in those districts that were overlooked by previous explorers. The company is committed to maximizing shareholder value through the development of those opportunities.

Collin Vost
Executive Chairman
T: +61-8-6436-2300
E: cvost@cervantescorp.com.au
Related CompaniesCervantes Corporation Limited