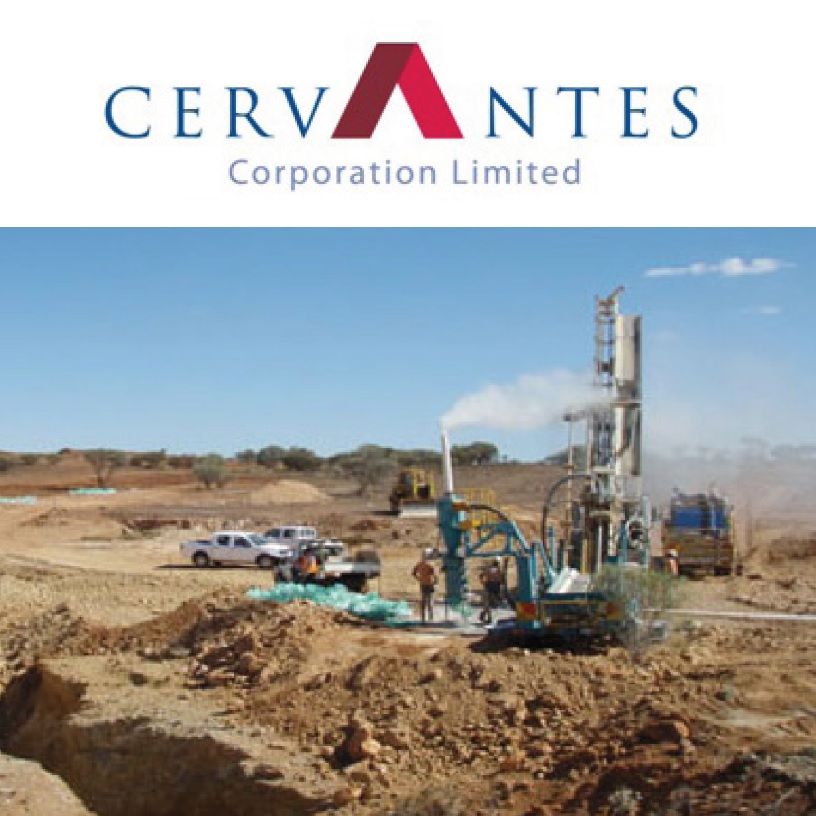 Albury Heath Drilling Enhances Resource Potential
Perth, June 28, 2018 AEST (ABN Newswire) - Cervantes Corporation Limited (

ASX:CVS
) announces Albury Heath drilling enhances resource potential.
- Recently completed RC drilling at Albury Heath returned new significant gold intersections (down hole length, true width not known):
2m @ 67.2 g/t from 27m in AHP116, incl 1m @ 129.3 g/t from 27m
4m @ 9.1 g/t from 19m in AHP119, incl 2m @ 16.5 g/t from 19m
2m @ 18.2 g/t from 4m in AHP127, incl 1m @ 31.4 g/t from 4m
1m @ 31.4 g/t from 36m in AHP128
4m @ 5.8 g/t from 45m in AHP129, incl 1m @ 19 g/t from 45m
3m @ 9.0 g/t from 81m in AHP130, incl 1m @ 21.3 g/t from 82m
5m @ 63.1 g/t from 32m in AHP134, incl 1m @ 202.8 g/t from 33m
8m @ 23.1 g/t from 87m in AHP135, incl 2m @ 49.0 g/t from 87m
- All final assays awaited before analysis and re-assessment of the resource
The first batch of assays from samples collected during the recent RC drilling campaign at Albury Heath (see Figure 1 in link below) have been received. Twenty nine RC holes for 1,866m were completed (see announcement on 14 May, 2018 and Figure 2). Of the total of 2,009 samples collected, 1,356 have now been received.
The drilling was undertaken to:
- Test the down dip potential of known lodes. The mineralisation is open and, based on previous drilling, shows no signs of abating at depth,
- Test the up dip potential of known lodes. Near surface mineralisation has been inadequately sampled in past drilling. Increasing this area of the resource will bolster the economics of open pit mining, and
- Sample the potentially mineralised footwall to historic underground stopes. These were inadequately sampled by past drilling. That drilling indicated that the stopes have an envelope of mineralisation on the hanging wall and also, where tested, on the footwall.
The received assays are from holes drilled into the southwestern edge of the resource (ASX announcement 7 February 2017). Drilling returned individual single metre assays of high-grade gold of 202.79 g/t (over 6 ounces per tonne), 129.3 g/t, 51.75 g/t, and 31.4 g/t gold (See Appendix 1 for full assay data). These are pleasing results in that previous drilling indicated some of the areas previously drilled were devoid of any significant gold grades. The current drilling has possibly extended the resource of those areas. Until a full analysis is undertaken, however, there is no basis to determine if such an outcome will occur.
Geology
Geological mapping of the underground workings in 1982 reported no distinction between foot wall and hanging wall, the host being a weathered medium grained fuchsitic quartz-tremolite-chlorite rock with remnant basaltic to gabbroic texture (DMIRS Open file report A37137, R.G.Colville, 1982).
The quartz-haematite lode mined infilled a major shear. Narrow quartz-haematite stringers along small shears parallel to the main lode contain high gold values. The mineralised zone strikes 35o TN, varies from 0.4 to 4m in width and dips from 70o to 80o to the southeast. A steep (65o) northeasterly plunge is interpreted. The lode material contains up to 5% pyrite and minor arsenopyrite.
The host rocks are completely carbonatised mafic flow rocks; amygdaloidal and spinifex textures being evident.
Previous (historic) drilling, as reported by Cervantes 7 February, 2017 and 6 March, 2018 indicated erratic lithological correlation with gold grade in logging. The majority of that drilling was by RC and little structural information was collected. Figure 3 (see link below) shows a typical grade cross section of the prospect based on gold intercepts. The position of the cross section is indicated on Figure 2 (see link below).
Follow-up
Outstanding and final assays for this round of drilling are expected within the next two weeks. An interpretation of the drilling can then be made and a model synthesised. A decision will then be made on whether to recalculate the resource model for the Albury Heath and what additional work may be needed to further define that resource.
Opportunity
The Albury Heath gold resource occurs within relatively easy trucking distance of a number of existing operating and mothballed gold plants. Continued development of this project may provide early cash flow for Cervantes if the ore is toll treated, while Cervantes considers acquisition of, or working with other PL holders in the area.
Exploration Potential
Cervantes took the precaution at the time of acquiring the Albury Heath project to peg a further five Prospecting Leases around it for potential expansion of the resource through exploration. A number of targets, with a similar geophysical signature to the Albury Heath occurrence, have been identified along the NNW-SSE structure on which it occurs. Once the geologic model for Albury Heath is finalised, that model will be used for exploration on these PLs and potentially the surrounding area.
About the Albury Heath Project
The Albury Heath Project is centred on the historic Albury Heath gold mine. Gold production from underground workings during the period 1948 to 1957 totaled 2,204 oz at an average head grade of 47.8g/t or 1.54oz/t.
Gold mineralisation is associated with quartz veining, quartz stringers, quartz stockworks, and wall rock alteration located in a major regional fault zone that trends north-northeasterly across the eastern side of the Meekatharra Greenstone Belt. The mineralisation occurs primarily within quartz-sulphide veins that are up to 4m in width. The main vein strikes north-northeasterly and dips steeply at 75o - 80o to the east-southeast.
Cervantes wholly owns six Prospecting Licences covering the Albury Heath mine and its surrounds (P51/2937 and P51/2997 to 3001). These comprise an area totaling 10.8km2 that cover the northerly and southerly extent of the main controlling structure.
To view tables and figures, please visit:
http://abnnewswire.net/lnk/CD7P2JR9
About Cervantes Corporation Limited

Cervantes Corporation Limited (ASX:CVS) is an emerging gold explorer and aspiring gold miner. It has built up a portfolio of gold properties in well-known and historically producing gold districts with a strategy to apply novel exploration and development thinking. Cervantes has identified opportunities in those districts that were overlooked by previous explorers. The company is committed to maximizing shareholder value through the development of those opportunities.

Collin Vost
Executive Chairman
T: +61-8-6436-2300
E: cvost@cervantescorp.com.au
Related CompaniesCervantes Corporation Limited