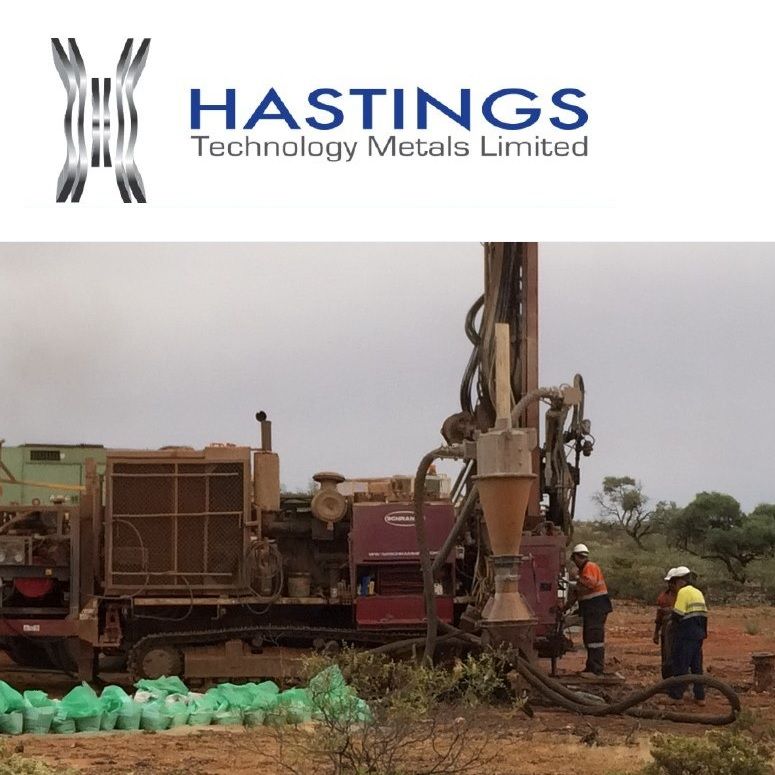 Infill Drilling Results Enhance Bald Hill Deposit
Sydney, June 28, 2018 AEST (ABN Newswire) - Hastings Technology Metals Limited (

ASX:HAS
) is pleased to announce that its 2018 drilling programme at the Yangibana Rare Earths Project is well advanced and the first assay results have now been received.
HIGHLIGHTS
- Current reserves and resources at Bald Hill enhanced following receipt of assay results
- Best drilling results from Bald Hill which comprised 126 holes for 4,066 metres are outlined in table 1 below (see link below)
- Infill and extension drilling at Auer and Auer North to further increase resources and reserves progressing
- Major infill drilling to provide additional metallurgical samples has been completed at Bald Hill and Fraser's
- Drilling at Auer, Auer North, and Yangibana for geotechnical and geochemical data to enable upgrade to reserves nearing completion
DRILLING RESULTS
Assay results have been received from all holes at the Bald Hill deposit (see Figure 1 in link below), with best intersections shown in Table 1 (see link below) (stand outs highlighted). Details of hole coordinates and assays are shown in Appendices 1 and 2 (see link below).
The RC (reverse circulation) rig has now commenced an infill and extension drilling programme at Auer and Auer North deposits. The aim is to increase the resources at these deposits and to undertake sufficient geotechnical, environmental, metallurgical and mining studies such that additional reserves can be defined by the end of 2018.
The important Nd2O3+Pr6O11:TREO ratio ranges from 37% to 45%, in line with the November 2017 JORC Resource average of 42%. This ratio effects the proportion of the Company's target oxides of neodymium and praseodymium to TREO in the planned mixed rare earths carbonate product.
The Company has also completed RC and diamond drill holes within the defined reserves and resources at the Bald Hill and Fraser's deposits (see Figure 2 in link below) to provide samples to the metallurgical team for testwork to further upgrade the processing plant design and enhance equipment selection.
In addition, the diamond drill rig has completed a short programme to provide comminution and geotechnical samples from Auer, Auer North and Yangibana deposits (see Figure 2 in link below). The results of testwork on these samples will feed into the mining studies that are under way to upgrade portions of each of these deposits from resources to reserves.
TERMINOLOGY USED IN THIS REPORT
Total Rare Earths Oxides, TREO, is the sum of the oxides of the light rare earth elements lanthanum (La), cerium (Ce), praseodymium (Pr), neodymium (Nd), and samarium (Sm) and the heavy rare earth elements europium (Eu), gadolinium (Gd), terbium (Tb), dysprosium (Dy), holmium (Ho), erbium (Er), thulium (Tm), ytterbium (Yb), lutetium (Lu), and yttrium (Y).
To view tables and figures, please visit:
http://abnnewswire.net/lnk/70J89KTJ
About Hastings Technology Metals Ltd

Hastings Technology Metals Ltd (ASX:HAS) (FRA:5AM) is a leading Australian rare earths company, with two rare earths projects hosting JORC-compliant resources in Western Australia.
- The Yangibana Project hosts Probable Reserves totaling 5.15 million tonnes at 1.12% TREO including 0.45% Nd2O3+Pr6O11 within JORC Resources totalling 21.0 million tonnes at 1.17% TREO (comprising Measured Resources of 3.9 million tonnes at 1.19% TREO, Indicated Resources of 8.6 million tonnes at 1.25% TREO and Inferred Resources of 8.4 million tonnes at 1.09% TREO), including 0.40% Nd2O3+Pr6O11.
- The Brockman deposit contains JORC Indicated and Inferred Resources totalling 41.4 million tonnes (comprising 32.3mt Indicated Resources and 9.1mt Inferred Resources) at 0.21% TREO, including 0.18% HREO, plus 0.36% Nb2O5 and 0.90% ZrO2.
- Rare earths are critical to a wide variety of current and new technologies, including smart phones, electric vehicles, wind turbines and energy efficient light bulbs.
- The Company aims to capitalise on the strong demand for rare earths permanent magnets created by expanding new technologies.

Stefan Wolmarans
Chief Operating Officer
T: +61-9078-7674

Andy Border
General Manager Exploration
T: +61-9078-7674
Related CompaniesHastings Technology Metals Ltd