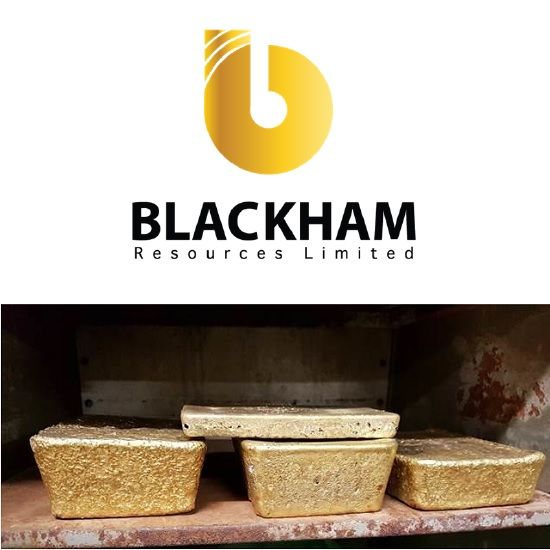 High Grade Oxide & Transitional Mineralisation Identified
Perth, May 8, 2018 AEST (ABN Newswire) - Blackham Resources Limited (

ASX:BLK
) (

OTCMKTS:BKHRF
), (Blackham or the Company) is pleased to present an update on successful initial drill results from the Wiluna free milling deposits. During March'18 and April'18, Blackham's exploration team drilled 130 RC holes (11,446m) focused on delineating further free milling open pit reserves over the 3.7km's of strike at the Wiluna Mine. Wiluna Mine drilling is expected to conclude in mid-May and resources will be re-estimated at that time.
Highlights
- Latest drilling has identified extensions to shallow oxide and transitional mineralisation with potential for new open pits close to the Wiluna plant
- Potential to substantially extend the free-milling mine life
- East-West Cross Structures - High grade mineralisation defined near surface
16m @ 4.41g/t Au from 2m including 6m @ 9.53g/t 71g*m
18m @ 0.87g/t Au from 29m and 3m @ 7.65g/t Au from 78m
and 4m @ 3.56g/t Au from 86m 53g*m
8m @ 2.03g/t Au from 5m and 14m @ 1.15g/t Au from 78m 32g*m
10m @ 1.48g/t Au from 9m and 7m @ 1.91g/t Au from 31m 28g*m
8m @ 1.40g/t Au from 11m and 6m @ 2.02g/t Au from 23m 27g*m
12m @ 1.79g/t Au from 33m 21g*m
- Starlight - high grade mineralisation starting close surface
4m @ 6.59g/t Au from 85m and 22m @ 3.29g/t Au from 97m 99g*m
6m @ 6.00/t Au from 55m 36g*m
3m @ 7.04/t Au from 17m and 1m @ 9.20g/t Au from 58m 30g*m
- Wiluna Queen & Magazine - broad shallow mineralisation close to surface
7m @ 4.68g/t Au from 48m 33g*m
25m @ 1.14g/t Au from 10m 29g*m
6m @ 4.67g/t Au from 10m 28g*m
2m @ 5.83g/t Au from 50m and 2m @ 6.52g/t Au from 58m 25g*m
- Recent metallurgical testwork confirmed the Wiluna oxide and transitional ores are an attractive feed for the current Wiluna CIL plant with impressive recovered grades
- Wiluna free milling resources and reserves currently being updated
This is a follow up programme on the 77,000m of drilling completed during 2017, which successfully delivered probable reserves of 669,000oz (7.7Mt @ 2.7g/t Au). Resources and reserves within the Wiluna Mine footprint are currently being updated to include the drilling results.
All of the historic open pits at Wiluna were processed through the CIL plant with the exception of the 2007 East pit cut back. Current drilling is focused on free milling ores above the top of fresh rock (generally top 60m) that metallurgical testwork has confirmed are an attractive feed for the Wiluna CIL plant which last quarter produced 20,631oz @ AISC A$1,092/oz.
Pit optimisation studies completed immediately prior to this drilling demonstrate the potential for open pit cutbacks and new open pits to be developed at the Wiluna mine site. The $1,400 and $1,800 shells are similar in extent, which shows open pit mining is expected to be economic at a range of potential gold prices (Figure 1 in link below). These latest drilling results are expected to support substantial increases to open pit resources and reserves within open pits.
The latest testwork confirms the Wiluna oxide and transitional ores are an attractive feed stock for the current operating Wiluna CIL plant. Average leach recoveries on the oxide and transitional ores were 90.8% and 84.3% after 24 hours.
The Blackham management team believes the free milling ores within the existing Wiluna Mine footprint are an attractive feed stock for the currently operating mill and fast-tracking mining approval is likely given the proximity to existing mining footprint.
Close to surface intercepts at East-West and Wiluna Queen (Figure 3 and Figure 4, respectively in link below) highlight the potential for discovering open pit oxide and transitional free-milling resources "under the headframe".
The potential for increased sulphide resources was highlighted by WURC0508 (Figure 5 in link below), which intersected high grade Wiluna shear-style sulphide mineralisation of 22m @ 3.29 g/t Au from 97m down-hole including 2m @ 5.15g/t Au and 3m @ 8.33 g/t Au. These zones show improving grade and thickness of Starlight mineralisation at depth and remain open for follow-up drill testing.
Wiluna Mine final drilling results from outstanding holes are expected by the end of May, with resource and reserve updates to follow. Golden Age underground drilling is ongoing and Lake Way drilling is due to commence this month.
To view tables and figures, please visit:
http://abnnewswire.net/lnk/33Y67779
About Blackham Resources Ltd

Blackham Resources Limited (ASX:BLK) (OTCMKTS:BKHRF) Wiluna-Matilda Gold Operation is located in Australia's largest gold belt which stretches from Norseman through Kalgoorlie to Wiluna. The Operation now includes resources of 96Mt @ 2.2g/t for 6.7Moz Au all within 20kms of the central processing facility. Blackham has consolidated the entire Wiluna Goldfield within a +1,440km2 tenure package which has historically produced in excess of 4.4 million ounces over a 120-year mining history.
Milan Jerkovic
Executive Chairman
T: +61-8-9322-6418

Bryan Dixon
Managing Director
T: +61-8-9322-6418

Jim Malone
Investor Relations
T: +61-419-537-714

Chantelle O Sullivan
Media Relations
Citadel-MAGNUS
T: +61-8-6160-4902
Related CompaniesBlackham Resources Ltd