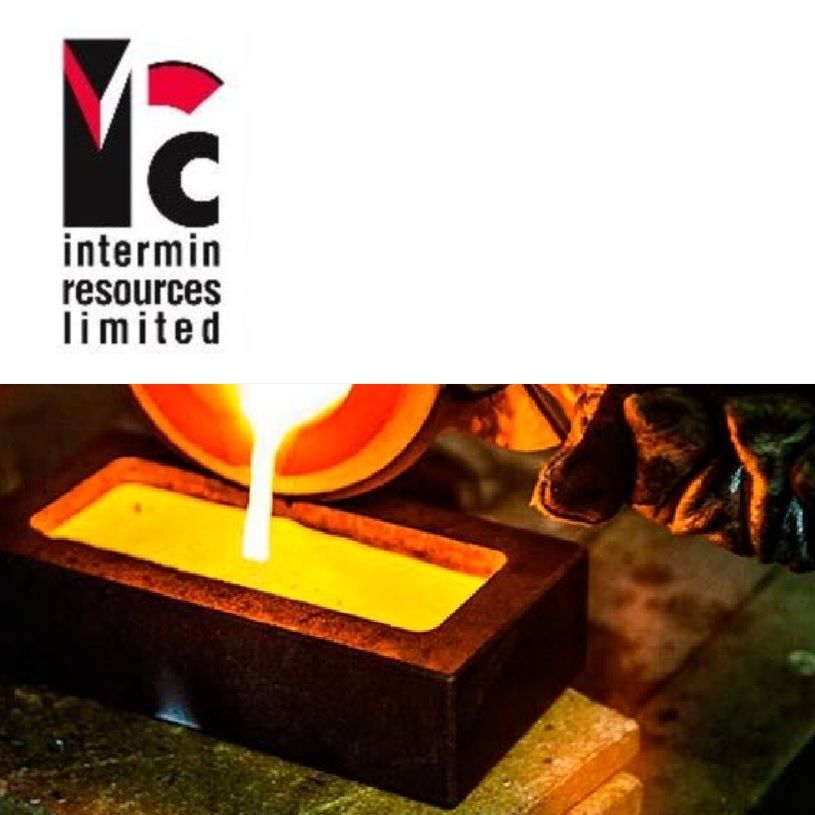 New Discovery Made in RC Drilling at the Teal Gold Project
Perth, April 24, 2018 AEST (ABN Newswire) - Intermin Resources Limited (

ASX:IRC
) ("Intermin" or the "Company") is pleased to announce further exciting reverse circulation ("RC") drilling results from new discovery targets at the 100% owned Teal gold project, located 11km northwest of Kalgoorlie-Boulder in Western Australia (see Figure 1 in link below).
HIGHLIGHTS
- New discovery and resource growth drilling continues at the 100% owned Teal gold project area, 11km north-west of Kalgoorlie in the Western Australian goldfields
- 26 holes for 3,156m completed to date testing high priority new discovery targets
- A new prospect 200m east of Peyes Farm named Wills Find returned significant gold mineralisation including (see Note 1 below):
o 18m @ 2.69 g/t Au from 96m including 11m @ 4.00 g/t Au from 96m (PFRC18012)
o 23m @ 1.29 g/t Au from 67m including 10m @ 2.13 g/t Au from 78m (PFRC1805)
o 3m @ 1.28 g/t Au from 128m (PFRC18013)
- New mineralisation 400m north west of Yolande and 250m west of Teal returned encouraging levels of gold mineralisation including (see Note 1 below):
o 4m @ 2.60 g/t Au from 54m (JFRC18012)
- Results confirm the presence of multiple parallel structures with extension drilling and testing of further new discovery targets ongoing
Commenting on the new discoveries, Intermin Managing Director Mr Jon Price said:
"These latest drilling results provide further evidence of multiple parallel structures across the entire Teal project area and demonstrate the potential scale of the mineralised system."
"We are less than 20% the way through our 55,000m drill program and look forward to testing the remaining new discovery targets and continuing with our resource growth program across 2018."
Overview
In February 2018 Intermin commenced a self-funded $4M, 55,000m drilling program across its 100% owned Kalgoorlie gold projects. The major drill program is focussed on new discoveries and resource extensions at the key Teal, Anthill and Blister Dam projects (see Note 2 below). As part of the program, 20,000m of RC and diamond drilling is underway for the Teal project area to grow the current resource base and test new discovery targets identified in the 2017 program (see Note 3 below).
The geology at the Teal project area is dominated by Black Flag sediments (felsic volcanics and volcanoclastics) with lesser amounts of porphyry and intermediate volcanics. Fresh rock gold is typically associated with quartz and sulphides and faulting has displaced and pinched out some of the mineralisation. Primary mineralisation at depth exhibits semi-refractory properties and optimal recoveries are achieved through ultra-fine grinding, pressure oxidation or roasting. The shallow oxide supergene mineralisation is similar to the Teal gold mine where recoveries over 94% where achieved.
To date, 26 RC holes have been completed for 3,156m to a maximum depth of 160m testing new discovery targets. The targets were identified in areas where the historic drilling was regarded as being too shallow, but are also coincident with several prospective structures e.g. chargeability anomalies, interpreted jogs, fault zones etc.
The target east of Peyes Farm (Wills Find) was one such area where three holes drilled by Intermin (PFRC1667-1669) discovered consistent, anomalous gold (4m @ 220 ppb Au). These holes were plotted up and the surrounding structures tested. The discovery hole at nearby PFRC18005 recorded 23m @ 1.29 g/t Au from 67m including a higher grade zone 10m @ 2.13 g/t Au from 78m (see Note 4 below) (see Figures 1 and 4 in link below). Step back drilling around this hole gave considerable encouragement with the best result to date being found in PFRC18012 (18m @ 2.69g/t Au from 96m including 11m @ 4.00g/t Au from 96m)(see Note 4 below).
The mineralisation at Wills Find is typically found on the felsic volcanic contact and is marked by a strong alteration (chlorite-pyrite) zone with thin, stringy quartz -pyrite veins often being observed (see Figure 3 in link below). A pink porphyry unit appears to intrude and possibly stope out some of the mineralisation. Similar to Peyes Farm, the mineralisation at Wills Find also appears to have been strongly faulted confirming the complexity of the area.
A second discovery hole was made near the current Teal ROM pad, 250m west of the pit and 400m NW of Yolande. JFRC18012 recorded 4m @ 2.60 g/t Au from 52m (see Note 5 below). This drill hole is 275m south of two earlier Intermin holes (TRC1685, 8m @ 1.40 g/t Au from 158m and TRC1676 1m @ 1.98 g/t Au and 5m @ 1.42 g/t Au from 74m) and suggest the possibility of another zone of significant mineralisation, parallel to Teal. There has only been minor drilling west of Teal, many of the holes being too shallow and ineffective. Five holes have since been drilled in follow up to JFRC18012 with samples having been dispatched to the laboratory for analysis.
Five holes were allocated to the west of Jacques Find to follow up some IP conductor anomalies. The conductors appeared to correlate with multiple units of barren, graphitic black shale and siltstone horizons. Only one hole recorded anomalous gold (8m @ 80 ppb Au from 44m). Four holes also tested a conceptual target 1km south, and along strike from Jacques Find, with the best result being 4m @ 100 ppb Au.
Next Steps
To date, Intermin have tested the five priority new discovery targets around Jacques Find and Peyes Farm with two of these areas returning significant mineralisation. At Wills Find, diamond drilling is planned alongside further RC drilling to follow up anomalous surface mineralisation (PFRC18018, 8m @ 0.28 g/t Au) close to where quartz veining has been dug out in the sumps. Further targets, including east of Teal and untested areas linking Peyes Farm and Teal are scheduled to be drilled in May.
Notes:
1 See Table 1 on Page 5, Competent Persons Statements on Page 6, Forward Looking Statement on Page 7 and JORC Tables on Page 8
2 As announced to the ASX on 19 February 2018
3 As announced to the ASX on 16 January 2018
4 See Table 1 on Page 5, Competent Persons Statements on Page 6, Forward Looking Statement on Page 7 and JORC Tables on Page 8
5 See Table 1 on Page 6, Competent Persons Statements on Page 8, Forward Looking Statement on Page 9 and JORC Tables on Page 10
To view tables and figures, please visit:
http://abnnewswire.net/lnk/33O2T230
About Intermin Resources Limited

Intermin Resources Limited (ASX:IRC) is a gold exploration and mining company focussed on the Kalgoorlie and Menzies areas of Western Australia which are host to some of Australia's richest gold deposits. The Company is developing a mining pipeline of projects to generate cash and self-fund aggressive exploration, mine developments and further acquisitions. The Teal gold mine has been recently completed.
Intermin is aiming to significantly grow its JORC-Compliant Mineral Resources, complete definitive feasibility studies on core high grade open cut and underground projects and build a sustainable development pipeline.
Intermin has a number of joint ventures in place across multiple commodities and regions of Australia providing exposure to Vanadium, Copper, PGE's, Gold and Nickel/Cobalt. Our quality joint venture partners are earning in to our project areas by spending over $20 million over 5 years enabling focus on the gold business while maintaining upside leverage.

Jon Price
Managing Director
Tel: +61-8-9386-9534
E: jon.price@intermin.com.au

Michael Vaughan
Media Relations - Fivemark Partners
Tel: +61-422-602-720
E: michael.vaughan@fivemark.com.au
Related CompaniesIntermin Resources Limited