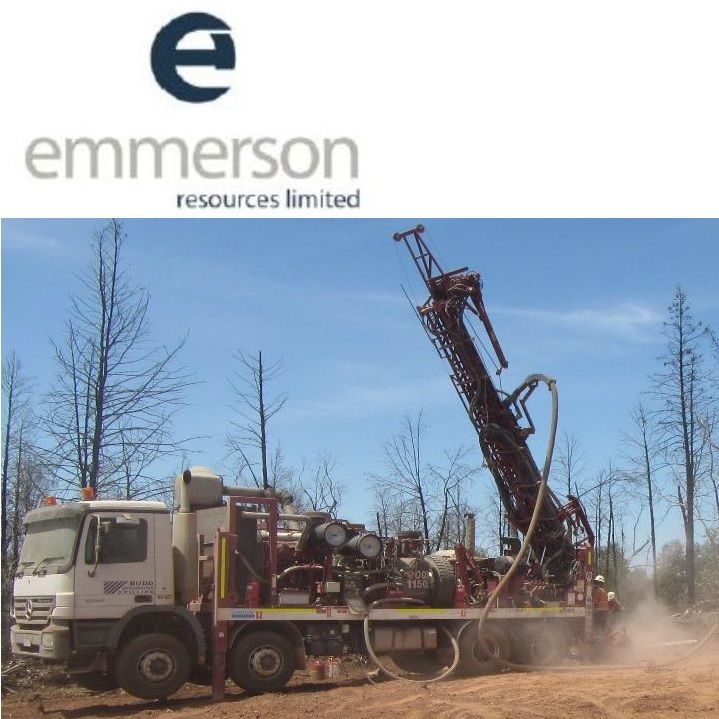 New high-grade Cobalt, Copper and Gold
Perth, April 10, 2018 AEST (ABN Newswire) - Emmerson Resources Limited ("Emmerson") (

ASX:ERM
) (

OTCMKTS:EMMRF
) is pleased to announce that a series of spectacular assay results has been returned from the Jasper Hills Project, located within the Northern Corridor of Emmerson's 100% owned Tennant Creek Project.
- Spectacular results returned from Jasper Hills, located within the Northern Corridor at Tennant Creek:
- NSDH101: 28m at 5.83g/t gold, 0.17% cobalt and 8.52% copper (from 108 to 136m) and includes:
o 19m at 0.56g/t gold, 0.47% cobalt and 11.4% copper and
o 2m at 50.1g/t gold and 10.5% copper
- NSDD100: 11m at 0.22g/t gold, 0.18% cobalt and 2.56% copper (from 117 to 128m) and includes:
o 3m at 0.34g/t gold, 0.55% cobalt and 5.80% copper and
o 1m at 0.48g/t gold, 1.07% cobalt and 5.71% copper
- NSDH547: 23m at 0.14% cobalt and 7.04% copper (from 95 to 118m) and includes:
o 4m at 0.37% cobalt and 10.2% copper and 1.35g/t gold
- NSDH488: 14m at 6.72g/t gold, 0.28% cobalt and 2.17% copper (from 284 to 298m) and includes:
o 5m at 16.6g/t gold
o 2m at 1.32% cobalt and 2% copper
- NSDD110: 15m at 7g/t gold (from 295 to 310m) and includes:
o 6m at 14.9g/t gold
- Mineral Resource Estimate for Jasper Hills to be completed in the current June quarter
- New exploration program for targets within the Northern Corridor are close to being finalised
Emmerson's Managing Director, Mr Rob Bills commented: "The proposed restructure of the Tennant Creek Mineral Field JV with Evolution Mining has enabled Emmerson to focus on the generation of new targets within the 2,600km2 project area to be retained by Emmerson subject to shareholder approval.
Our first area of priority is the highly prospective yet underexplored Northern Corridor region. This area hosts our high-grade Edna Beryl gold mine and has excellent potential for further deposits of gold, copper and now at Jasper Hills, the addition of high grade cobalt.
While the Jasper Hills project was discovered back in the 1930's, it received little attention at the time due to a combination of the cobalt price and focus on the nearby North Star gold mine. Emmerson's initial program has consisted of locating the historic drill core, relogging and assaying ahead of an independent assessment of the mineral resource consistent with the JORC code.
Although early days, the indicative cobalt grades at Jasper Hills compare favourably with other Australian projects of CleanTeQ (~0.1% Co), Australian Mines (~0.11% Co), Metals X (~0.08% Co), Barra Resources (~0.13% Co). Whilst these projects have associated metals, Jasper Hills is unique given the combined metal grades (copper, gold and cobalt) which provide potential for very high value ores.
Emmerson has considerable experience in the exploration for this style of mineralisation, with discoveries at Edna Beryl, Mauretania and Goanna -that share many common attributes of high-grades of gold, copper and now cobalt, associated with oxidised, hematite ironstones. We believe the Northern Corridor has excellent potential for further discoveries and will be announcing a major exploration program over this area shortly.
Jasper Hills Project (see figure 1 in link below)
Drill core from most of the previous diamond holes (drilled between 1975 and 1997) has been located as part of Emmerson's ongoing target generation activities over the Northern Corridor. This diamond core is in excellent condition, with key intervals resubmitted for assay utilising standards under the JORC Code (2012). The resultant assays accord well with the historic results and detailed geological information, providing a high integrity database for ongoing studies (see tables 1,2 3 and figure 2 in link below).
The Jasper Hills mineralisation is hosted in brecciated hematite ironstones surrounded by intensely chloritized sediments of the Warramunga Group. The ironstones are enveloped by silicified carbonates, quartz and jasper, similar in most respects to Edna Beryl and within the district, encompass high-grade gold exploration targets (North Star Deeps Gold, Jasper Hill Gold), high-grade copper exploration targets (Katherine Star, Northern Star and Hermitage) and high-grade copper-cobalt exploration targets (Jasper Hills) (see figure 3 in link below).
Mineralisation at Jasper Hills is typically associated with the footwall or core of the ironstones and in the oxide zone, some 50m below the surface, consists of malachite and lessor azurite. The transition zone includes these plus bornite, chalcocite and native copper, extending down some 200m below the surface to encompass the sulphide zone of mainly chalcopyrite. The high-grade cobalt zone transgresses the copper and consists of mainly cobaltite in association with chalcopyrite and digenite (see figure 4 in link below). Interestingly, historic metallurgical testing of these ores in the 1990's produced a high-grade copper and cobalt concentrate, with a 20kg sample grading 3.6% copper and 0.16% cobalt (1990 Optimet Laboratories).
The ironstones of the Northern Corridor are hematite dominant and up until now, have been challenging to discover. Emmerson's success in discovery for these styles of deposits (for example Edna Beryl, Mauretania and Goanna) comes from systematic, science-based exploration utilising the application of new exploration models combined with modern geophysical detection technologies (see figure 5 in link below).
About Tennant Creek and Emmerson Resources
The Tennant Creek Mineral Field (TCMF) is one of Australia's highest-grade gold and copper fields producing over 5.5 Mozs of gold and 470,000 tonnes of copper from deposits including Warrego, White Devil, Orlando, Gecko, Chariot and Golden Forty. These high-grade deposits are highly valuable exploration targets and to date discoveries include high grade gold at Edna Beryl and Mauretania, plus copper-gold at Goanna and Monitor. These are the first discoveries in the TCMF for over a decade.
Emmerson announced the first gold pour from the high-grade Edna Beryl gold mine in December 2017. This mine is being operated under a Tribute Agreement with specialist small miner, the Edna Beryl Mining Company.
In addition, Emmerson recently commenced exploration on new gold-copper projects in NSW, identified (with our strategic alliance partner Kenex Limited) from the application of 2D and 3D predictive targeting models - aimed at increasing the probability of discovery. The highly prospective Macquarie Arc in NSW hosts >80Mozs gold and >13Mt copper with these resources heavily weighted to areas of outcrop or limited cover. Emmerson's five exploration projects contain many attributes of the known deposits within the Macquarie Arc but remain under explored due to historical impediments, including overlying cover (plus farm lands) and a lack of exploration focus. Kadungle is a JV with Aurelia Metals covering 43km2 adjacent to Emmerson's Fifield project.
On the 19th of February 2018, Emmerson notified the ASX that it had reached and executed an agreement with previous JV partner, Evolution Mining pertaining to the Tennant Creek Mineral Field JV. Under the proposed restructure, Emmerson retains 100% ownership of 2,600km2 or 94% of the previous JV area that includes all the gold projects and 100% of the revenue from the small mines. In return Evolution takes 100% of the copper dominant projects of Orlando, Gecko and Goanna. This agreement needs approval by Emmerson shareholders at a proposed meeting of shareholders expected to be held in May 2018.
Emmerson is led by a board and management group of experienced Australian mining executives including former MIM and WMC mining executive Andrew McIlwain as non-executive chairman, and former senior BHP Billiton and WMC executive Rob Bills as Managing Director and CEO.
To view tables and figures, please visit:
http://abnnewswire.net/lnk/6K39QS83
About Emmerson Resources Limited

Emmerson Resources Limited (ASX:ERM) (FRA:42E) is an ASX listed gold resource company that recently (July, 2014) secured a landmark Joint Venture agreement with Evolution Mining (ASX:EVN).
Has an aggressive exploration program and dominant position in the world class Tennant Creek Mineral Field.
Is applying new exploration concepts and technologies to unlock the next generation of gold and copper deposits.
Owns the only carbon-in-pulp gold plant in the region.
Has an experienced Board and Management team.
Investor Enquiries:
Mr. Rob Bills
Managing Director & Chief Executive Officer
T: +61-8-9381-7838
E: admin@emmersonresources.com.au
www.emmersonresources.com.au
Related CompaniesEmmerson Resources Limited