Gold production and new epithermal discovery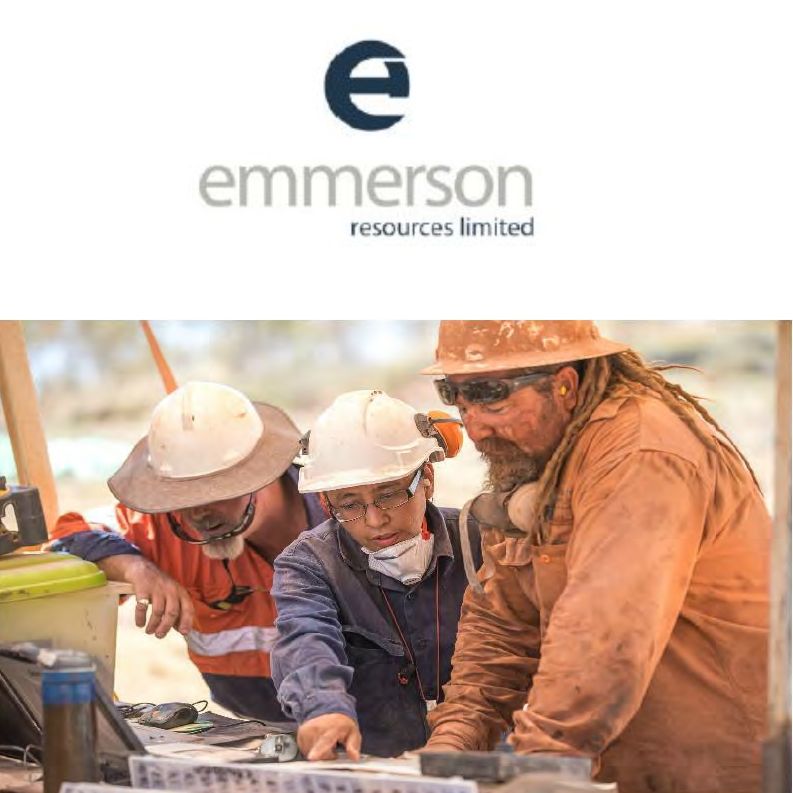 Exploration Update
Perth, Feb 9, 2018 AEST (ABN Newswire) - Emmerson Resources Limited ("Emmerson") (

ASX:ERM
) (

OTCMKTS:EMMRF
) is pleased to announce results of recent drilling from two of its five projects. The results from Kadungle are strategically important as they represent the emergence of new gold-copper projects in NSW, where Emmerson has a commanding ground position (see figure 2 in link below). These projects complement our Tennant Creek exploration and recently announced production from the high-grade, Edna Beryl Gold Mine.
- Emmerson's 2018 strategy aimed at maximising value from discovery and production of high grade gold, with further optionality from copper
- New epithermal vein system intersected in last drill hole at Kadungle NSW (assays pending)
- Discovery drill hole at Kadungle intersects:
o 3m at 0.67g/t gold from 299m (drill hole KDD017), plus a deeper intersection of:
o 10m at 0.35% copper from 475m (drill hole KDD017) which includes:
-- 1m at 1.63% copper
- High grade Cobalt from rock chip samples at the Fifield project, NSW
- Extensional drilling at Tennant Creek intersects high grade copper as follows:
o 4m at 2.87% copper from 122m (drill hole GRC1413) which includes:
-- 3m at 3.63% copper, plus a deeper intersection of:
o 6m at 4% copper from 137m which includes:
-- 2m at 6.8% copper
Kadungle Project - New South Wales
A recently completed drilling campaign at the Kadungle project in NSW has identified potential for both deeper copper-gold (ASX 13 December 2017) and now, shallow epithermal gold at the Trig prospect (see figure 3 in link below). Whilst assays are still pending, construction of the drill access track at Trig revealed extensive boulders of epithermal quartz. Excitingly, the last drill hole at Trig (drill hole TRC004) intersected multiple epithermal veins which correspond with boulders at surface that contain extensive quartz-hematite veins. Previous rock chip sampling at Trig returned highly anomalous gold geochemistry with up to 1.27 g/t gold (see figure 4 in link below).
Drilling at the Mt Leadley prospect has intersected further copper and gold. Drill hole KDD017 intersected both shallow gold (3m at 0.67g/t) in quartz-hematite chlorite stock-work veins and zones of deeper copper mineralisation (10m at 0.35g/t copper incl. 1m at 1.63% copper) (see figure 5 in link below). This zone of elevated copper is associated with sheeted chalcopyrite-pyrite veins within pervasive chlorite-sericite-pyrite altered host rocks (see figure 1 in link below). The other two drill holes at Mt Leadley intersected strong alteration and anomalous gold (up to 0.25g/t) which combined with the recent geophysics, suggests that the main, higher grade portion of the system is yet to be tested (see figure 5 in link below).
As previously advised, Emmerson has notified Aurelia that it has met all the terms of the Stage 1 Earn-in to acquire a 60% share of the Kadungle project. This recent round of drilling is part of the next Stage 2 Earn-in of $200,000 for 80% equity of the project.
Other NSW Projects
Early stage reconnaissance across Emmerson's four new projects in NSW continues to produce promising results and validates our proprietary area selection process which utilises predictive 2 and 3D targeting models. Whilst the strategy continues to focus on the high value metals of gold and copper, some opportunistic exploration revealed an interesting cobalt prospect within our Fifield project. Whilst early days, rock chip results of up to 0.55% cobalt and 0.27% copper warrant further investigation, particularly as this area has seen little previous exploration yet is adjacent to historic workings (see figure 1 in link below).
Tennant Creek Project (see figure 6 in link below)
The recent drilling at the Gecko-Goanna project further confirms the potential for non-ironstone hosted copper.
Better results include:
- 4m at 2.87% copper from 122m (drill hole GRC1413) which includes:
o 3m at 3.63% copper, plus a deeper intersection of:
- 6m at 4% copper from 137m which includes:
o 2m at 6.8% copper
- 5m at 1.36% copper from 177m (drill hole GRC1416) which includes:
o 1m at 4.7 % copper and 1m at 3.8% copper
This supports the previously announced mineralisation in drill hole GODD032 of 7m at 5.98% copper and 3m at 4.75% copper (ASX- 19 August 2015) (see figure 7 in link below). Some of the other holes were also anomalous in copper and intersected intervals of quartz-hematite gouge likely corresponding with late faulting that has disrupted the overall continuity of the shear zone.
Funding for this recent drilling completes the Stage 1 Earn-in obligation from our joint venture partner, Evolution Mining. Accordingly, we are now in discussions with Evolution regarding the future options for the Tennant Creek joint venture. We are confident that these discussions will deliver a mutually attractive path forward for the project and for our shareholders.
The copper dominant Gecko-Goanna mineralisation stands in contrast to the high-grade gold deposits of the Tennant Creek Field, particularly the recent high-grade gold discovery and new mine development at Edna Beryl. Where Emmerson recently announced first gold production from the processing of 1,000t of ore from a development drive that assayed at over 35g/t gold (ASX- 20 December 2017). Mining at Edna Beryl is via a Tribute Agreement with small mine specialist, the Edna Beryl Mining Company. Emmerson's share of the proceeds from Edna Beryl is proportional to the amount of gold extracted from the Tribute Area (defined by a 3D envelope) and its equity in the Tennant Creek joint venture.
Emmerson's Managing Director, Mr Rob Bills commented: "Emmerson is extremely well positioned with commanding ground positions in NSW and Tennant Creek. This project portfolio is now diversified beyond Tennant Creek and attractive for development, either by Emmerson or third parties. We are confident that positive results across this portfolio will continue to build quality assets and consistency of news flow. Further, Emmerson is one of few junior companies building a revenue stream from small high-grade mines.
Pleasingly the last round of drill results at Kadungle is consistent with the emergence of a large mineralised system that supports ongoing exploration for both shallow gold and deeper copper-gold. Assay results for the Trig drilling will be available toward the end of February as work continues both at Kadungle and across our other NSW projects.
About Tennant Creek and Emmerson Resources
The Tennant Creek Mineral Field (TCMF) is one of Australia's highest-grade gold and copper fields producing over 5.5 Mozs of gold and 470,000 tonnes of copper from a variety of deposits including Gecko, Orlando, Warrego, White Devil, Chariot and Golden Forty. All of which are within Emmerson Resources (

ASX:ERM
) 2,800km2 exploration and joint venture portfolio. These deposits are highly valuable exploration targets and, utilising modern exploration techniques, Emmerson has been successful in discovering copper and gold mineralisation at Goanna, Monitor and more recently Edna Beryl, the first discoveries in the TCMF for over a decade.
Emmerson is led by a board and management group of experienced Australian mining executives including former MIM and WMC mining executive Andrew McIlwain as non-executive chairman, and former senior BHP Billiton and WMC executive Rob Bills as Managing Director and CEO.
Pursuant to the Farm-in agreement entered with Evolution Mining Limited (Evolution) on 11 June 2014, Evolution has met the Stage 1 Earn-in obligation of $15 million to earn a 65% interest. There is a further option to spend $10 million over two years following the Stage 1 Farm-in, allowing Evolution to earn an additional 10% (Stage 2 Farmin). Emmerson is acting as manager during the Stage 1 Farm-in and is receiving a management fee during this period.
Emmerson has recently commenced exploration on new gold-copper projects in NSW, identified (with our strategic alliance partner Kenex Limited) from the application of 2 and 3D predictive targeting models - aimed at increasing the probability of discovery. The highly prospective Macquarie Arc hosts >80Mozs gold and >13Mt copper but with these resources heavily weighted to areas of outcrop or limited cover. Emmerson's five exploration projects contain many attributes of the known deposits within the Macquarie Arc but remain under explored due to historical impediments, including overlying cover (plus farm lands) and a lack of exploration focus. Kadungle is a JV with Aurelia Metals covering 43km2 adjacent to Emmerson's Fifield project.
About Evolution Mining (

ASX:EVN
)
Evolution Mining is a leading, growth-focussed Australian gold miner. Evolution operates five wholly-owned mines - Cowal in New South Wales; Mt Carlton, Mt Rawdon, and Cracow in Queensland; and Mungari in Western Australia. In addition, Evolution holds an economic interest in the Ernest Henry copper-gold mine equivalent to 100% of gold production and 30% of copper and silver production from an agreed life of mine area.
About Aurelia (

ASX:AMI
)
Aurelia Metals Limited is an Australian gold, silver, lead and zinc mining and exploration company. The Company operates the wholly-owned Hera gold and base metal mine, in Central West New South Wales and has a key development opportunity in the Nymagee Copper, lead, zinc project, some 5 km north of Hera. Aurelia has entered into a binding agreement with New Gold to purchase the Peak Mine. In FY17, the Company produced 45,679 ounces of gold and 32,308 tonnes of lead-zinc concentrate.
To view tables and figures, please visit:
http://abnnewswire.net/lnk/7US99M56
About Emmerson Resources Limited

Emmerson Resources Limited (ASX:ERM) (FRA:42E) is an ASX listed gold resource company that recently (July, 2014) secured a landmark Joint Venture agreement with Evolution Mining (ASX:EVN).
Has an aggressive exploration program and dominant position in the world class Tennant Creek Mineral Field.
Is applying new exploration concepts and technologies to unlock the next generation of gold and copper deposits.
Owns the only carbon-in-pulp gold plant in the region.
Has an experienced Board and Management team.
Investor Enquiries:
Mr. Rob Bills
Managing Director & Chief Executive Officer
T: +61-8-9381-7838
E: admin@emmersonresources.com.au
www.emmersonresources.com.au
Related CompaniesEvolution Mining Limited


Emmerson Resources Limited





Aurelia Metals Ltd