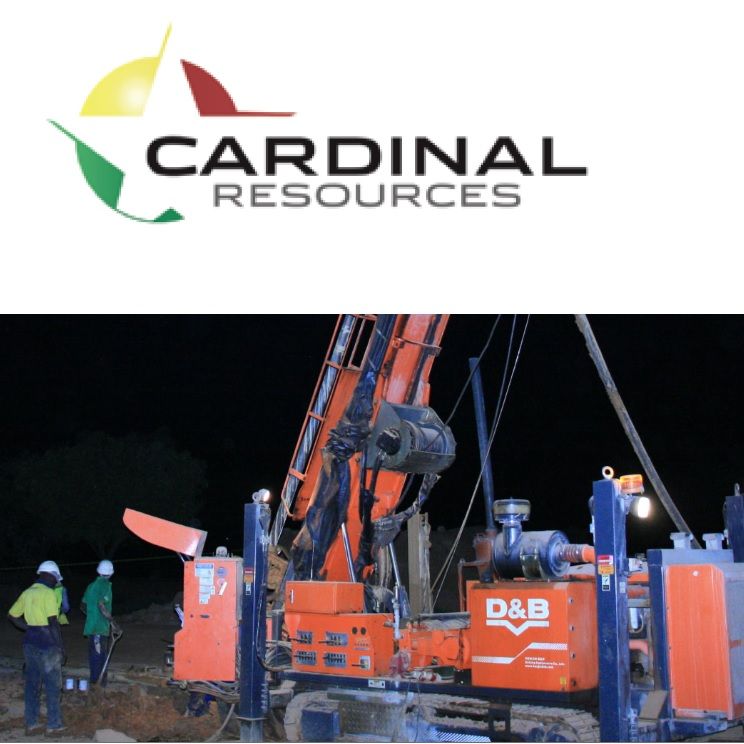 Namdini Drilling and Regional Exploration Update
Perth, Dec 14, 2017 AEST (ABN Newswire) - Cardinal Resources Limited (

ASX:CDV
) (

TSE:CDV
) (

OTCMKTS:CRDNF
) ("Cardinal" or "the Company") reports assay results from its continued infill drilling programme of the Namdini Gold Project and an update for its Exploration Licenses in Ghana.
Cardinal's Chief Executive Officer / Managing Director, Archie Koimtsidis said:
"Our confidence in the Namdini gold resource is increasing with the return of our initial results from the 9,000m infill drilling programme which began following the release of our September 2017 Mineral Resource update.
"It is anticipated that when complete results from this current infill programme will lead to an upgrade in the current Mineral Resource in both size and category during Q1 2018. In conjunction with this infill programme, we have completed our initial potential "starter pit" study with strong correlation to the current Mineral Resource Model (see release dated 11th December 2017), hydrogeological drilling, pit geotechnical drilling and we are also continuing to advance the Preliminary Economic Assessment which is expected to be completed in Q1 2018.
"Furthermore, we have started mobilising drill rigs which will begin testing our regional Exploration Licenses. These licenses are approximately 900 km2 in size and are strategically positioned on what Cardinal believes to be regional scale mineralized structural trends."
HIGHLIGHTS FROM NAMDINI 9,000m INFILL DRILLING RETURNED TO DATE
o 7m at 5.1 g/t Au from 206m - NMRC177
o 13m at 4.9 g/t Au from surface - NMDD125
o 9m at 4.1g/t from 414m - NMDD110
o 10m at 2.9g/t from 379m - NMDD110
o 10m at 2.7g/t Au from 429m - NMDD107
o 26m at 2.6 g/t Au from 111m - NMDD127
o 38m at 2.1 g/t Au from 291m - NMDD107
o 20m at 1.9g/t Au from 459m - NMDD107
o 10m at 1.5g/t from 228m - NMDD110
o 13m at 1.3 g/t Au from 370m - NMDD108
o 26m at 1.2 g/t Au from 180m - NMDD108
Individual gold intersections are >0.5 g/t Au with no more than 3m of consecutive internal dilution at <0.5 g/t Au. Detailed results of the drill programme are included below and in the attached schedules.
DISCUSSION OF RESULTS
Infill drilling results have been returned from the comprehensive campaign to continue to add definition to the Namdini Mineral Resource. As infill drill results are returned, they continue to support strong mineralized zones. Further results are pending which will form the basis for a Mineral Resource upgrade expected in Q1 2018.
Figure 1 (see link below) illustrates a plan view of the collar locations of drill holes and a typical interpretive section of the mineralization is displayed in Figure 2 (see link below). Meta Data for significant intercepts are tabulated in Table 1, Schedule 1 (see link below). Details of all significant intercepts are provided in Table 2, Schedule 1 (see link below).
The listed intercepts within Table 2, Schedule 1 (see link below) have a detailed explanation within the notes to describe how the mineralized intercepts were calculated. Significant mineralized intercepts are based upon using a 0.5 g/t Au cutoff, approximating the cut-off to be used for Reasonable Prospects of Eventual Economic Extraction ("RPEEE") as per the Australasian Code for Reporting of Exploration Results, Mineral Resources and Ore Reserves ("JORC Code 2012") and the Canadian Institute of Mining ("CIM2010") guidelines with no more than 3m of internal dilution at <0.5g/t Au.
Please refer to www.sedar.com for Cardinal's current technical report.
REGIONAL EXPLORATION UPDATE
The Company also provides an update of drill programmes over three Exploration Licenses ("Kungongo"), ("Ndongo"), ("Bongo") all within the Company's Bolgatanga Project, located in the Upper East Region of Ghana and a fourth license ("Subranum") located in the Ashanti Region of Southwest Ghana (see Figures 3 and 4 in link below).
KUNGONGO
- Regional "Bole-Bolgatanga Shear Zone" occurs over a length of 5 km within the northwest corner of the tenement (122 km2)
- Reconnaissance RC drilling across strike is planned
NDONGO
- Tenement has now been expanded to 296 km2 with the recently purchased Kinross ground
- Core and rejects from more than 120 diamond and RC historic drill holes within landpackage are currently being moved to Cardinal's Bolgatanga operational office for relogging
- Auger soil drilling has been completed at 200m x 50m over prospective areas
- Detailed ground geophysics is underway to further assist with drill target generation
- Reconnaissance drilling will test anomalous gold targets
BONGO
- The prospect covers an area of 453 km2
- Dominated by three major intrusive complexes, predominantly intermediate and foliated felsic basin type granitoids
- 545 auger soil drill holes completed totalling 1,883m - drill targets being generated
SUBRANUM
- Regional Shear Zone occurs over a length of 9 km within the tenement (63 km2)
- Newmont drilled 31 historic holes, along with soils and trench sampling within landpackage
- Operating mines are located nearby - Newmont, Kinross Gold and Resolute Mining
- Diamond drilling to commence with twin and scout holes along a 5 km anomalous zone previously identified by Newmont
To view figures, please visit:
http://abnnewswire.net/lnk/7S5DM12G
About Cardinal Resources Ltd

Cardinal Resources Ltd (ASX:CDV) (TSE:CDV) (OTCMKTS:CRDNF) is a West African gold-focused exploration and development Company which holds interests in tenements within Ghana, West Africa.
The Company is focused on the development of the Namdini Project with a recently announced Maiden Probable Reserve of 4.76Moz and is now advancing the feasibility study supported by additional multi-disciplinary engineering activities.
Exploration programmes are also underway at the Company's Bolgatanga (Northern Ghana) and Subranum (Southern Ghana) Projects.

Archie Koimtsidis
CEO / MD
Cardinal Resources Limited
P: +61-8-6558-0573

Alec Rowlands
IR / Corp Dev
Cardinal Resources Limited
P: +1-647-256-1922
Related CompaniesCardinal Resources Ltd