Exploration ramps up across five projects in NSW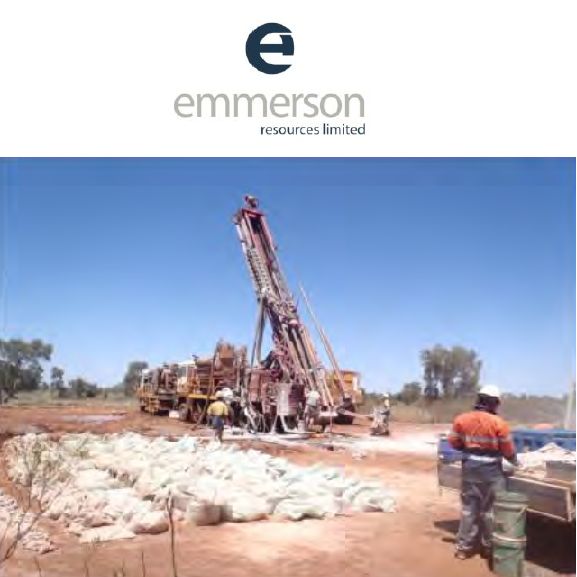 Exploration Update
Perth, Sep 18, 2017 AEST (ABN Newswire) - Emmerson Resources Limited ("Emmerson") (

ASX:ERM
) (

OTCMKTS:EMMRF
) is pleased to announce that the near mine and regional exploration programs completed at Edna Beryl within its 2,800km2 Tennant Creek project has discovered additional ironstones, some highly anomalous in both copper and gold (see figure 1& 2, table 1 in the link below).
Highlights
- The broad spaced regional drill program at Edna Beryl has successfully delineated new ironstones that host gold and copper mineralisation - providing new targets for detailed follow-up drilling
- Deep diamond drilling at Edna Beryl has confirmed the ironstones and gold mineralisation continues at depth and remains open
- Planning is underway for developing an underground exploration/drill drive from the Edna Beryl East mine workings. Providing a more effective platform to infill drill the high grade gold intersected outside of the Tribute area
- The next 2,500m drill campaign at Tennant Creek (funded by JV partner Evolution Mining) will focus on the high grade Gecko-Goanna-Monitor copper-gold project
- Large geophysical survey underway at Kadungle in NSW to test for extensions to the previously intersected epithermal gold and porphyry copper-gold
The deep diamond drill program at Edna Beryl has confirmed that ironstones and mineralisation persist at depth, with the best intersections in EBWDD073 of 0.65m at 6.53g/t gold from 305m and EBWDD076 of 5m at 0.45g/t gold, including 1m at 1.40g/t gold and highly elevated bismuth of 0.12% - typically a pathfinder to high grade gold. The depth extent remains open and requires deeper testing, while further drilling is required to define the volume and grade of mineralisation associated with these new intercepts.
Drill hole EBWRC083 some 200m to the west of the Edna Beryl mine intersected a thick shear zone containing chlorite-hematite ironstone and quartz veining, assaying 7m at 1.33g/t gold from 171m including 2m at 4.31g/t gold and 1m at 6.60g/t gold. Encouragingly, this is supported in adjacent gold anomalous drill holes EBWRC080 and 079 - indicating good potential for extensions to the known mineralisation.
Drilling in the district has confirmed potential for new mineralisation immediately to the north of the Edna Beryl mine particularly in the vicinity of drill holes EBWCRC061 which intersected 12m at 0.59% copper with 0.07g/t gold from 90m and; EBWRC062 which returned 15m at 0.25% copper and 0.03g/t gold from 210m down the hole. This intersection included some higher grades of 1m at 2.80% copper and anomalous gold. Of interest is another anomalous zone some 200m to the west in EBWRC068 of 2m at 0.95% copper and 0.05g/t gold (see figure 2, table 1 in the link below). Pleasingly this drilling when combined with the detailed gravity survey completed earlier in the field season, indicates a close correlation with the mineralisation and the most intense gravity anomalies (see figure 2 in the link below - pink colour). Providing a tool to screen and detect "Edna Beryl" style hematite hosted mineralisation under cover.
Planning is underway for the development of an underground exploration drive from the current Edna Beryl mine across to the recently discovered Edna Beryl West mineralisation. This will enable more effective and cheaper drilling of the greater Edna Beryl mineralisation from underground, consistent with resource delineation at many of the historic deposits within the Tennant Creek Mineral Field.
The next drill campaign at Tennant Creek will focus on the Gecko-Goanna-Monitor project, where Emmerson discovered high grade copper and gold in 2011 (see figure 3 in the link below). More recent drilling of GODD032 intersected 7m at 5.98% copper including 3m at 10.4% copper from 123m down the hole (ASX - 19/08/15). Another zone of 3m at 4.75% copper including 1m at 10.6% copper from 162m suggests significant potential exists for high grade copper, similar to what has been discovered at Goanna. Thus drilling will test for extensions to this style of copper to the south of the previous defined mineralisation and will also include testing for down plunge extensions at Goanna.
A large Induced Polarisation and Gradient Array geophysical survey is underway at Emmerson's Kadungle project in NSW. This survey is aimed at defining the extent of the previously intersected shallow epithermal gold and deeper porphyry copper-gold mineralisation. The survey covers the +1km diameter zone of magnetite destruction plus the newly discovered epithermal veins, some 2km to the north (see figure 4 in the link below). Further drilling on this project is planned for later in the year.
To view tables and figures, please visit:
http://abnnewswire.net/lnk/6XG28DCY
About Emmerson Resources Limited

Emmerson Resources Limited (ASX:ERM) (FRA:42E) is an ASX listed gold resource company that recently (July, 2014) secured a landmark Joint Venture agreement with Evolution Mining (ASX:EVN).
Has an aggressive exploration program and dominant position in the world class Tennant Creek Mineral Field.
Is applying new exploration concepts and technologies to unlock the next generation of gold and copper deposits.
Owns the only carbon-in-pulp gold plant in the region.
Has an experienced Board and Management team.
Investor Enquiries:
Mr. Rob Bills
Managing Director & Chief Executive Officer
Tel: +61-8-9381-7838
www.emmersonresources.com.au
Related CompaniesEmmerson Resources Limited