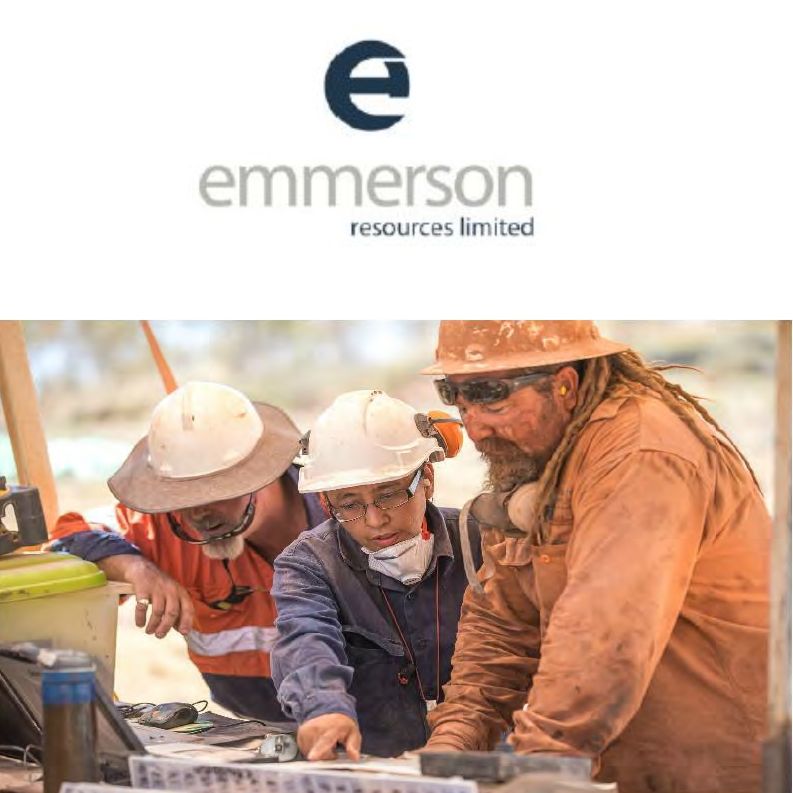 2017 Annual Report and Financial Statements
Perth, Sep 18, 2017 AEST (ABN Newswire) - Emmerson Resources Limited (

ASX:ERM
) (

OTCMKTS:EMMRF
) provides the Company's 2017 Annual Report and Financial Statements.
REVIEW OF OPERATIONS
About Emmerson Resources
Emmerson is a leading gold and copper gold explorer with projects in the Northern Territory and New South Wales and is led by a board and management group of experienced Australian mining executives including former MIM and WMC mining executive Andrew McIlwain (nonexecutive chairman), and former senior BHP Billiton and WMC executive Rob Bills ( Managing Director and CEO).
The Northern Territory projects are centred around the Tennant Creek Mineral Field (TCMF), which is one of Australia's highest grade gold and copper fields producing over 5.5 million ounces of gold and 470,000 tonnes of copper from a variety of deposits including Gecko, Orlando, Warrego, White Devil, Chariot and Golden Forty, all of which are within Emmerson Resources portfolio. Emmerson has been successful in discovering copper and gold mineralisation at Goanna, Monitor, Mauretania and more recently, the discovery of very high grade gold at Edna Beryl - the first discoveries in the TCMF for over a decade.
Emmerson holds 2,800 km2 of ground in the TCMF and a substantial geological database plus extensive infrastructure and equipment.
Emmerson is in the process of monetising a pipeline of small high grade exploration targets via a Tribute Agreement with a company which specialises in the operations of small mines. The first of these small mines will be at Edna Beryl, with production to commence in 2017-18.
The TCMF is situated approximately 500km north of Alice Springs on the Stuart Highway and boasts excellent infrastructure (main highway, rail, gas, water, township and airport).
TCMF Farm-in Agreement
Pursuant to the Farm-in agreement entered into with Evolution Mining Limited (Evolution) on 11 June 2014, Evolution is continuing to sole fund exploration expenditure of $15 million by 31 December 2017 to earn a 65% interest (Stage 1 Farm-in) in Emmerson's tenement holdings in the TCMF. An option to spend a further $10 million minimum, sole funded by Evolution over two years following the Stage 1 Farm-in, would enable Evolution to earn a further 10% (Stage 2 Farm-in) of the tenement holdings. Emmerson is acting as manager during the Stage 1 Farm-in and is receiving a management fee during this period. Evolution's exploration expenditure to the end of the financial year was approximately $12.8 million.
Tennant Creek Exploration Activities
During the financial year, Emmerson (on behalf of the Farm-in agreement with Evolution) conducted 8,975m drilling consisting of 7,931m of RC (Reverse Circulation, including pre collars) and 1,044m of diamond drilling. Exploration expenditure attributable to the Stage 1 Farm-in during the financial year was approximately $3.4 million and total life to date exploration expenditure attributable to the Stage 1 Farm-in at 30 June 2017 was approximately $12.8 million which has been fully reimbursed by Evolution.
To view the full report with tables and figures, please visit:
http://abnnewswire.net/lnk/60RDTCR0
About Emmerson Resources Limited

Emmerson Resources Limited (ASX:ERM) (FRA:42E) is an ASX listed gold resource company that recently (July, 2014) secured a landmark Joint Venture agreement with Evolution Mining (ASX:EVN).
Has an aggressive exploration program and dominant position in the world class Tennant Creek Mineral Field.
Is applying new exploration concepts and technologies to unlock the next generation of gold and copper deposits.
Owns the only carbon-in-pulp gold plant in the region.
Has an experienced Board and Management team.
Investor Enquiries:
Mr. Rob Bills
Managing Director & Chief Executive Officer
Tel: +61-8-9381-7838
www.emmersonresources.com.au
Related CompaniesEmmerson Resources Limited