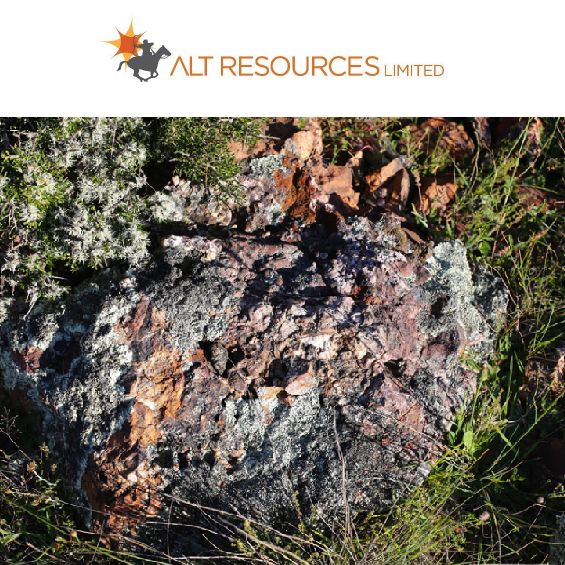 New drilling results at Windy Hill
Canberra, June 26, 2017 AEST (ABN Newswire) - Continuing research and exploration activities by Alt Resources Ltd (

ASX:ARS
) at the Paupong Project near Jindabyne in southern NSW, support the existence of a cluster of intrusion-related mineralisation systems across a large, 4+ km area within the Company's tenure. Furthermore, ongoing research has enabled a whole system view to be developed for the entire Paupong Project for the first time. As a result, exploration vectoring and targeting can be further refined, with a new generation of targets to be tested.
Key Points:
- Profound mineralogical and geochemical alteration halo recognised in new drilling at Windy Hill
- Outer polymetallic zone of Zn+Ag+Cu+/-Pb, transitioning to Au+Cu+Ag+/-Zn+/-Pb, with internal core copper-bearing core; confirmed in soil sampling and drilling results
- Large, sulphide-rich intrusion-related breccia pipe identified;
o PDD018 intersected a 235m width of = 10% pyrite-mineralised breccia and diorite interpreted as late pyrite-rich hydrothermal venting of major intrusion-related system
New diamond drilling at Windy Hill has revealed a profound mineralogical and geochemical alteration halo associated with magnetic and IP targets. These zones are interpreted as halos above a cluster of buried intrusions and represent the influx of substantial sulphide-bearing, albeit low-gold fluids into the country rock. A pyrite-mineralised diatreme breccia, interpreted as a venting structure associated with cooling and de-gassing of the intrusion, was intersected in recent drilling. This hole (PDD018) revealed a 235m downhole width of pyrite-rich breccia with pyrite-rich diorite matrix. This signifies that the overall system is sulphur-rich, and therefore has high potential to contain concentrations of precious metals such as gold, silver, copper, lead and zinc.
In order to understand the new data and drilling results, the Company has undertaken a whole-system, multi-disciplinary analysis, incorporating geophysics, geochemistry, geology, petrology as well as spectral and isotopic analysis. This research is ongoing and will be described in detail on completion. Testing of the intrusion-related exploration targets at Paupong has been supported by two rounds of the NSW Government New Frontiers Cooperative Drilling Funding Program. Drilling at Windy Hill, co-funded by the second round of the grant program (up to 75% of direct drilling costs) was completed in March 2017.
In further support of the innovative exploration approach taken by the Company at the Paupong Project, Alt received approval from AusIndustry for a Research and Development Tax Rebate of AUD$512,400.
In comment, Alt CEO James Anderson said, "The exploration team at Paupong is undertaking a research-based project on a newly identified mineral field in NSW. We have completed the current phase of diamond drilling with results confirming the existence of an IRG system. We have been systematically testing the theoretical targets generated last year. Whilst this round of drilling hasn't given us economic gold results the high-grade polymetalic mineralisation returned from the drilling is continuing evidence of this IRG. The data is invaluable in vectoring the next phase of drilling. We are looking for the core of this large mineral system. Our aim, using multi-disciplinary analysis is to locate the source of mineralisation and define large new mineral resources in an area that has had very little exploration work. I think the significance of this discovery at Paupong is largely ignored by the investment market which is interesting when you consider how few new mineral systems are discovered globally each year."
Drilling Update at Windy Hill
4 new diamond holes have been completed at Windy Hill (see Figure 2 in the link below). The first three holes of the program tested combined magnetic, IP and soil geochemical targets interpreted to be associated with buried granitic stocks. The fourth drillhole, PDD018, targeted a gossanous diatreme breccia with associated quartz stockwork. This is a feature that is commonly associated with Intrusion-Related Gold Systems, and as such was an important target for the Company.
Careful logging and sampling of PDD015 and PDD016 revealed a profound pattern of mineralogical and geochemical zonation in both holes, providing strong evidence in support of a buried intrusion-related gold system (see Figure 3 and Figure 4 in the link below). This zonation included strong sulphide mineralisation and a downhole evolution from pyrite to pyrrhotite, suggesting increasing temperature with proximity to an intrusive source. Polymetallic anomalism was detected in assay, with anomalous Au, Ag, Bi, Cu and Zn (see Figure 2, Table 1 in the link below). Anomalous silver (Ag) is present throughout most of drillhole PDD016.
Figure 5 (see the link below) shows the Company's interpretation of the system in the eastern part of Windy Hill, based on new data from PDD015 and PDD016. This model also incorporates an evolving understanding of the area, including the mineralogical factors responsible for the observed magnetic and IP responses (strong magnetite and pyrrhotite alteration zones). Whilst grades were generally low for gold, silver and copper, anomalous zones for all of these metals were present and were strongly zoned. This zonation is a classic feature of IRG systems world-wide, and affords the Company an enhanced set of tools for vectoring towards the core of the mineralised system.
The 3D model for PDD015 and PDD016 in Figure 5 (see the link below) shows the paired magnetic (green) and IP (brown) anomalies first described by the Company in May 2016. Sheeted quartz-sulphide veins are interpreted to have produced the IP chargeability response, whilst the strong presence of magnetite + pyrrhotite is responsible for the observed magnetic response. Fluids responsible for producing these discrete, spherical anomalies are interpreted to be sourced from buried intrusive stocks. The whole system has been overprinted by contact metamorphism from the nearby younger Berridale Batholith.
Drillhole PDD015, with strong evidence of intrusion-related alteration and hornfels textures (heat-induced metamorphism) has been donated to the NSW Geological Survey core library at Londonderry. The Geological Survey has undertaken HyLogger (mineral spectral) analysis of the core. The resulting HyLogger scan is shown in Figure 6 (see the link below). Magnetite zonation detected in visual logging of the core was confirmed by the HyLogger scan. Unfortunately pyrrhotite is not able to be detected using spectral analysis. Therefore mapping of the observed pyrrhotite zoning was not possible. Carbonate minerals such as calcite and siderite (blues and greens on the spectrum) are shown on the scan to be associated with areas of quartz veining, signifying mineralising brine fluids of mixed composition, with some component of CO2.
Drillhole PDD017 intersected shear zone hosted and structurally-controlled silver and base-metal mineralisation3. These later structural elements have been effective in concentrating fluids and facilitating metal deposition peripheral to the main intrusive system. This hole also revealed significant shear-hosted Pb and Zn (2.8m @ 1.4 % Pb and 0.4 % Zn), which appears to be de-coupled from Au anomalism, but coincides with strong Ag and Bi concentrations; up to 184 g/t Ag and 478 g/t Bi. Some Au was also intercepted, with up to 1.16 g/t Au. Significant intercepts were announced on the 9th May 2017, and are given in Table 1 (see the link below).
Diatreme breccia in PDD018
Drillhole PDD018 tested a prominent gossanous breccia mapped in the western part of the Windy Hill prospect. The breccia was intersected from 114m and occurred over a downhole width of 235m (see Figure 8 in the link below). At surface, the breccia has a gossanous or quartz-dominated matrix. However from 110m vertical depth, the breccia in drill core was revealed to have a pyrite-rich diorite matrix. The diorite melt is homogeneously and pervasively speckled with round pyrite clots (see Figure 7 in the link below). The sulphide-bearing diorite is currently undergoing thin section analysis. Hand sample inspection suggests that the sulphides were part of the crystallising melt, which strongly supports the Company's IRGS model.
The breccia in PDD018 is interpreted as a late stage hydrothermal structure associated with cooling and de-gassing of the buried diorite intrusion shown in Figure 8 (see the link below). A semi-circular ring of outcropping breccia has been mapped at surface (see Figure 9 in the link below), associated with a subtle magnetic anomaly which appears to form a donut shape. The breccias are situated over the outer ring of the donut, with an interior magnetic low and a second subtle magnetic high at the core.
Figure 9 (see the link below) demonstrates the simplified geochemical zoning patterns at Windy Hill, with a barren pyrite-rich ring associated with the brecciated zone. This is interpreted to represent the roof zone of the buried intrusion. A previous hole, PDD007 (drilled by Alt Resources in 2016) revealed a zone of intensely crushed, sheared, chlorite altered and brecciated rock, with visible chalcopyrite. No significant intercepts were returned, and the hole ended at 142m due to difficult drilling conditions. As such, PDD007 was not able to reach a meaningful depth within the system. The roof zone would therefore seem to have an outer rim of pyrite-only mineralisation, with a deformed and altered Cu-bearing core. This inner zone has been revealed as a significant target and will be revisited by the Company in future exploration planning.
By the interpreted model, the buried intrusive should be below PDD007. The apparent fractionation of metal species has lead to the surface expression of a barren pyrite outer rim, with all other metals having been stripped. The Company's main aim is now to understand in which part of the system these stripped metals (including Au, Ag, Cu, Pb, Zn and Bi) have been concentrated. The recently completed drilling program has been extremely useful in helping to vector in towards this potential metal-rich zone.
The zoned system is supported by an observed pattern of Cu, Ag, Pb and Zn in both soil sampling and new drilling (see Figure 2 and Figure 9 in the link below). The 4 new drillholes have all revealed key components of this variable system. The outer zone appears to be Zn (+/- Pb)-rich with increasing modalities of Au, Cu and Ag with proximity to the breccia system, until the barren pyrite zone is reached (see Figure 9 in the link below). Figure 10 (see the link below) shows the interpreted broader Windy Hill system, with the central intrusion, ring of pyrite-rich breccia and crushed roof zone, and peripheral polymetallic quartz veins. In this model, the metals are sourced and fractionated from the buried intrusion, making this a highly prospective target for future exploration.
To view tables and figures, please visit:
http://abnnewswire.net/lnk/2CF3Y152
About Alt Resources Ltd

Alt Resources Limited (ASX:ARS) is an Australian based mineral exploration company that aims to become a gold producer by exploiting historical and new gold prospects across quality assets and to build value for shareholders. The Company's portfolio of assets includes the newly acquired Bottle Creek gold mine located in the Mt Ida gold belt, the Paupong IRG Au-Cu-Ag mineral system in the Lachlan Orogen NSW, Myalla polymetallic Au-Cu-Zn project east of Dalgety in NSW and the Mt Roberts gold project located near the town of Leinster in WA.
Alt Resources, having acquired historical and under-explored tenements in the Mt Ida Gold Belt, aims to consolidate the historical resources, mines and new gold targets identified within the region. Potential at Mt Ida exists for a centralised production facility to service multiple mines and to grow the Mt Ida Gold Belt project to be a sustainable and profitable mining operation.
Alt Resources Ltd
T: 1300-66-00-01
M: +61-406-069-243
E: info@altresources.com.au
www.altresources.com.au
Related CompaniesAlt Resources Ltd