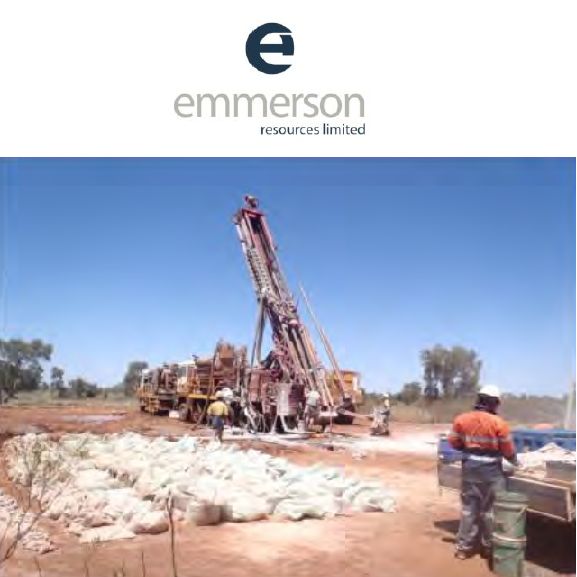 High-Grade Gold and Small Mines Update
Perth, May 17, 2017 AEST (ABN Newswire) - Emmerson Resources Limited ("Emmerson") (

ASX:ERM
) (

OTCMKTS:EMMRF
) is pleased to announce that great progress continues on our small mine strategy which aims to monetise a pipeline of small high-grade gold projects within Emmerson's Tennant Creek project in the Northern Territory (see Figure 1 in the link below). The first of these is the Edna Beryl Mine that is nearing production, with development drives intersecting visible gold on two levels. The Mine Management Plan is awaiting approval from the NT Department of Mines before production can commence.
Highlights
- Emmerson Resources first small mine at Edna Beryl in Tennant Creek has intersected visible, high-grade gold in the development drives.
- Pre-Development drilling at Black Snake, Emmerson Resources next small mine intersected:
-- 7m at 4.79g/t gold from 18m (drill hole BSRC017) which includes:
o 3m at 9.51g/t gold from 18m & 1m at 14.9g/t gold from 19m.
-- 7m at 2.85g/t gold from 19m (drill hole BSRC018) which includes:
o 2m at 7.48g/t gold from 23m.
- Black Snake results reported from previous explorers include:
-- 20m at 7.99g/t gold from 5m (BSRC006) which includes:
o 1m at 61.4g/t gold from 7m & 3m at 17.8g/t gold from 11m.
-- 14m @ 60.9g/t Au from 15m (BSRB032) which includes:
o 9m @ 92.8g/t Au from 18m.
-- 11m at 21.1g/t gold from 28m (BSRB027) which includes:
o 3m at 63.7g/t gold from 29m.
-- 7m@ 21.7g/t gold from 26m (BSRB008) which includes:
o 4m @ 36.6g/t Au from 29m & 2m @ 63.3g/t Au from 31m.
- NT Government announces transformational programs for Tennant Creek including:
-- Feasibility study into building a common user mill and processing facility, and
-- Additional initiatives to support exploration and mining.
Note the Edna Beryl small mine relates to a tightly confined envelope around the immediate mine area (see Figure 2 in the link below) and is distinct from the spectacular gold intersections announced last year from the greater Edna Beryl project. The development and production of the Edna Beryl small mine is via a tribute agreement with the specialist small miner, the Edna Berryl Mining Company (ASX 11 August 2015).
Emmerson's Managing Director, Mr Rob Bills commented: "This tribute agreement and progress on the development at Edna Beryl is a terrific template for our other small mines. It is a major step toward the resumption of mining activities within the Tennant Creek Mineral Field and will benefit all stakeholders. The tribute agreement is structured so that the Edna Beryl Mining Company is self-sufficient and does not distract from our key task of discovering a new generation of gold-copper deposits in partnership with our JV partner, Evolution Mining (

ASX:EVN
). Moreover, if successful the tribute mining will supplement our already healthy cash reserves and provide further opportunities to grow these small mines into large mines via underground exploration!"
While the 2017 drilling program for Tennant Creek is nearing finalisation, it will include additional drilling at Edna Beryl to ascertain the size potential of the greater Edna Beryl mineralisation and corresponding economics associated with various development options.
The second project in the small mines category is at Black Snake (see Figure 1 in the link below). Black Snake is considered an Advanced Exploration Target, which based on available data is considered to host around 7,000 - 10,000oz of gold.
A small program of pre-development RC drilling has confirmed the shallow, high-grade nature of the gold mineralisation (see Figures 4-6, Table 2 & 4 in the link below). Samples from this drilling will now be composited and sent for metallurgical, ore and waste characterisation.
The Black Snake mineralisation is interpreted to strike East-North-East within a vertical dipping shear zone, and where gold occurs within hematite shale and veins that have yet to be closed off by drilling (see Figures 4-6 in the link below). The high-grade gold mineralisation at Black Snake is very typical of the Tennant Creek Mineral Field and as similar to Edna Beryl, is hematite dominant and thus gone virtually undetected by previous explorers.
Permitting of the Black Snake Mine ahead of development is well advanced, with the Mining Management Plan and Heritage survey completed. Discussions on commercial terms for the development and mining of the Black Snake project are underway and will likely be similar to the Tribute style agreement at Edna Beryl.
Planning continues on the remaining pipeline of small mines, the largest of which is the Chariot Mine with JORC Resources of 170,000t at 17.4g/t gold (ASX 28 November 2013).
The recent announcement by the NT Government under the banner of Transforming the Territory, included initiatives to revitalise Tennant Creek and make it the "Mining and Services Centre" of the Northern Territory.
Summarised as follows (by AMEC):
"The Tennant Creek Mining and Mining Services Centre feasibility study, announced before the budget, recognises the long-term benefits of encouraging mining companies to get on the ground and start mining."
"The feasibility study will look into how to get a common user mineral processing facility underway. This investment will help further development of the mining and mineral exploration industry."
"The cyclical nature of the industry means that investing in mineral exploration now is vital to ensuring the discoveries that will become the mines of tomorrow are made".
"The Budget forecasts that royalties are estimated to increase by $55million in the coming year- good news for the community."
"In her speech, the Treasurer said $1.6Billion worth of resource projects are being developed in the NT."
"Each new mine brings jobs, revenue and royalties to the NT."
This initiative will greatly assist Emmerson's small mine strategy in providing a clear pathway to production via treatment at the proposed Central Mill. It will have the net benefit of lowering the cost of production and stimulating further exploration, not to mention very positive benefits for the local communities.
About Evolution Mining
Evolution Mining is a leading, growth-focussed Australian gold miner. Evolution operates six wholly-owned mines - Cowal in New South Wales; Mt Carlton, Mt Rawdon, and Cracow, in Queensland; and Mungari and Edna May in Western Australia. In addition, Evolution holds an economic interest in the Ernest Henry copper-gold mine that will deliver 100% of future gold and 30% of future copper and silver produced from an agreed life of mine area.
Outside of the life of mine area Evolution will have a 49% interest in future copper, gold and silver production.
In FY16 Evolution produced 803,476 ounces of gold at an AISC of A$1,014 per ounce generating an operating cash flow of A$628.4 million.
As a result of the acquisition of an economic interest in Ernest Henry in November 2016, Evolution revised its FY17 Group gold production guidance to 800,000 - 860,000 ounces at an AISC of A$900 - A$960 per ounce.
To view tables and figures, please visit:
http://abnnewswire.net/lnk/8VCIFU34
About Emmerson Resources Limited

Emmerson Resources Limited (ASX:ERM) (FRA:42E) is an ASX listed gold resource company that recently (July, 2014) secured a landmark Joint Venture agreement with Evolution Mining (ASX:EVN).
Has an aggressive exploration program and dominant position in the world class Tennant Creek Mineral Field.
Is applying new exploration concepts and technologies to unlock the next generation of gold and copper deposits.
Owns the only carbon-in-pulp gold plant in the region.
Has an experienced Board and Management team.
Investor Enquiries:
Mr Rob Bills
Managing Director & Chief Executive Officer
Tel: +61-8-9381-7838
www.emmersonresources.com.au
Related CompaniesEvolution Mining Limited


Emmerson Resources Limited