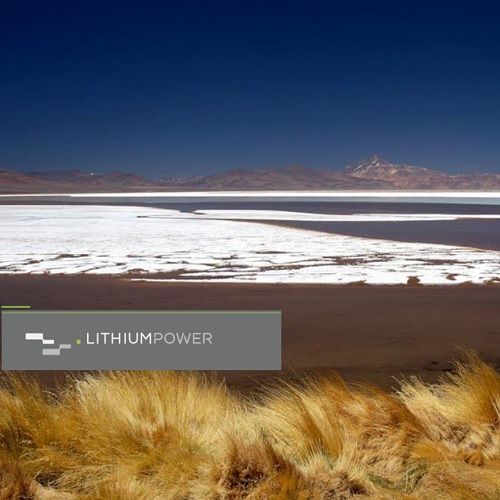 Positive Pump Testing Result at Maricunga Lithium Brine Project
Sydney, Feb 23, 2017 AEST (ABN Newswire) - Lithium Power International Limited (

ASX:LPI
) ("LPI" or "the Company") is pleased to advise completion of the pumping test at well P4 at the Maricunga lithium brine project in northern Chile. LPI is very encouraged by the high average brine flow rate, and lithium and potassium grades, which compare very favourably to other lithium brine projects currently in production and in development within South America.
- Pump test completed on well P4 within Cocina tenement, with pumping sustained between 24 l/s and 25 l/s over 30 days.
- No change in brine concentration over the 30 day pump test, with the concentration averaging 945 mg/l lithium and 6,924 mg/l potassium over the 30 days of pump test
- Pump test only extracted brine from the deeper sand and gravel unit, with the well screen from 66 m to 180 m and no brine extracted from the very high grade upper halite zone
- The brine flow rates recorded at Maricunga (P1, P2, P4) are amongst the highest results publicly released for lithium projects in South America.
Lithium Power International's Chief Executive Officer, Martin Holland, commented:
"The Maricunga pump test highlights strong brine flow rates, in addition to very high lithium grades, both very positive characteristics of the Maricunga project. The pump test conducted on well P4 confirms the sand and gravel units encountered in recent drilling support high flow rates for brine extraction.
Maricunga Pump Test Well P4
Pump test well P4 was installed in the centre of the old-code Cocina tenement to a depth of 180m (Figure 5, see link below) with hole M10, acting as a monitoring well to the production well P4. During drilling, P4 intersected an upper aquifer with interbedded sediments comprising salt (halite), clay, silt, sand, and minor gravel units from surface to 66m. From 66m to 180m, a more porous aquifer exists, comprising a mix of mainly sand and gravel. It is from this aquifer that pumping was conducted.
P4 was pumped continuously for 30 days at a rate of 24 to 25 litres per second (l/s). (Figures 3 and 4, see link below) Over the 30 days, this brine outflow was continuously monitored for both lithium grade and flow rate. Assays averaged 945 mg/l and showed minor variation over the length of the test, which extracted brine only from the lower aquifer, excluding flows from the highest grade upper aquifer zone.
P4 is located to the north from previous pump test wells P1 and P2, which are located in the Litio tenement, and were pump tested for 14 and 28 days respectively in 2015. At that time, P1 and P2 had brine flows of 37-38 l/s from the combination of the upper halite zone near the surface and from a deeper sand unit, interpreted to be the same as the sand and gravel aquifer found in P4. In this case, P4 is designed to only pump brine from the deeper aquifer, with no contribution from the upper halite aquifer, in order to measure flow rates deeper within the salar.
This recent pump test on P4 confirmed that a high flow rate can be obtained pumping brine exclusively from the deeper sand and gravel aquifer. This is very significant, as the recent drilling in tenements added to the project since definition of the historical resource (on the Litio tenement) shows sand and gravel are the predominant sediments in these tenements.
Brine Flow Rate Comparison
A simple comparison of flow rates from pump testing at various other lithium brine projects in South America is provided in Table 1 (see link below). This highlights that Maricunga brine flow rates are amongst the highest observed at lithium projects currently in production or at an advanced stage of development. However, it should be noted that many factors influence the results of pump tests, and the information publicly released is often limited. Procedures used in these third party pump tests have not been verified by LPI and they are provided for general comparative purposes only.
Salar Permeability
Brine pump tests are important as they provide information on the permeability, lithium grade and flow rates of the different sediment units that host brine within the salar. Further, high flow rates suggest a lower capex requirement for future well field development, which is attractive for the overall project economics. The Maricunga project has an upper aquifer containing salt, plus a deeper aquifer with sand and gravel units, all of which are favourable for the pumping of brine (Figure 1, see link below).
Salar Porosity
Porosity is a related characteristic to permeability, and refers to the percentage of pore space between grains of sediment that can host lithium brine. There are several different measures of porosity, but the most important metric for brine deposits is the "drainable porosity" (Figure 2, see link below). This represents brine that can be extracted from an aquifer during pumping and used for lithium production. The drainable porosity value is lower for fine grained sediments (clays and silts) and higher for coarser sediments (salt, sands and gravels).
Maricunga JV Background
The Maricunga JV is 50%-owned by LPI. The project is regarded by LPI management as one of the highest quality undeveloped pre-production lithium brine project globally, with a very high grade and strong flow rates. The Litio tenements have been subject to significant past exploration by our JV partners, Minera Salar Blanco and Li3 Energy, in order to generate the existing lithium and potassium resource. The recently completed drilling & pump testing program is targeting an expansion of that resource on both the existing tenements and additional tenements acquired since, with a new JORC compliant resource estimate due in 1H17.
To view full release including tables and figures, please visit:
http://abnnewswire.net/lnk/GN96Q552
About Lithium Power International Ltd

Lithium Power International Limited (ASX:LPI) (FRA:24L) is a pure-play lithium explorer and developer, focusing on developing and fast-tracking to production the high-grade Maricunga lithium brine project in Chile.
LPI has a well known performing technical team with the experience to take the Maricunga project all the way through the development stages to production.
The regions that LPI is currently focussed on are:
1. Maricunga JV (Chile) – On 13th September 2016, Lithium Power announced the creation of a new JV to develop the world-class Maricunga lithium brine deposit in northern Chile.
2. Pilbara (Western Australia) – LPI has one granted exploration tenement and two pending exploration applications covering 203km2 in the Pilbara region of northern Western Australia. The largest granted exploration tenement is at Pilgangoora-Houston Creek is 2-3km west of the Pilbara Minerals (ASX:PLS) and Altura Mining (ASX:AJM) lithium deposits.
3. Greenbushes (Western Australia) – LPI has two granted exploration tenements covering 400km2 in the Greenbushes area of southern Western Australia. The tenements are adjacent to the world's largest hard rock lithium mine owned & operated by Tianqi/Talison.
4. Centenario (Argentina) –Through its Argentinian subsidiary, Lithium Power holds a total of 6 granted tenements in the Centenario lithium brine salar within the Salta province of the Puna Plateau. In total, the 6 granted tenements cover an area of 61.52km2. In addition, there is 1 further tenement in the grant review stage.
With the exception of the Maricunga JV, all tenements are 100% owned by LPI or LPSA (including rights to the Centenario tenement which is the subject of review by the Argentinian mining authorities).
Martin C Holland - CEO
Lithium Power International
E: info@lithiumpowerinternational.com
T:: +61-2-9276-1245
www.lithiumpowerinternational.com
Twitter: @LithiumPowerLPI
Related CompaniesLithium Power International Ltd