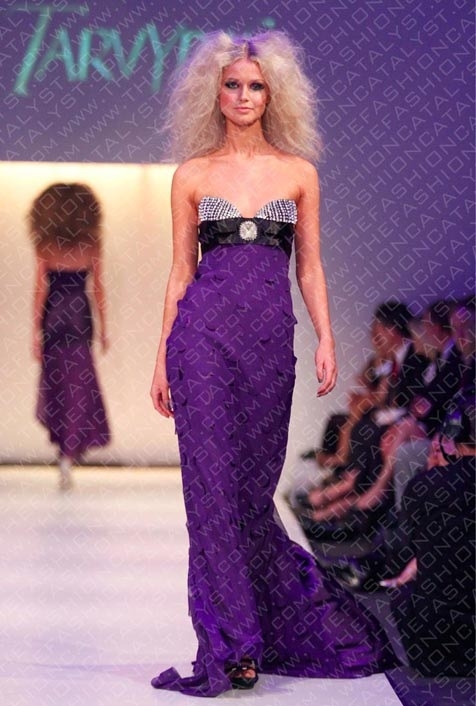 Savoir Faire Perth Fashion Week - Meet The Designer: Ruth Tarvydas
New York, Mar 26, 2012 AEST (ABN Newswire) - (Global Fashion Wire/The Fashion Catalyst) - Tarvydas; Perth's answer to sexy, glamour gowns with a sometimes dark and edgy twist.
Adorned by starlets across the globe, when a Tarvydas signature gown walks a red carpet - everyone stops and stares! And when designer Ruth Tarvydas parades a collection on any runway, you can be sure an A-list celebrity will be opening the show - with a slew of others front row.
Starting out in the 1960's as "pop couture", the label was Australia's first to export overseas and was first stocked at London's Selfridges in 1983. The lucrative 40 career of Ruth Tarvydas has secured her a star on Perth's answer to European shopping; King Street, and has brought her media attention the world over.
Set to showcase the latest collection 'Dark Angels' at Savoir Faire Perth Fashion Week on Thursday 19th April at 9pm, Tarvydas also promises an after party every glamazon will remember for years to come.
Tickets are on sale now at Ticket Booth by following this link:
www.ticketbooth.com.au/event/preview/10274.
For more information on Ruth Tarvydas, visit:
http://www.ruthtarvydas.com
/
To view more articles from The Fashion Catalyst, visit:
http://www.thefashioncatalyst.com
About Tarvydas
Tarvydas is the glamorous, edgy and sexy Australian label that is well known for creating amazing pieces that are exciting and ahead of the trends.
Pioneered by WA icon Ruth Tarvydas, Tarvydas has been in the headlines since 2004, when Rebecca Twigley turned heads at the Brownlow's in 'that red dress'. The label dominated once again this year when cricket WAG Jessica Bratich stole the show and made front page headlines throughout Australia, earning her lucrative offers and launching her into the spotlight.
The label started out in Australia in the late 60's with a teenage Ruth Tarvydas launching her range as fresh new take on 'pop couture' and has now expanded into a global company spanning Australia, Singapore, Hong Kong, Malaysia, the UK, France, Italy, Switzerland Greece, Turkey, United Arab Emirates and the USA. Ruth Tarvydas was the first Australian fashion label to export overseas and first stocked at Selfridges in London in 1983.
We have attracted many celebrity fans such as Emma Watson, Amy Winehouse, Jodie Kidd, Rachael Hunter and Australia's own Miss Universe Jennifer Hawkins, pop stars Rihanna, Javine, and Girls Aloud to name a few. From specialist boutiques to department stores Ruth Tarvydas and the 'Ruthless' by Ruth Tarvydas collections continue to attract rave reviews - in the words of our dedicated clients "you transform the moment you slip on one of the pieces from this edgy, sexy, elegant and highly sought after label."
Related CompaniesGlobal Fashion Wire