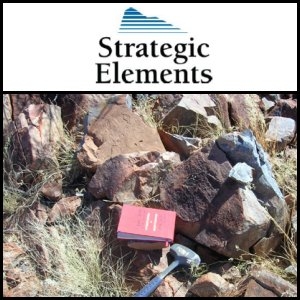 Lodges Entire Golden Blocks Goldfield in New Zealand
Sydney, Mar 26, 2012 AEST (ABN Newswire) - Strategic Elements (

ASX:SOR
) has lodged over the entire area of the historic Golden Blocks Goldfield on the South Island of New Zealand, which has had no modern exploration.
The 131 sq.km. project encompasses the Golden Blocks Goldfield, which comprises 7 historic mines that produced approximately 39,154 ounces of gold. The largest mine was the Aorangi gold mine, which reportedly produced approximately 30,688 ounces of gold at an average grade of 36g/t. Potential exists for further hidden gold discoveries outside of the old mines that would have not been visible to the old miners who were focused only on gold in quartz veins.
The project also includes 3 areas which have potential for intrusion-related gold similar to Oceana Gold's nearby Sam's Creek gold project with a JORC compliant 770,000 ounces of gold. These areas contain gold mineralised acid porphyry in float and outcrop samples.
Old Gold Mines Exploration
Historically gold in the Golden Blocks Goldfield was only produced from quartz veins. Grades in the upper levels were extremely high, up to approximately 100g/t, inferred to represent supergene enrichment. Old miners basically chased veins of quartz that contained visible gold and ignored any halo of gold mineralisation that potentially surrounds these areas. Production ended in 1913 and no modern exploration has been undertaken to explore for gold outside the veins in the surrounding rocks.
The Company is to follow a proven strategy to explore the area. Since Oceana Gold opened the Globe Progress mine in Reefton, they have produced over 250,000 ounces of gold with a significant amount from haloes of gold mineralisation surrounding the quartz veins that were mined historically. Mine workings at the modern open cast pit also indicate shoots with extensive down plunge extents not mined by early miners. Shallow faults could also mean mineralisation that may not be visible at surface. The company will follow the Oceana Gold approach to explore the Golden Blocks Goldfield for disseminated gold mineralisation.
In 1982, Lime and Marble Ltd reported pan concentrate samples including one sample from Sandhills creek assaying 22.4g/t which "may reflect masked mineralisation in the area". This shows potential for further discoveries in the Golden Blocks goldfield.
Sam's Creek Style Gold
CRA Exploration (now Rio Tinto Exploration) conducted regional exploration outside the area of the old mines but within the company's project area. CRA Exploration undertook regional reconnaissance sampling in 1986 and identified 14 geochemical anomalies of which 11 were recommended for further work. These 11 anomalies were followed up in 1988 with additional sampling. Results showed that 3 areas warranted further work: Anatori River / Frazer Stream, Kaituna and Buck Gully.
Follow up in the Frazer Stream area "identified several drainages with similar microgranite float and some outcrops with a true width of up to 20 metres. Assay values of these microgranites reached up to 0.99 g/t Au. In addition a float sample of quartz veined siltstone from the south of the anomaly returned 13.7 g/t Au.
Anatori River / Frazer Stream comprise three areas of gold-arsenic mineralisation that CRA Exploration (now Rio Tinto Exploration) believed had strong similarities to the mineralisation type that they discovered at Sam's Creek 20km to the east: "Although the microgranite float in the Frazer Stream area anomaly is only weakly gold-mineralised, its similarity to the Sam's Creek porphyry indicates there is considerable potential for significant gold mineralisation to occur in this anomaly." Sam's Creek has a JORC compliant inferred resource of 770,000 ounces of gold, and is currently being drilled by Oceana Gold's joint venture partners, the James Packer backed MOD Resources. The Company is highly encouraged by the reports of Sam's Creek style mineralization within its project area.
CRA Exploration pulled out of New Zealand in 1989 and follow up of these three targets was never undertaken, and there has been no subsequent exploration for hard rock gold since then.
Managing Director Mr Charles Murphy said "The project contains significant potential upside from two separate styles of gold mineralisation. We have applied for coverage over the entire historic Golden Blocks Goldfields and will use a proven exploration technique to search the old mining areas for a type of gold mineralisation not visible to old miners. We also have a second type of gold mineralisation in the south of the permit with strong similarities to Sam's Creek (as reported by the Company that discovered Sam's Creek). Importantly neither area has had any modern exploration. Once all permits have been received the company intends to conduct an aggressive exploration program of sampling, geophysics and drilling. The project will be progressed by the Company's tungsten/gold entity as described in the recently announced corporate update".
For the Full Announcement including Historical Pictures, please visit:
http://abnnewswire.net/lnk/J9816VIJ
About Strategic Elements Ltd

Strategic Elements (ASX:SOR) shares are listed on the Australian Stock Exchange under the code "SOR". The Company is registered under the Pooled Development Program run by the Australian Federal Government to encourage investment into SME's. To assist Pooled Development Fund's to invest and raise capital, the Federal Government enables most shareholders in a Pooled Development Fund to make capital gains and receive dividends tax-free.

Mr. Charles Murphy
Managing Director
Telephone: +61-8-9278-2788
Email: admin@strategicelements.com.au
Web: www.strategicelements.com.au
Related CompaniesStrategic Elements Ltd