loading.........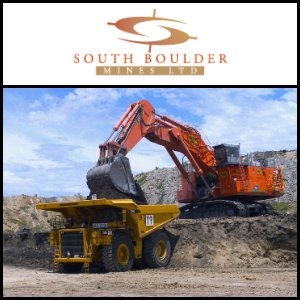 Perth, Oct 14, 2011 (ABN Newswire) - South Boulder Mines Limited (

ASX:STB
) is pleased to announce that Dr Chris Gilchrist has agreed to join the Board' as a non-executive Director with immediate effect.
Dr Gilchrist is an internationally renowned mining executive with over 30 years experience gained at senior management and director level within a variety of operating mining companies. Dr Gilchrist has significant experience in potash and has successfully built large mining operations in Africa. Since December 2010 he has been managing the Colluli Definitive Feasibility Study (DFS) and travelling to Eritrea extensively. The DFS is due to be complete in 2013 with production scheduled for 2016 or sooner.
Dr Gilchrist is currently a director of the consulting firm Gilchrist Mining Ltd, based in Ireland, and has previously served on the boards of Kenmare Resources plc (

LON:KMR
) and Cleveland Potash Limited.
CEO and Managing Director Lorry Hughes commented on the appointment.
"Chris joining the Board of South Boulder is a very positive development for the Colluli Project and fits well with our expansion plans. His experience is highly regarded in the potash industry and invaluable as South Boulder transitions from developer to potash producer.
His expertise covers all facets of the mining life cycle including feasibility, mineral processing, capital raising, contract negotiation, project management, ramp-up and operations. Dr Gilchrist is based in Europe which gives us a permanent presence in the key financial centre for African mining projects.
This is a great endorsement for the Company and the Colluli Potash Project in South Boulder being able to secure such a high calibre Director."
About South Boulder Mines Limited
Listed in 2003, South Boulder Mines (ASX:STB) is a diversified explorer focused on potash, nickel and gold. South Boulder has a 100% interest in the Colluli Potash Project in Eritrea and a 100% interest in the Duketon Gold Project in Western Australia.
The Colluli Potash Project has a current JORC Compliant Measured, Indicated and Inferred Mineral Resource Estimate comprised of 133.70Mt @ 17.55% KCl of Measured Resources, 343.33Mt @ 17.38% KCl of Indicated Resources and 87.37Mt @ 24.96% KCl of Inferred Resources for a total of 564.40Mt @ 18.60% KCl (total contained potash of 104.96Mt); This includes higher grade Sylvinite of 130.39Mt @ 27.02% KCl. There is an exploration target of 1.25 - 1.75 billion tonnes @ 18-20% KCl. A definitive feasibility study into the open pit mining and processing to produce up to 10Mt p.a of potash is underway.
Within the Duketon Gold Project area, South Boulder entered a farm-out Joint Venture (JV) Agreement with Independence, whereby Independence can earn a 70% interest in the nickel rights on JV tenements held by South Boulder in the Duketon Project, by the completion of a Bankable Feasibility Study within 5 years of the grant of the relevant tenement.
Lorry Hughes
CEO/Managing Director
South Boulder Mines Limited

Kerry Rudd
Share Holder Enquiries
South Boulder Mines Limited

Liam Cornelius
Executive Director
South Boulder Mines Limited

Terry Grammer
Chairman
South Boulder Mines Limited

Tel: +61-8-6315-1444
http://www.southbouldermines.com.au
Related CompaniesSouth Boulder Mines Limited









Kenmare Resources