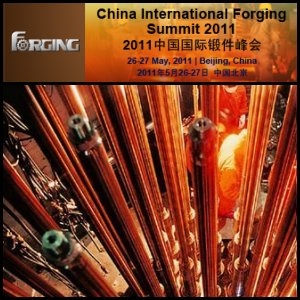 China International Forging Summit 2011 To Focus On Optimizing Forging Development Strategies
Shanghai, Mar 22, 2011 AEST (ABN Newswire) - China International Forging Summit 2011 will be hosted by Duxes Business Consulting Inc. on May 26-27 in Beijing at the Swissotel, Beijing Hong Kong Macau Center. The 2011 Summit will provide a platform to discuss the policies and regulations effecting China's rapidly expanding forging industry as a result of the recently issued Equipment Manufacturing Restructuring and Revitalization Plan, focused on heavy casting and forging.
The summit will provide participants the opportunity to familiarize themselves with China's policies and regulations on the forging industry and gain a better understanding of China's forging market. China had a reported annual production of open-die forgings amounting to 1.95 million tons in 2008, with a 580 ton steel ingot. In 2009, China launched a 185MN oil direct-driven hydraulic press, the largest in the world. It is expected that China's forging industry will be the fastest growing industry in years. The 2011 Summit provides an unprecedented platform for optimizing forging development strategies in China.
Leading international corporations will provide insight, experience and policy interpretation including: Southwest Aluminum Co., Alstom Power, and GE among others. Central topics of the Summit include policy and regulation interpretation, taxation policies on imported technologies, demand and supply analysis of China's forging industry, latest steel and press technologies and emerging forging applications in aerospace, automobile, shipbuilding and power industries. The 2011 Summit is the premiere platform of China's forging industry, exploring business and identifying potential partners.
For registration or inquiries, please send email to events@duxes.cn
For more information, please visit the official event website
http://www.duxes-events.com/forging
About Duxes Business Consulting Inc.
Based in Shanghai China, Duxes Business Consulting Inc. is a joint venture and one of the industry leaders committed to providing professional business and management consulting services to businesses in China with foreign investments as well as international businesses that intend or plan to enter the China market.

Related CompaniesDuxes Business Consulting Inc.