loading.........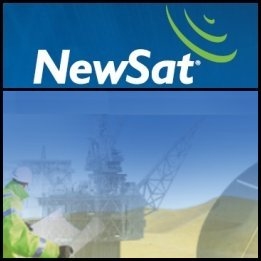 Melbourne, Feb 26, 2010 AEST (ABN Newswire) - NewSat Limited (

ASX:NWT
) (OTC:NWTLY) Board of Directors is pleased to report the Group performance for the half-year ending 31 December 2009. As announced to the market during the period by the Directors, the business has turned an EBITDA profit for the 6 months with every key financial metric improving significantly in comparison with the corresponding period.
The business continues to leverage both the infrastructure and engineering at its Perth and Adelaide teleports and global sales resources to win high-grade corporate contracts across the oil, mining, gas and military markets domestically and internationally. Key business growth and market penetration was achieved via a number of substantial mining project installations and expansions.
The Group increased its annuity monthly revenue stream by almost A$300k per month during the six months whilst minimising contract churn. For the period, over 200 new high-grade enterprise contracts were signed with an average value of approximately A$30k per annum. Both of these figures represent an improvement in comparison to the previous six months demonstrating higher quality and value contracts during the period. The sales pipeline is comparatively stronger than the previous period as a result of NewSat's continued high customer satisfaction ratings (99.99995% uptime and fast customer service deployment), a more streamlined sales lead generation system and a new company website.
During the period all operating cost lines were monitored closely and remained fairly static. The only cost which was higher than anticipated was legal and advisory costs in relation to the EWC Payments Pty Ltd matter, which is now behind the company. Management continues to focus on examining operating costs and overheads closely to transition revenue dollars into cash generating profit.
The Directors will continue to update the market on business progression during the third quarter of the 2010 financial year.
Growth Projects
The Jabiru Program The Group has continued to progress development initiatives on the Jabiru satellite launch program.
During the period significant progress was made in moving the project from the research stage into a bona fide viable program with an announced start date for build and launch of Jabiru 1 targeted for 30 June.
Whilst the program moves forward the company will continue to update the market on its status.
For the complete NewSat Limited Half Yearly Accounts, please click the link below:
http://www.abnnewswire.net/media/en/docs/62368-ASX-NWT-333044.pdf
About Newsat Limited
NewSat Limited (ASX:NWT) provides a full range of managed communication services, TT & C and carrier monitoring from its teleports in Perth and Adelaide to Australia/Oceania, Asia, the Middle East and Africa.
Utilising the latest generation satellite and VSAT technology, NewSat offers end-toend, affordable, high-speed, two-way satellite broadband communication services, products and solutions to broadcasters, cable programmers, news agencies, telecommunication carriers, Internet service providers, corporations, governments and distance-learning networks. In addition, NewSat Networks operates multiple Broadband IP Services based on technologies developed by ViaSat, Gilat, Hughes, Comtech and iDirect.
Services are available on a wide range of satellites accessible from the Perth and Adelaide facilities. Antenna sizes ranging from 3.7 to 13m are available in addition to all the necessary RF and conversion equipment. Customers may co-locate equipment in these facilities, or NewSat can provide an end-to-end service.

Michael Twomey
Stakeholder Relations &
Corporate Communications
NewSat Limited
Mob: +61-439-405-676
Email: Michael.twomey@newsat.com
Related CompaniesNewsat Limited