iSignthis Ltd
ASX:ISX ISIN:AU000000ISX0

iSignthis Ltd (ASX:ISX) (FRA:TA8) is the global RegTech leader in remote identity verification, payment authentication and payment processing. iSignthis provides an end-to-end on-boarding service for merchants, with a unified payment and identity service via our Paydentity(TM) and ISXPay(R) solutions.
By converging payments and identity, iSignthis delivers regulatory compliance to an enhanced customer due diligence standard, offering global reach to any of the world's 3.5Bn 'bank verified' card or account holders, that can be remotely on-boarded to regulated merchants in as little as 3 to 5 minutes.
iSignthis Paydentity service is the trusted back office solution for regulated entities, allowing merchants to stay ahead of the regulatory curve, and focus on growing their core business.
iSignthis' subsidiary, iSignthis eMoney Ltd, trades as ISXPay(R), and is an EEA authorised eMoney Monetary Financial Institution, offering card acquiring in the EEA, Australia and New Zealand. ISXPay is a principal member of Visa Inc, Mastercard Worldwide and JCB, an American Express aggregator, and provides merchants with access to payments via alternative methods including Poli Payments, Sofort, Trustly, WeChat, AliPay and others.
Read more about the company at our website http://www.isignthis.com
For more information, please contact: contact@isignthis.com

Latest Headlines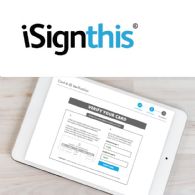 iSignthis Ltd (ASX:ISX) (FRA:TA8) provides the Company's Investor Briefing presentation.
News
###
46,315 COMPANY PROFILE VIEWS
Company Data
Headquarters
456 Victoria Parade
East Melbourne, VIC 3002
Australia
Telephone
+61-3-8640-0990
Fax
+61-3-8640-0953
Principal Sector
Security Internet
Principal Industry
Security&nbsp
Homepage
investors@isignthis.com