Sayona Mining Ltd
ASX:SYA ISIN:AU000000SYA5

Sayona Mining Limited (ASX:SYA) (OTCMKTS:DMNXF) is an Australian, ASX-listed (SYA) company focused on sourcing and developing the raw materials required to construct lithium-ion batteries for use in the rapidly growing new and green technology sectors. The Company has lithium projects in Quebec, Canada and in Western Australia.
Please visit us as at www.sayonamining.com.au

Latest Headlines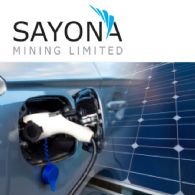 Sayona Mining Ltd ((ASX:SYA) (FRA:DML) (OTCMKTS:DMNXF) announce a presentation at the Noosa Mining & Exploration Investor Conference.
News
###
0 COMPANY PROFILE VIEWS
Company Data
Headquarters
Suite 68, 283 Given Tce
Paddington QLD 4064
Australia
Telephone
+61-7-3369-7058
Principal Sector
Materials
Principal Industry
Mining & Metals&nbsp
Homepage
cn@sayonamining.com.au