---
Central Petroleum Limited Company Summary

Central Petroleum Limited (

ASX:CTP) (

OTCMKTS:CPTLY) is an ASX listed junior exploration and production company operating the largest holding of prospective onshore acreage in Australia totalling over 270,000 km2, c.70 million acres. This acreage includes permits already awarded and acreage under application with 250,000 km2 under the Petroleum Acts and 20,000 km2 under the Mining Acts mainly in the Northern Territory with smaller holdings in Western Australia, South Australia and Queensland.
DIRECTORS / OFFICERS
Dr. Henry Askin
Non-Executive Independent Chairman
Dr Askin has over 30 years of experience in the oil exploration industry, of which some 25 years were with the Shell Group of Companies, most recently as Consultant. He was exploration manager with Shell Development (Australia) Pty. Ltd. He has worked with Shell in Australia, Oman, Norway, The Netherlands and India in senior management and technical roles and for three years managed the International Seismic Analysis Centre in the Hague. Dr. Askin is also a Non-Executive Director of Bass Strait Oil Company Pty. Ltd.
---
John Heugh
Non-Executive Director
Mr Heugh has over 25 years experience in petroleum and mineral exploration and has worked in a consulting or subcontracting role for Esso, Wapet, Pancontinental Petroleum, Santos, Western Mining Corporation, Bridge Oil, Ampol, Kuwaiti Foreign Petroleum Corporation (IEDC subsidiary), Arco and Chevron-Texaco. He has undertaken studies in oilfield drilling technology and development from the University of Texas and was a founding Director of Labrador Petro-Management Pty Ltd.
---
COMPANY DATA
Headquarters
56-58 Jephson Street
TOOWONG QLD 4066
Australia
Telephone
+61 (0)7 3181 3800
Fax
+61 (0)7 3181 3855
Principal Sector
Energy
Principal Industry
Energy
Homepage
www.centralpetroleum.com.au
---
Key Developments: Central Petroleum Limited
Central Petroleum Limited (ASX:CTP) Mt Kitty Exploration Well Re-entry Commences
AUG 27, 2014 11:06 - Article Views: 186
Central Petroleum Limited (ASX:CTP) (OTCMKTS:CPTLF) (Central) has been advised by Santos (ASX:STO), the Operator of Amadeus Basin permit EP 125, that it plans to commence re-entry works to complete the evaluation (including logging) of the Mt Kitty 1 exploration well and plug and suspend the well to enable future use of the wellbore.
Central Petroleum Limited (ASX:CTP) Company Secretary Appointment
AUG 27, 2014 10:29 - Article Views: 156
Central Petroleum Limited (ASX:CTP) (OTCMKTS:CTPLF) announces that Mr Joseph Morfea has been appointed Joint Company Secretary effective 27 August 2014.
Central Petroleum Limited (ASX:CTP) Drilling Update - Whiteley-1 Unconventional Well
AUG 19, 2014 16:51 - Article Views: 569
Central Petroleum Limited (ASX:CTP) ("Company" or "Central"), advises that drilling of Whiteley-1 continues.
Central Petroleum Limited (ASX:CTP) Latest Company Presentation
AUG 18, 2014 09:34 - Article Views: 325
Central Petroleum Limited (ASX:CTP) (OTCMKTS:CPTLF) provides the Latest Company Presentation.
Central Petroleum Limited (ASX:CTP) Management Changes
AUG 14, 2014 17:30 - Article Views: 636
Central Petroleum Ltd (ASX:CTP) (OTCMKTS:CPTLY) announces that Mr Bruce Elsholz, Chief Financial Officer and Joint Company Secretary, has advised the Company of his decision to retire on 30th November of this year.
Central Petroleum Limited (ASX:CTP) Drilling Update - Whiteley-1 Unconventional Well
AUG 1, 2014 18:44 - Article Views: 646
Central Petroleum Limited (ASX:CTP) (OTCMKTS:CPTLY) ("Company" or "Central"), advises that drilling of Whiteley-1 is proceeding to prognosis.
Central Petroleum Limited (ASX:CTP) Quarterly Activities and Cash Flow Reports
JULY 31, 2014 18:22 - Article Views: 520
Following the acquisition of the Palm Valley and Dingo Fields from Magellan, Central Petroleum Limited's (ASX:CTP) (OTCMKTS:CPTLY) prime focus has been to use these assets to become strategically relevant to the unfolding gas shortage on the eastern seaboard.
Central Petroleum Limited (ASX:CTP) Stage 2 - Santos Proceeds With Southern Amadeus JV
JULY 31, 2014 10:15 - Article Views: 791
Central Petroleum Limited (ASX:CTP) today announced that Santos has elected to proceed to Stage 2 of an amended Southern Amadeus Joint Venture with Central under terms that will allow the JV to give priority to spending on areas of highest prospectivity
Central Petroleum Limited (ASX:CTP) Dingo Pipeline Licence Granted and Site Works Commenced
JULY 21, 2014 10:06 - Article Views: 679
Central Petroleum Limited (ASX:CTP) (OTCMKTS:CPTLY) today announced the Dingo Pipeline Licence No. 30 (PL30) had been agreed with the Northern Territory Department of Mines and Energy, which had previously granted Petroleum Production Licence L7.
Central Petroleum Limited (ASX:CTP) Drilling Commenced at Whiteley-1 Southern Georgina Basin
JULY 21, 2014 10:06 - Article Views: 749
Central Petroleum Limited (ASX:CTP), advises that drilling commenced Sunday, 20 July 2014 at the Whiteley-1 unconventional gas exploration well in ATP912 of the Southern Georgina Basin
50,243 COMPANY PROFILE VIEWS
This Page Viewed: (Last 7 Days: 253) (Last 30 Days: 991) (Since Published: 20798)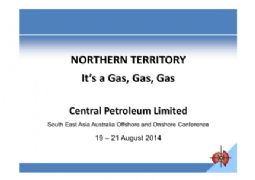 Company Reports
| | |
| --- | --- |
| Central Petroleum Limited (ASX:CTP) Trading Halt | |
| Central Petroleum Limited (ASX:CTP) Appendix 3B | |
| Central Petroleum Limited (ASX:CTP) Trading Halt | |
| Central Petroleum Limited (ASX:CTP) Appendix 3B | |
| Central Petroleum Limited (ASX:CTP) Initial Director's Interest Notice | |
| Central Petroleum Limited (ASX:CTP) Appendix 3B | |
| Central Petroleum Limited (ASX:CTP) EGM Results | |
| Central Petroleum Limited (ASX:CTP) Results of Meeting | |
| Central Petroleum Limited (ASX:CTP) Trading Halt | |
| Central Petroleum Limited (ASX:CTP) Initial Director's Interest Notice | |
Companies in the News
ABN Newswire on iPhone/iPad
Mobile Video TV
Scan with your Mobile Phone to view ABN Newswire Video Channel on Mobile