PDAC 2017 March 5-8 Toronto Canada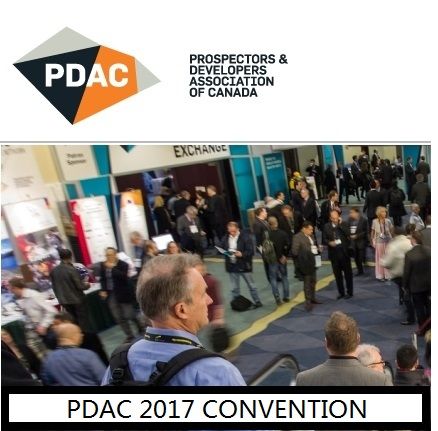 PDAC International Convention, Trade Show & Investors Exchange will be held in Toronto, Canada during March 5-8, 2017. The four-day annual Convention has grown in size, stature and influence since it began in 1932 and today is the event of choice for the world's mineral and finance industries.
Register for Short Courses led by presenters with expertise in a variety of subject matters. Buy your tickets today!
Need professional development hours to maintain your professional designation? Upon request, PDAC will provide a certificate of completion for Short Courses to help you meet your professional development requirements.
Friday, March 3 Applied structural geology in exploration and mining
Organizer: SRK Consulting (Canada) Inc.
World-class gold deposits: How do they form and what do we need to know to find them?
Organizer: Society of Economic Geologists
Improving strategic capital management with integrated valuation and risk modelling methods
Organizer: Michael Samis, Ernst & Young LLP

Saturday, March 4 U.S. Mining Law: An in-depth overview and refresher of the U.S. Mining Law relating to the acquiring, developing, permitting, financing and closing of hard rock mining claims and projects in the U.S.
Organizer: Parsons Behle & Latimer
Health and safety in mineral exploration
Organizer: Bill Mercer, Avalon Advanced Materials Inc.

Sunday, March 5 New exploration methods for base and precious metal deposits: How to increase success in Greenstone Terranes
Organizer: Laurentian University, Mineral Exploration Research Centre

Wednesday, March 8 Mining disclosure essentials: NI 43-101 reporting fundamentals, industry best practices and useful guidance for TSX and TSXV issuers
Organizer: Ontario Securities Commission and Toronto Stock Exchange
DMEC workshop series: The value of regional data in terrane scale assessments
Organizer: Condor Consulting, Inc.
February 3
Early registration deadline. Register early and save!
PDAC Members receive special rates.
February 6
Cut-off for hotel reservations at PDAC preferred rates (where still applicable).

Schedule at a Glance
PDAC 2017 Registration Brochure
Registration Fees

Register Now

About PDAC

The Prospectors & Developers Association of Canada (PDAC) is the leading voice of the mineral exploration and development community, an industry that supports 719,000 people in direct and indirect employment, and contributes $106 billion to Canada's GDP every year. Representing over 6,000 members around the world, PDAC's work centers on supporting a competitive, responsible, and sustainable mineral sector.
PDAC
T: +416-362-1969
F: +416-362-0101
WWW: www.pdac.ca

Related CompaniesPDAC