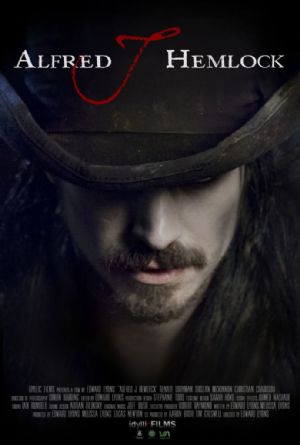 Sydney, July 5, 2017 (
Global Fashion Wire
) - Australian short chiller Alfred J Hemlock is a top-notch short film that balances eerie menace with whimsical charm and a dash of dark humor. The production values are marvelous and the acting is a delight in director Edward Lyons' latest effort.
Emily (Renaye Loryman) is unceremoniously dumped — pretty much literally and figuratively — by her boyfriend Guy (Christian Charisiou) in a dark alley after an argument about how she behaved in front of his friends. The area is no place for a lady by herself to be, and she soon encounters the mysterious Alfred J Hemlock (Tristan McKinnon in a fantastic performance), who offers her rest from her world-weary existence. Giving any more of the story away would be just short of criminal.
Edward Lyons, who also cowrote the fine screenplay with Melissa Lyons and edited Alfred J Hemlock, directs with a confident hand and a solid eye for visuals. Although all of the action takes place in or next to an alley, Lyons and crew manage to build a dizzying atmosphere that makes everything feel larger and quite magical, including the enclosed space in which the story takes place. Simon Harding's cinematography is a thing of beauty, as is the makeup work by Aidan Hirn (AKA Vianna Houghton). The visual effects by Ahmed Nashabe and crew are impressively rendered and a lot of fun to watch. Joff Bush's score adds a great deal to the feel of the short, as well.
The performances by the three actors are all terrific. Renaye Loryman gives an appealing performance as the sad, desperate Emily, and she does definite justice to the character arc created by the Lyons. Christian Charisiou gives a believable performance as a hostile hothead. As good as these two performers are, though, Tristan McKinnon raises the bar with his energetic portrayal of the sinister, baleful Hemlock. This role calls for a big performance without quite going fully over the top, and McKinnon knows when to play things up and when to reel them in a bit. He has made the character all his own.
Alfred J Hemlock is on the early legs of its film festival run, and is most certainly a short film to seek out. Everyone involved should have huge things in store for their futures. For more information, visit the short's official website at
https://www.alfredjhemlock.com
, or at the following profiles below.
Alfred J Hemlock; 4.5 Stars (4.5 / 5)
Alfred J. Hemlock Trailer (Vimeo)
IMDb
|
Facebook
|
Twitter
|
Instagram
|
Google+
|
Flickr
Source: Gruesome Magazine
http://gruesomemagazine.com