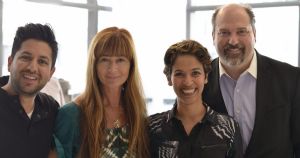 New York, June 22, 2016 (
Global Fashion Wire
) - Creating fashion, culture and design for Kate Spade ...
Deborah Lloyd
, Chief Creative Officer of
Kate Spade New York
, joins
Pavan Bahl
,
Marc Raco
and
Liz Bacelar
on location at the
Fashion, Culture and Design UNCONFERENCE
in New York City.
Listen to the podcast:
Episode 102: with Deborah Lloyd of Kate Spade
Conducting Storytelling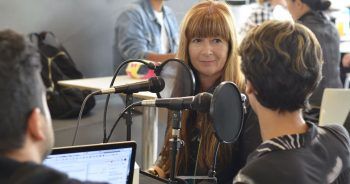 Lloyd discusses how her work involves touching everything the customer sees, compelling storytelling, and why she is like an orchestra conductor. How Kate Spade New York embraces tech and innovation, and the way the brand is very curios. Brand collaboration, understanding who is the Kate Spade New York customer, madcat muses, filtering through what's useful and gets attention, and the challenge of utilizing sexy tech without compromising a brand.
Change and the Creative Process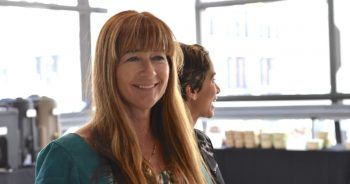 The ways 3D technology can eventually transform the retail experience beyond simply a store, "shopatainment", and being able to go one step further into the stories a brand wants to tell. Lloyd touches on overcoming hurdles to achieve creative vision, the recent surprise sale offered by Kate Spade New York, the disruption of the fashion industry, changes in fashion week, and how Kate Spade New York views influencers. And, why the brand's creative process is like a jigsaw puzzle and involves blank walls, and the appearance of Turmeric Yellow.
Collaboration, Conferences, and Career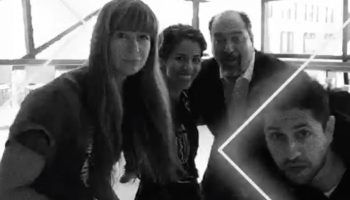 Collaboration as a product development model, about authenticity, choosing collaborators wisely, making sure to not lose the brand in the collaboration, and how the creative process changes in collaboration. The growing impact of tech in the creative process, the trend of brands aiding the gifting process, Kate Spade New York's big story coming up about customization, on people being their own brand, and why conferences are important for getting exposure to different ways of thinking.
A segment of Off the Grid Questions reveals the teenage moment Lloyd decided to become a fashion designer, strategically cutting through the noise with menswear, and working in silence. Plus, advice about loving one's work.
Listen to the podcast:
Episode 102: Deborah Lloyd of Kate Spade - Turmeric Yellow
Subscribe via:
iTUNES
|
ANDROID
|
RSS
|
Visit us for more podcasts or to stay up to date at:
FACEBOOK
|
TWITTER
|
LINKEDIN
|
INSTAGRAM
|
WEBSITE
|
About Fashion Is Your Business (FIYB)
Fashion Is Your Business is the world''s top fashion and tech podcast. The informative and fun weekly show is produced and hosted by business strategist Rob Sanchez (Open Source Fashion, Anvil Venture Partners), fashion technology community builder Pavan Bahl (Open Source Fashion) and comedian and entrepreneur Marc Raco (Open Source Fashion, Monkey Radio and The Hope Is Project), along with revolving guest hosts. Lighthearted and boisterous, Fashion Is Your Business ("FIYB") features discussions inspired by recent news, useful in-depth interviews with industry notables, a platform for business leaders to announce startups and milestones, and commentary about virtually anything in between, making insights into business and technology within the fashion industry entertaining, meaningful and accessible. Follow FIYB on Twitter, Facebook or Instagram @fashionbizshow.
Related CompaniesOpen Source Fashion
Fashion Is Your Business (FIYB)