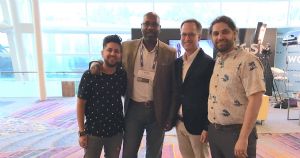 Las Vegas, NV, June 23, 2016 (
Global Fashion Wire
) -
Jeff Fisher
, Global Store Experience Director for Luxottica Group (a leader in premium, luxury and sports eyewear) and Sunglass Hut, joins
Pavan Bahl
,
ThoughtWorks
(a global technology consultant and software development firm), on location at the 2016 SHOPTALK retail and ecommerce event in Las Vegas.
Listen to the podcast:
Episode 103 with Jeff Fisher
Then and Now
Fisher touches on the development and history of
Sunglass Hut
, maintaining a high quality consistency of look and feel across a large volume of stores in a chain, growth of on line sales balanced with majority of volume from retails stores, and how sunglasses are transformative.
Engagement, Community and Technology
Discussion on how Shoptalk focused on technology at the start of the conference and how that was helpful for Luxottica, empowering the salesperson, why stores remain important, switching store formats for engagement, and positioning stores as a community type space. Luxottica's focuses on a good test and learn environment, employment of face scanning technology and suggesting products based on face shape, shopping the online catalogue in the physical store, and the value of music in the shopping experience.
Big Chain, Big Challenge
Augmented and virtual reality in the virtual try on resource, the brand's involvement in fashion shows, how
Luxottica Group
collaborates on technology, considerations in rolling out product and test internationally, how stores differ across the world, and navigating interaction with people who don't usually buy sunglasses vs. having a significant selection. Plus the relevance of engagement with associates, and how displays are changing with new technology.
A segment of Off the Grid Questions covers a moment of awe, deep-sea fishing terror, killer whales, and sticky summers in Milan.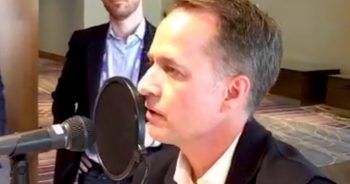 Listen to the podcast:
Episode 103 with Jeff Fisher
Subscribe via:
iTUNES
|
ANDROID
|
RSS
|
Visit us for more podcasts or to stay up to date at:
FACEBOOK
|
TWITTER
|
LINKEDIN
|
INSTAGRAM
|
WEBSITE
|
About Fashion Is Your Business (FIYB)
Fashion Is Your Business is the world''s top fashion and tech podcast. The informative and fun weekly show is produced and hosted by business strategist Rob Sanchez (Open Source Fashion, Anvil Venture Partners), fashion technology community builder Pavan Bahl (Open Source Fashion) and comedian and entrepreneur Marc Raco (Open Source Fashion, Monkey Radio and The Hope Is Project), along with revolving guest hosts. Lighthearted and boisterous, Fashion Is Your Business ("FIYB") features discussions inspired by recent news, useful in-depth interviews with industry notables, a platform for business leaders to announce startups and milestones, and commentary about virtually anything in between, making insights into business and technology within the fashion industry entertaining, meaningful and accessible. Follow FIYB on Twitter, Facebook or Instagram @fashionbizshow.
Rob Sanchez, COO
Open Source Fashion
Phone: +1-917-720-2537
www.os-fashion.com
Related CompaniesSunglass Hut
Open Source Fashion
Luxottica Group SpA
Fashion Is Your Business (FIYB)