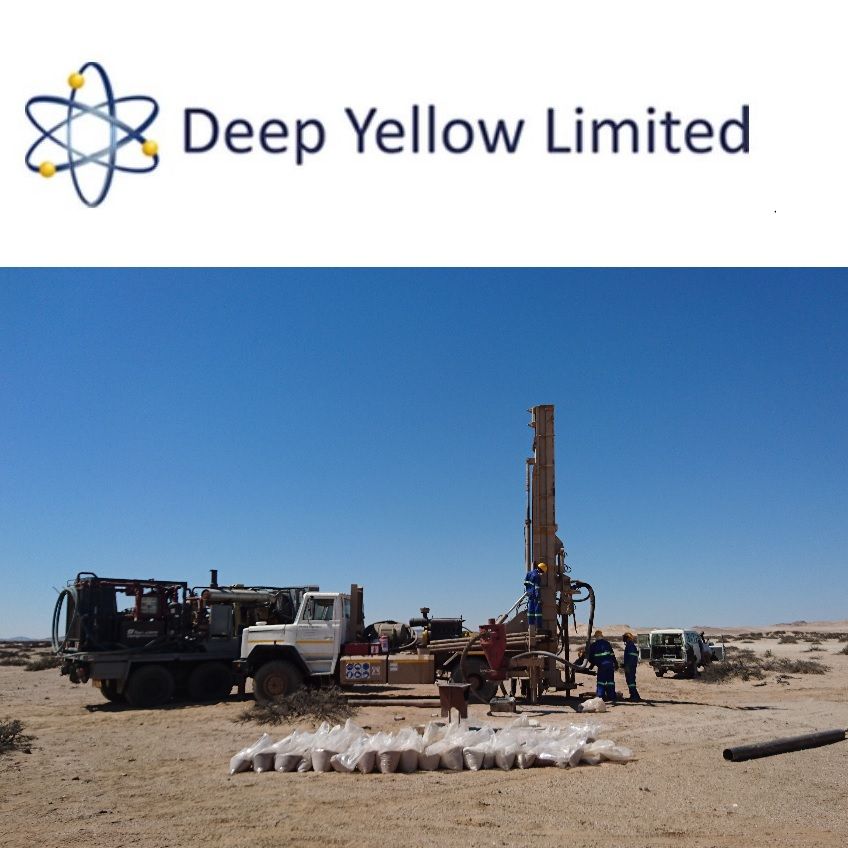 New Discovery East of Tumas 1 Deposit Introducing Significant Additional Resource Upside
Perth, Oct 3, 2018 AEST (ABN Newswire) - Deep Yellow Limited (

ASX:DYL
) (

OTCMKTS:DYLLF
) (Deep Yellow) is pleased to report on encouraging drilling results on EPL3497 where new continuous mineralisation has been identified in the Tumas 1 East palaeochannel area. Drilling was also conducted in the S-Bend channel area to the north which did not identify significant mineralisation. This EPL is held by Reptile Uranium Namibia (Pty) Ltd (RUN), part of the group of companies wholly owned by Deep Yellow.
HIGHLIGHTS
- Significant uranium mineralisation identified in untested Tumas 1 East tributary channel area with 67% of drilling returning >100ppm eU3O8 over 1m
o Drilling continuing with 95 holes for 1,199m completed
o 5-7m thick, near-surface continuous mineralisation open to east
- Best intersections include:
o TA004 8m at 351 ppm eU3O8 from surface
o TA026 8m at 335 ppm eU3O8 from surface
o TA028 5m at 1099 ppm eU3O8 from 2m
o TA029 6m at 541 ppm eU3O8 from 2m
o TA032 7m at 821 ppm eU3O8 from surface
o TA033 4m at 523 ppm eU3O8 from surface
o TA051 8m at 389 ppm eU3O8 from 2m
o TA060 12m at 412 ppm eU3O8 from 2m
- Mineralisation is calcrete associated hosted within palaeochannels, similar to the Langer Heinrich uranium mine located 30km to the north
As previously announced drilling programs commenced in July 2018 with semi-regional exploration drilling in the S-Bend Area. This regional program was completed at the end of August with 148 RC holes drilled for 2,171m. This was immediately followed by exploration drilling starting early September east of the Tumas 1 uranium deposit with 95 RC holes for 1,199m drilled for the month. The balance of the 10,000m campaign remaining to be drilled in the period to the end of 2018 is continuing. With the discovery of the newly identified mineralised channel at Tumas 1 East, work will focus in this area longer than originally anticipated before returning to resource drilling over the previously identified highly prospective western extension of Tumas 3. It appears two major prospective zones have been delineated which now require high priority attention. Figure 1 (see link below) shows the prospective paleochannel system outline and prospect locations.
Tumas East Drilling
Exploration drilling at Tumas East upstream of Tumas 1 is testing part of a three pronged tributary channel system draining into the main Tumas channel at Tumas 1. These are referred as Tails 1, 2 and 3.
To date a total of 95 holes for 1,199m was drilled in the area. Drill spacings varied from 50 to 100m along lines 200 to 800m apart. 64 of these holes returned positive results of more than 100 ppm eU3O8 over 1m. This reflects a 67% success rate. The average thickness of the mineralisation is close to 5m. The average grade of the 1m intersections >100ppm U3O8 is 340 ppm.
The drilling at the main tributary east of Tumas 1, named Tail 1 (Fig. 2) is at early stages and so far, has outlined a uraniferrous channel 3.5km in strike length showing continuous calcrete uranium mineralisation. The channel ranges from 200m to 900m in width. The mineralisation is located at shallow depth between 0 to 12m below surface. Except for localised hot spots large parts of this mineralisation do not show any surface radiometric expression.
The mineralisation remains open towards the east. Air photo and satellite image interpretation has identified further untested channels also to the south (Tails 2 and 3 on fig 2). Tail 2 was partially tested by extending two exploration drill lines. This identified uranium mineralisation >100ppm eU3O8 in 8 of 12 holes indicating the adjacent tributary also has the potential to host further calcrete-type uranium mineralisation. This adds an additional 16km of untested prospective palaeochannel to this target area.
Drill hole locations are shown in Figure 2 (see link below). Figures 3 and 4 (see link below) show adjacent drill cross-sections highlighting the continuity and thickness of the mineralisation. Figure 5 (see link below) shows a drill crosssection extending from the main tributary into one of the southern untested channels (Tail 2).
Equivalent uranium oxide (eU3O8) values as reported here have been determined by Deep Yellow personnel and these will be validated by a competent geophysicist for resource estimation purposes. The equivalent uranium values are based on down-hole radiometric gamma logging carried out by a fully calibrated Aus-Log gamma logging system.
The ongoing drilling will be aimed at defining the extent of the mineralised system at Tumas East first, before infill drilling for resource definition will start.
Mineralised intersections that are above the100ppm eU3O8 over 1m cut-off are tabulated in Table 1, Appendix 1 (see link below). All drill hole locations are listed in Table 3, Appendix 1 (see link below).
Semi-Regional Exploration Drilling S-Bend Area
Semi-regional exploration drilling at S-Bend was completed in August. Drilling was mainly aimed at testing surface radiometric anomalies over interpreted palaeochannels. Some drilling followed up previous encouraging results. A total of 148 holes for 2,171m was completed in this area. Drill hole spacing was highly variable ranging from 100 to 200m spaced holes along profiles 200 to 800m apart. Although the drilling confirmed the presence of a paleochannel system, no new continuous calcrete-type mineralisation could be identified in these channels.
Figure 6 (see link below) shows the exploration drill hole locations and the palaeochannel outlines in the S-Bend Area.
Mineralised intersections from the S-Bend drilling above >100 ppm eU3O8 over 1m cut-off are tabulated in Table 2, Appendix 1 (see link below).
All drill hole locations are listed in Table 3, Appendix 1 (see link below).
Analysis
The results of the ongoing exploration continue to be very encouraging. The current drilling has identified a new continuous zone of mineralisation associated with the eastern extension of Tumas 1 and remains open to the east. Importantly, new uranium mineralisation in the tributary paleochannel system in the Tumas East area has opened up the potential for further mineralisation in the south-adjacent Tails 2 and 3 tributaries.
The 2018 drill program is still ongoing focussing on extending the known mineralisation at Tumas 1 East. Drilling is demonstrating the potential to further extend the mineralisation. Testing for mineralisation in tributary channels entering the main channel from the south-east and north-east now becomes a priority for eventual upgrade of the overall resource base associated with these highly fertile palaeochannels. As previously shown, the uranium mineralisation is not confined to one simple, single channel but rather is associated with a complex palaeodrainage system containing several channels.
Appendix 1, Tables 1 and 2 (see link below) list the 64 exploration drill holes at Tumas East and 23 semiregional exploration drill holes from the S-Bend Area respectively returning uranium intersections above cut-off and showing equivalent uranium values in ppm and thickness with hole depth and coordinates provided. Table 3 in Appendix 1 (see link below) lists all drill holes completed to 30 September 2018 from the current drilling program which are the subject of this release.
Conclusion
This fourth (ongoing) drilling campaign is again producing successful results. It is confirming that the previously discovered deposits can be expanded. This is not only expected to add to the current uranium resource base of this project but, just as significantly, continues to emphasise the strong exploration potential of the extensive, uranium-fertile palaeochannel system within which the new Tumas Palaeochannel discoveries occur.
There are now 5 distinct mineralised zones (Tumas 1 & 2, Tumas 3, Tubas Sand/calcrete deposits and Tumas East) identified within the 125km of palaeochannels that occur within the Reptile Project tenements (see figure 1 in link below). Some 60%, or approximately 75 km, of this palaeochannel system which deepens to the west remains to be properly tested.
These positive results, both from the current and 2017 drilling and reinterpretation of historic exploration data, confirm management's confidence that the existing uranium resource base for Langer Heinrich style deposit/s within the Reptile project area can be further increased.
The current drilling program will continue throughout 2018 with infill resource drilling required for resource estimations as well as to define the extensive tributary palaeochannel system that exists at Tumas East.
An updated Inferred Resource estimation for the Tumas East Zone, in conjunction with Tumas 1&2, is expected to be delivered early 2019.
CEO Comment
John Borshoff commented: "Our work on the Reptile Project is again confirming the very high prospectively of the Tumas palaeochannel system that has been identified. The new zone of mineralisation that has been discovered adds significantly to the potential of these channels, which have all the hallmarks of a company maker in terms of achieving our previously stated resource target objectives."
To view tables and figures, please visit:
http://abnnewswire.net/lnk/1KKFDD67
About Deep Yellow Limited

Deep Yellow Limited (ASX:DYL) (OTCMKTS:DYLLF) (Namibian Stock Exchange:DYL) is a specialist differentiated uranium company implementing a new contrarian strategy to grow shareholder wealth. This strategy is founded upon growing the existing uranium resources across the Company's uranium projects in Namibia and the pursuit of accretive, counter-cyclical acquisitions to build a global, geographically diverse asset portfolio. The Company's cornerstone suite of projects in Namibia is situated within a top-ranked African mining destination in a jurisdiction that has a long, well regarded history of safely and effectively developing and regulating its considerable uranium mining industry.
John Borshoff
Managing Director/CEO
T: +61-8-9286-6999
Email: john.borshoff@deepyellow.com.au
www.deepyellow.com.au
Related CompaniesDeep Yellow Limited