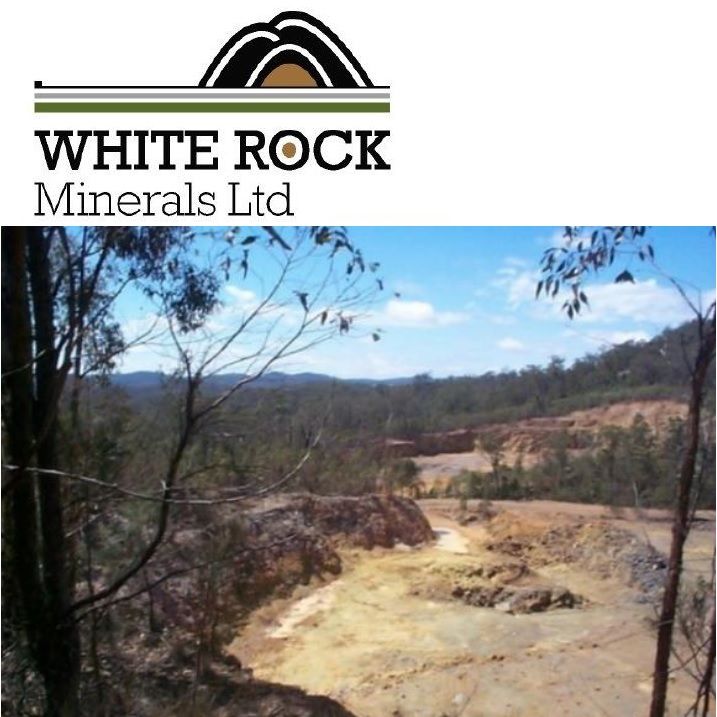 Annual Report to Shareholders
Ballarat, Sep 28, 2018 AEST (ABN Newswire) - White Rock Minerals Ltd (

ASX:WRM
) provides the Company's Annual Report to shareholders.
Highlights For the year ended 30 June 2018
Exploration: At Red Mountain the Company commenced its first field season of exploration. A 25-person camp was established to service a five-month exploration program that included diamond drilling, ground geophysics and surface geocehmical surveys. Drilling initially focused on validation and extension drilling of the two main deposits at Dry Creek and West Tundra where an Inferred Mineral Resource estimate includes a high grade component of 9.1 million tonnes @ 12.9% ZnEq1 for 1.2Mt of contained zinc equivalent at a 3% Zn cut-off. This high-grade Mineral Resource estimate sits within a greater Inferred Mineral Resource of 16.7 million tonnes @ 8.9% ZnEq(see Note below) for 1.5Mt of contained zinc equivalent at a 1% Zn cut-off for Dry Creek, 3% Zn cut-off for West Tundra & 0.5% Cu cut-off for Dry Creek Cu Zone. Drilling then progressed to test new regional targets based on historic surface geochemistry and electromagnetics data that were subsequently refined and added to through the Company's geological reconnaissance, surface geochemical sampling and surface geophysics surveys. The successful discovery of massive sulphide mineralisation at the Hunter prospect goes a long way to supporting the Company's thesis that the Red Mountain VMS project has the potential to host multiple deposits and expand into a true camp of high grade zinc-silver-gold VMS deposits.
Economic Studies: At the end of 2017 the Company reported the key outcomes from the positive Pre-Feasibility Study (PFS) into the development of the first stage of its 100% owned Mt Carrington gold and silver project. Highlights of the PFS included a Maiden Ore Reserve of 3.47 million tonnes at 1.4g/t gold for 159,000 ounces gold, A$36 million undiscounted cashflow over an initial 4 1/2 years (before any further mine life additions or the mining of the silver resources) and a strong Internal Rate of Return (IRR) of 34%. Detailed work relating to long lead time baseline studies critical to the preparation of the Project's Preliminary Environmental Assessment (PEA) and final EIS are ongoing, ahead of completing the Definitive Feasibility Study.
Environmental Rehabilitation Program: The environmental monitoring and rehabilitation program continued on the Mt Carrington Mining Leases, designed to support the long term environmental sustainability of the Leases.
Community Engagement Program: At Mt Carrington the Company continues to keep the local Drake community, Tenterfield Council and local stakeholders informed and is ready to re-engage once feasibility studies have more clearly defined the Project description and processing route for the Mt Carrington project. The Company, together with a leading community engagement consultancy firm has developed a social impact assessment and community consultation strategy which is ready to be implemented once activities intesify when the formal permitting process begins.
Equity Fundraising: Equity capital raisings during the year comprised various placements to Institutional and Sophisticated Investors and included an entitlement issue. Approximately 386 million shares and 202 million unlisted options were issued raising $3.66 million before costs. Further capital raisings were made subsequent to year end (refer item 10 "Events subsequent to Reporting Date" in the Directors' Report).
Note: ZnEq = Zinc equivalent grades are estimated using long-term broker consensus estimates compiled by RFC Ambrian as at 20 March 2017 adjusted for recoveries from historical metallurgical test work and calculated with the formula: ZnEq =100 x [(Zn% x 2,206.7 x 0.9) + (Pb% x 1,922 x 0.75) + (Cu% x 6,274 x 0.70) + (Ag g/t x (19.68/31.1035) x 0.70) + (Au g/t x (1,227/31.1035) x 0.80)] / (2,206.7 x 0.9). White Rock is of the opinion that all elements included in the metal equivalent calculation have reasonable potential to be recovered and sold.
To view the Annual Report, please visit:
http://abnnewswire.net/lnk/6C10JC0J
About White Rock Minerals Ltd

White Rock Minerals Ltd (ASX:WRM) is an Australian listed minerals exploration and development company with projects located in northern NSW (gold and silver) and central Alaska (zinc, silver, lead and gold). The White Rock vision is to explore and develop both precious and base metal projects.
White Rock's cornerstone asset is the Mt Carrington epithermal gold-silver project in northern NSW. The Mt Carrington project has great leverage to the Australian gold and silver prices with a positive scoping study providing a path towards feasibility studies and development in the near term.
White Rock is also exploring the Red Mountain project in Alaska. Red Mountain is a globally significant advanced VMS project with high grade zinc and silver in two deposits. White Rock is exploring for additional high grade deposits that will enhance the projects leverage to an upturn in the fortunes of zinc and silver.

Matthew Gill (Managing Director & CEO)
Phone: +61-3-5331-4644

Shane Turner (Company Secretary)
Phone: +61-3-5331-4644
Email: info@whiterockminerals.com.au
Website: www.whiterockminerals.com.au
Related CompaniesWhite Rock Minerals Ltd