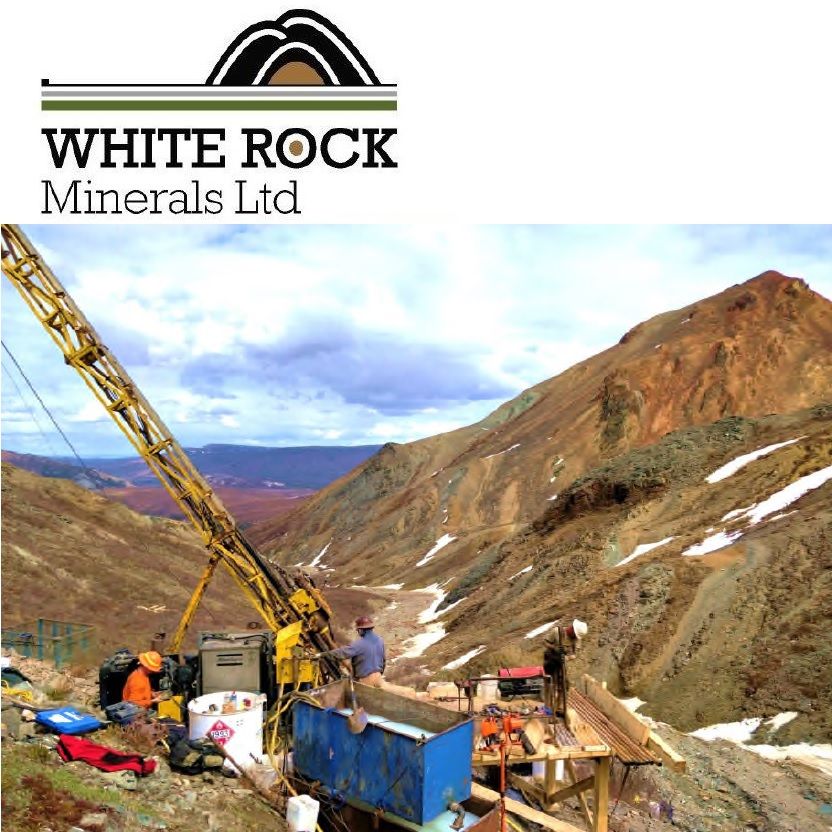 Red Mountain Zinc-Silver-Gold VMS Project Exploration Update
Ballarat, Sep 20, 2018 AEST (ABN Newswire) - White Rock Minerals Ltd (

ASX:WRM
) ("White Rock" or the "Company") is pleased to provide a summary to date from its inaugural exploration field program at its flagship Red Mountain project.
Exploration program highlights for 2018 include:
- Discovery and successful drill testing of the new Hunter prospect massive sulphide mineralisation with 1.4m @ 17.4% Zn, 3.9% Pb, 90g/t Ag & 1.6% Cu for 25.8% ZnEq(see Note 1 below) from 48.2m (HR18-01)(see Note 2 below).
- Best drill intersection at West Tundra deposit with 3.5m @ 15.1% Zn, 6.7% Pb, 518g/t Ag, 2.1g/t Au and 0.2% Cu for 35.2% ZnEq(see Note 1 below) (WT18-28)(see Note 3 below).
- Best drill intersection into the Discovery Lens at the Dry Creek deposit with 4.7m @ 19.5% Zn, 7.8% Pb, 466g/t Ag, 6.9g/t Au and 1.5% Cu for 49.7% ZnEq(see Note 1 below) (DC18-79)(see Note 4 below)
- Down dip extension of the Fosters Lens at the Dry Creek deposit with 4.3m @ 4.8% Zn, 2.3% Pb, 1,435g/t Ag, 2.2g/t Au and 0.5% Cu for 43.2% ZnEq(see Note 1 below) (DC18-77)(see Note 4 below) remaining open down dip.
- Completion of a detailed regional stream sediment program across the entire 143km2 strategic tenement package to assist in focusing follow-up work for the 2019 field exploration program.
- Successful orientation ground geophysics across known mineralisation with CSAMT accurately identifying massive sulphide mineralisation at Dry Creek and West Tundra enabling the technique to be a rapid reconnaissance tool for identifying drill targets within zones of anomalous geochemistry and favourable stratigraphy.
- Successful application of portable XRF analysis of soil samples to deliver rapid target generation.
- A total of 24 drill holes for 4,111 metres of diamond core drilling have been completed during 2018. Assays are awaited for 7 drill holes. The drill rig has now been demobilised.
- The CSAMT crew acquired 40 line km of new data along strike of Dry Creek and West Tundra.
- Field crews collected 435 stream samples, 1,835 soil samples and 330 rock chips samples. Stream samples are awaiting assaying.
MD & CEO Matt Gill said "We are very pleased with the success of our first field season in Alaska at the Red Mountain project. Through an aggressive approach deploying a drill rig early on the tail of geological prospecting, surface sampling and ground geophysics, we have been rewarded with the discovery of massive sulphide mineralisation in outcrop within three months of starting our very first program.
The discovery of a new massive sulphide occurrence at Hunter, open along strike (traced for 500 metres) and down dip, goes a long way to supporting the thesis that the Red Mountain project has the potential to host multiple deposits and expand into a true VMS camp. It is satisfying that the active field season has allowed us to apply a systematic approach to covering the prospective 143km2 ground package, which enables us to focus on the most highly prospective areas in 2019 using proven successful techniques including CSAMT ground geophysics and portable XRF geochemical analysis of soils to generate numerous additional VMS prospects for drill testing in 2019".
Mr Gill concluded, "We have collected an enormous amount of geological data from our intense on-ground field work, and much of this information is now working its way through the assay laboratories. We will be compiling this information, together with the current and outstanding drill hole results, to assess, report and plan for next year's value-adding program. Included in this body of work will be an assessment of the existing and new data for a possible JORC Resource Update."
The 2018 field season saw continuous use of a diamond drill rig. Drill targets included initial validation drilling of the two known deposits (Dry Creek and West Tundra), extension drilling at Dry Creek, and 9 new targets tested with 13 drill holes including discovery of the Hunter massive sulphide mineralisation 5km west of the Dry Creek deposit. In addition to continuous drilling, the field season also encompassed up to three geological reconnaissance and surface geochemical sampling crews active throughout the field season, and two months of a CSAMT ground geophysics team. The CSAMT survey followed a detailed orientation program of ground geophysics that included moving loop electromagnetics and induced polarisation - resistivity across known mineralisation, and also the use of downhole electromagnetics.
Notes:
1 ZnEq = Zinc equivalent grades are estimated using long-term broker consensus estimates compiled by RFC Ambrian as at 20 March 2017 adjusted for recoveries from historical metallurgical test work and calculated with the formula: ZnEq =100 x [(Zn% x 2,206.7 x 0.9) + (Pb% x 1,922 x 0.75) + (Cu% x 6,274 x 0.70) + (Ag g/t x (19.68/31.1035) x 0.70) + (Au g/t x (1,227/31.1035) x 0.80)] / (2,206.7 x 0.9). White Rock is of the opinion that all elements included in the metal equivalent calculation have reasonable potential to be recovered and sold.
2 Refer ASX Announcement 20th August 2018 "High Grade Zinc Discovery at the Hunter Prospect, Red Mountain".
3 Refer ASX Announcement 18th June 2018 "Initial Drilling Delivers High Grade Zinc Results at Red Mountain".
4 Refer ASX Announcement 4th July 2018 "High Grade Zinc-Silver Drill Intersections Extend Mineralisation at Red Mountain".
About Red Mountain (as more fully set out in the ASX Announcement dated 15 February 2016)
- The Red Mountain Project is located in central Alaska, 100km south of Fairbanks, in the Bonnifield Mining District. The tenement package comprises 230 mining claims over a total area of 143km2.
- The Red Mountain Project contains polymetallic VMS mineralisation rich in zinc, silver and lead, with potential for significant gold and copper.
- Mineralisation occurs from surface and is open along strike and down-dip.
- White Rock used historical drilling to determine a maiden JORC 2012 Mineral Resource estimate for the Dry Creek and West Tundra Flats deposit (ASX Announcement 26th April 2017). The Inferred Mineral Resource contains an impressive base metal and precious metal content with 678,000t zinc, 286,000t lead, 53.5 million ounces silver and 352,000 ounces gold.
To view tables and figures, please visit:
http://abnnewswire.net/lnk/186PQ22R
About White Rock Minerals Ltd

White Rock Minerals Ltd (ASX:WRM) is an Australian listed minerals exploration and development company with projects located in northern NSW (gold and silver) and central Alaska (zinc, silver, lead and gold). The White Rock vision is to explore and develop both precious and base metal projects.
White Rock's cornerstone asset is the Mt Carrington epithermal gold-silver project in northern NSW. The Mt Carrington project has great leverage to the Australian gold and silver prices with a positive scoping study providing a path towards feasibility studies and development in the near term.
White Rock is also exploring the Red Mountain project in Alaska. Red Mountain is a globally significant advanced VMS project with high grade zinc and silver in two deposits. White Rock is exploring for additional high grade deposits that will enhance the projects leverage to an upturn in the fortunes of zinc and silver.

Matthew Gill (Managing Director & CEO)
Phone: +61-3-5331-4644

Shane Turner (Company Secretary)
Phone: +61-3-5331-4644
Email: info@whiterockminerals.com.au
Website: www.whiterockminerals.com.au
Related CompaniesWhite Rock Minerals Ltd