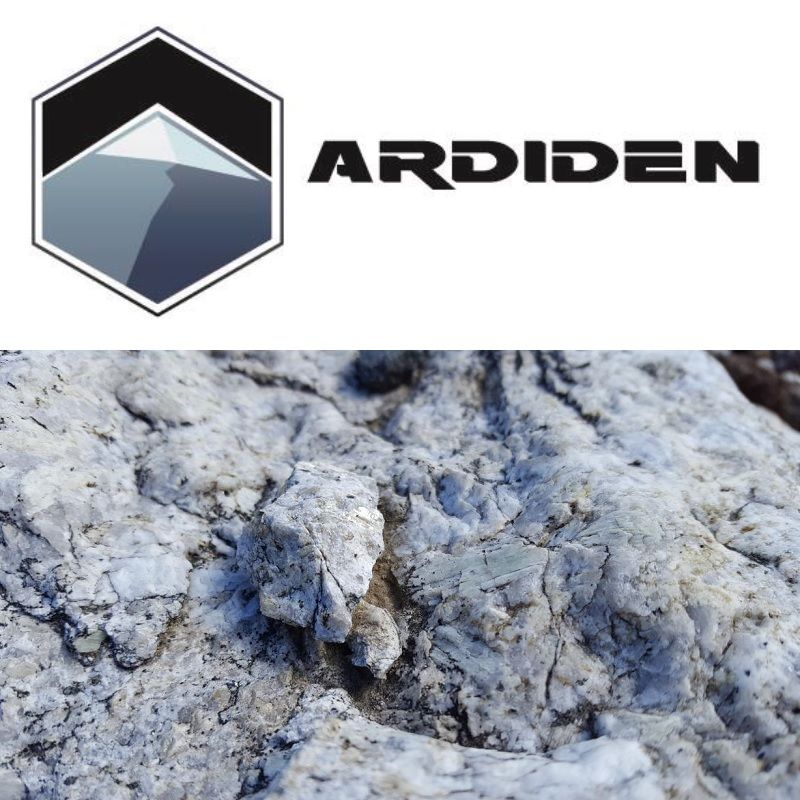 Drilling at North Aubry Delivers Early Success
Perth, Aug 20, 2018 AEST (ABN Newswire) - Canadian-focused lithium explorer and developer, Ardiden Limited ("ADV" or "the Company") (

ASX:ADV
), is pleased to announce further drilling success at its highly-prospective North Aubry prospect. The first seven diamond drill-holes are now complete (drill holes ASD001 to ASD007), with all seven intersecting multiple pegmatites at various depths. The North Aubry prospect is located within the Company's 100% owned flagship Seymour Lake Lithium Project in Ontario, Canada.
HIGHLIGHTS:
- Commencement of the Resource expansion drilling program at the North Aubry prospect, with holes ASD001 to ASD007 completed - all seven drill holes intersect multiple spodumene-bearing pegmatites.
- Completed drill holes show mineralisation consistency at various depths at North Aubry.
- Historic and recently generated data confirm potential to define a significantly larger Mineral Resource at North Aubry than previously indicated.
- Holes ASD001 to ASD007 represent only one-third of the planned 3000m Resource expansion drill program at North Aubry.
- Assays from holes ASD001 to ASD007 are expected to be available for release to the market over the coming weeks.
The current Resource expansion drill program (see Figure 1 in link below for drill-hole locations) has been designed to test and evaluate the interpreted continuation of the North Aubry pegmatites under cover, both along-strike and down-dip (see Figure 2 in link below). The primary aim of the 3000m program is to identify additional lithium mineralisation, to increase the Mineral Resource (to be defined) at the North Aubry prospect.
Commenting on the early drilling success at North Aubry, Ardiden CEO and Executive Director, Brad Boyle stated "These latest drill results confirm substantial extensions and consistency in the mineralised zones around the North Aubry prospect, including the identification to the North of a new overlying spodumene bearing pegmatite dykes. This early success reinforces our strong belief in the potential of Ardiden's landholdings to add significant tonnage to the already defined high-quality resource at North Aubry."
The intersection of multiple pegmatites at various depths by each drill-hole (refer to Figure 2 and Table 1 below) (see link below) confirms that the North Aubry prospect contains a series of "stacked" spodumene-bearing pegmatites within a zone extending towards the North East.
Of particular significance is the identification of new spodumene-bearing pegmatite dykes, intersected to-date by holes ASD004 - ASD007 overlying the main North Aubry pegmatite dyke. The possible presence of these dykes was indicated by the GPR survey completed earlier this year. However, the confirmation of the pegmatite presence validates Ardiden's exploration model, and the Company believes there is potential to discover additional pegmatite dykes further to the North East.
The pegmatites intersected contain variable amounts of spodumene (refer to Figure 3 in link below), with pale green and grey to white varieties present. The other main minerals present include: quartz; feldspar (both microcline and albite); and muscovite.
Ardiden confirms that drill holes ASD001 to ASD007 have been logged by the Company's geological team. Drill core samples are currently being analysed at AGAT Laboratories in Thunder Bay. Assay results are anticipated shortly, and Ardiden will keep shareholders updated on all material developments.
To view tables and figures, please visit:
http://abnnewswire.net/lnk/3K9PUKXU
About Ardiden Ltd

Ardiden Limited (ASX:ADV) is an emerging international diversified exploration and development company possessing a mature multi-element asset portfolio, with a near term development pipeline, focused quality projects located in the established mining jurisdiction of Ontario, Canada.

Investors:
Brad Boyle
Ardiden Ltd
Tel: +61-8-6245-2050

Media:
Michael Weir / Cameron Gilenko
Citadel-Magnus
Tel: +61-8-6160-4900
Related CompaniesArdiden Ltd