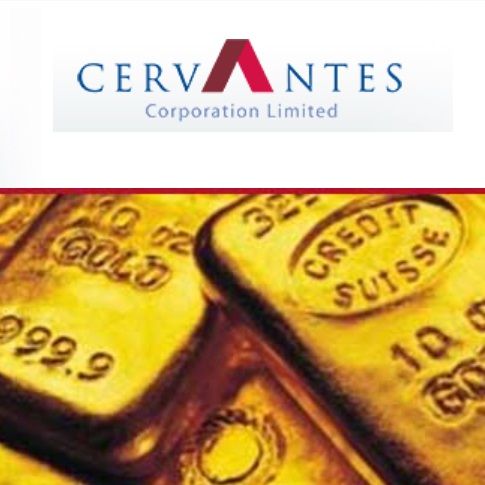 Pansy Pit Keeps Giving Gold
Perth, Aug 8, 2018 AEST (ABN Newswire) - Cervantes Corporation Limited (

ASX:CVS
) announces Pansy Pit keeps giving Gold.
HIGHLIGHTS:
- Shallow gold mineralisation intercepted at the historic Pansy Pit
- Significant gold intercepts include (down hole widths, true width unknown): (see link below)
- Gold mineralisation is much more pervasive than indicated in historic drilling and not restricted to quartz veins
- Total hole gold grade averages, reflect the auriferous nature of this area
- Gold grades may be amenable to a heap leach operation that would access bulk tonnage, rather than the narrow veins previously considered, although enquiries from a mill in the district have been persistent.
- Ability to grow the area of the gold mineralisation through additional drill testing recognised
All assays from the recently completed RC drilling campaign in the historic Pansy Pit in the Primrose Project, M59/662, (see Figure 1 in link below) have been received. Eleven RC holes were completed for 336m (see Figure 2, Table 1 in link below). The campaign was curtailed due to some inaccessibility near the pit walls.
Historic drilling at the Pansy Pit intersected up to 8m at 7.08g/t gold (ASX announcement 28 March 2018). The recently completed campaign was designed to test extensions of this mineralisation updip, downdip, and along strike, and provide fresh material for possible metallurgical testing and geotechnical information to assist in its evaluation.
Geology
Regionally, the Pansy Pit is hosted in undifferentiated amphibolites between two splays of the Primrose Shear (see Figure 3 in link below). Drilling intercepted a package of altered mafics in which auriferous and, in places, sulphidic quartz lodes have developed, possibly in response to shearing. Alteration, mainly chloritic-fuchsitic, but also goethitic, sulphidic, and carbonate alteration, is highly variable.
A number of quartz lodes were intercepted. These ranged from one to ten metres in width downhole and are frequently associated with local shearing. Whilst often auriferous, not all intercepted quartz lodes carried significant gold grades. Similarly, pyrite was often, but not ubiquitously associated with these quartz lodes.
In the north-west of the drilled area an altered felsic unit was intersected and seen to interfinger with the altered mafic unit. This felsic may have been the driver for the quartz-gold mineralisation.
The base of oxidation is generally around 30m though not intersected.
Mineralisation
Insufficient drilling has been undertaken to unambiguously identify specific quartz lodes from section to section. Gold is often hosted by these quartz lodes. For example, in hole CVSRCP001 the intercept of 3m at 4.91g/t gold from 34 metres (downhole width, true width is unknown) is wholly within a pyritic quartz lode. Elsewhere, however, gold grades are hosted within shearing - eg, in hole CVSRCP006 an intercept of 1m at 6.31g/t gold from 13m is hosted entirely within a sheared mafic. In hole CVSRCP007 an intercept of 2m at 6.13g/t gold from 22m is hosted by unsheared, massive mafics with no noted quartz content (all quoted depths are downhole depths).
These observations are significant: historic drilling only sampled obvious (logged) quartz veins. This drilling campaign has demonstrated that there exists substantial gold mineralisation in the host rocks, so giving the area a higher potential than previously thought. Whilst of moderate grade, the gold mineralisation remaining in the Pansy Pit may be amenable to cheap extraction, eg, by heap leach, given it is shallow and predominantly in the oxide zone, although expressions of interest from a mill in the district have been persistent.
A feature of the area drilled is that it is almost universally auriferous. No samples from this drilling reported below the detection limit of the assaying technique (0.005g/t gold). Table 2 is a listing of the significant gold intercepts from this drilling (see the JORC table for agglomeration parameters.)
Representative cross-section
Insufficient drilling has been undertaken to unambiguously identify specific quartz lodes from section to section. The historic drilling is devoid of meaningful geologic observations and so is of limited use in gaining an understanding of the Pansy Pit geological setting. Representative interpreted geological section is shown in Figure 4 and 5(see link below), the location of which is shown on Figure 2(see link below).
These sections show a transition from a steeply dipping quartz lode system near the centre of the pit to a more moderate and possibly flatly dipping system at the northern end of the pit. The transition is interpreted as a mineralised system that is wrapping around a possible felsic intrusive to the west of the pit, an interpretation that needs to be tested by further drilling. That felsic intrusion may be the driver for mineralisation in the Pansy area and may constitute a drilling target in its own right.
Next Steps
A fuller assessment of these drilling results will be undertaken to better understand the controls on gold mineralisation. The historic hole collars no longer exist; Cervantes may decide to redrill those holes to more fully test the area for gold mineralisation in the light of the conclusions drawn from this drilling campaign. Holes unable to be drilled during this campaign will be re-assessed for possible future completion.
A more regional assessment of the Pany mineralisation will be undertaken, particularly in light of the gold anomalism seen in aircore drilling to the south east of the pit (ASX announcement 11 July, 2018.)
Cervantes is now in a position to review all the completed drilling programs carried out on all the relevant projects and prepare new drilling programs, budgets and submit work programs. At this stage it is expected we would commence with expansion drilling at Albury Heath in Meekatharra, where spectacular 2oz, 3oz and up to 6oz results occurred.
To view tables and figures, please visit:
http://abnnewswire.net/lnk/453O5ODO
About Cervantes Corporation Limited

Cervantes Corporation Limited (ASX:CVS) is an emerging gold explorer and aspiring gold miner. It has built up a portfolio of gold properties in well-known and historically producing gold districts with a strategy to apply novel exploration and development thinking. Cervantes has identified opportunities in those districts that were overlooked by previous explorers. The company is committed to maximizing shareholder value through the development of those opportunities.

Collin Vost
Executive Chairman
T: +61-8-6436-2300
E: cvost@cervantescorp.com.au
Related CompaniesCervantes Corporation Limited