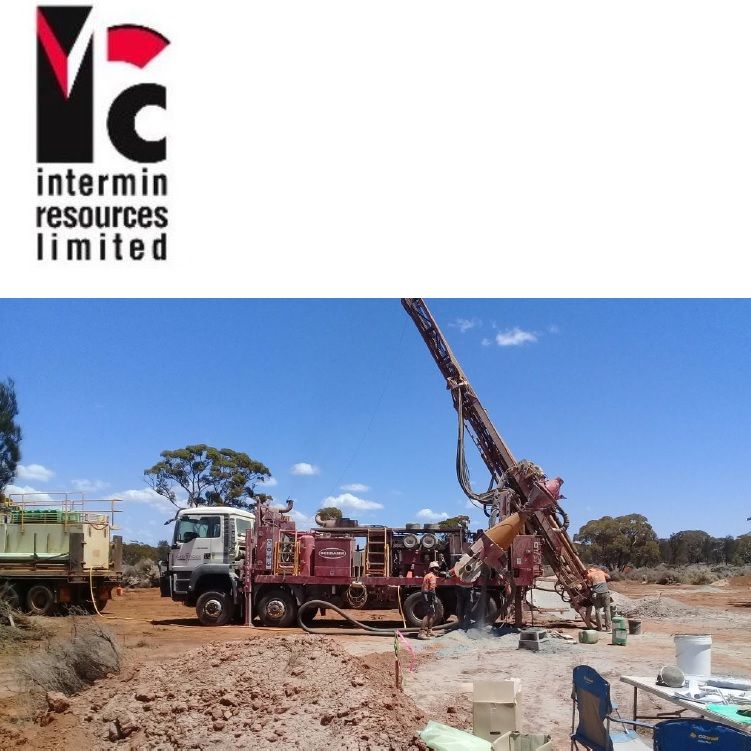 Quarterly Activities Report 31 March 2018
Perth, April 30, 2018 AEST (ABN Newswire) - Intermin Resources Limited (

ASX:IRC
) ("Intermin" or the "Company") provides the March 2018 Quarterly Activities Report. Intermin is a gold exploration and development company with a key focus in the Kalgoorlie region of Western Australia (see Figure 1 in link below) and has a number of joint ventures in place with quality partners covering multiple commodities in Western Australia and Queensland.
HIGHLIGHTS
- Mining, ore haulage and toll treatment completed successfully at the Teal gold mine
- Transitional ore mined from Teal Stages 1 and 2 for the Quarter totalled 51,600t at a mine predicted grade of 2.54g/t Au for 4,200 ounces mined
- Two milling campaigns completed successfully at the Lakewood toll milling facility with final bullion shipped in April for refining and sale in early May
- Gold production for the Quarter of 6,737 fine ounces at C1 costs of $923/oz(see Note 1 below) and an AIC of $1,087/oz(see Note 2 below)
- A$11.5 million received from gold sales during the Quarter at an average gold price of A$1,701 per ounce
- Cash and tradeable securities increase to A$11.14 million(see Note 3 below)
- Excellent first pass drilling results received from the Blister Dam gold project area(see Note 4 below)
- Maiden (JORC 2012) Mineral Resource estimate for the Anthill gold project totalling 160,000t grading 1.7g/t Au for 78,000 ounces at a 1g/t Au cut-off grade(see Note 5 below)
- Updated Mineral Resource estimate for the Richmond vanadium project totalling 2,579Mt grading 0.32% V2O5 at a 0.29% V2O5 cut-off grade(see Note 6 below)
- Richmond JV partner AXF commits to spend a further A$5M on the project over 3 years
- Metallurgical testwork from the Richmond Vanadium Project underway in China under supervision of AXF with initial results expected in the June Quarter 2018
- Lakewood gold project area consolidated to the south east of Kalgoorlie's Golden Mile(see Note 7 below)
- Fully funded 55,000m Resource extension and new discovery drilling program(see Note 8 below) commenced with 7,300m drilled at the Teal gold project area during the Quarter
- Drilling results from Teal, Jacques Find and Peyes Farm expected in the June Quarter
- Janet Ivy Mining Royalty payments of $0.50/t now due after treated tonnages exceeded the prepayment threshold with regular quarterly payments expected through CY2018(see Note 8,9 below)
JUNE QUARTER ACTIVITES(see Note 8 below)
- Working toward a resolution of a cost variation claim received during the March Quarter from mining contractor Resource Mining Pty Ltd
- Ongoing exploration and new discovery drilling at Teal and Anthill
- Drilling results from the Teal gold project area
- Richmond Vanadium metallurgical test work results on ore pre-concentration
- Goongarrie Lady Feasibility Study completion
- Anthill scoping study completion and development options review
- Stakeholder engagement and drill program planning for the Lilyvale vanadium prospect
Notes:
1 C1 cash costs exclude pre-strip of Teal Stage 2
2 AIC cash costs include pre-strip, production, exploration and all overheads.
3 Includes 75% profit share component from Teal gold mine as per Intermin's position, see Page 5 for details
4 As announced to the ASX on 6 February 2018
5 As announced to the ASX on 13 March 2018
6 As announced to the ASX on 20 March 2018
7 As announced to the ASX on 19 February 2018
8 As announced to the ASX on 10 April 2018
9 See Forward Looking and Cautionary Statement on Pages 21 and 22
To view the full report with tables and figures, please visit:
http://abnnewswire.net/lnk/E75045KP
About Intermin Resources Limited

Intermin Resources Limited (ASX:IRC) is a gold exploration and mining company focussed on the Kalgoorlie and Menzies areas of Western Australia which are host to some of Australia's richest gold deposits. The Company is developing a mining pipeline of projects to generate cash and self-fund aggressive exploration, mine developments and further acquisitions. The Teal gold mine has been recently completed.
Intermin is aiming to significantly grow its JORC-Compliant Mineral Resources, complete definitive feasibility studies on core high grade open cut and underground projects and build a sustainable development pipeline.
Intermin has a number of joint ventures in place across multiple commodities and regions of Australia providing exposure to Vanadium, Copper, PGE's, Gold and Nickel/Cobalt. Our quality joint venture partners are earning in to our project areas by spending over $20 million over 5 years enabling focus on the gold business while maintaining upside leverage.

Jon Price
Managing Director
Tel: +61-8-9386-9534
E: jon.price@intermin.com.au

Michael Vaughan
Media Relations - Fivemark Partners
Tel: +61-422-602-720
E: michael.vaughan@fivemark.com.au
Related CompaniesIntermin Resources Limited