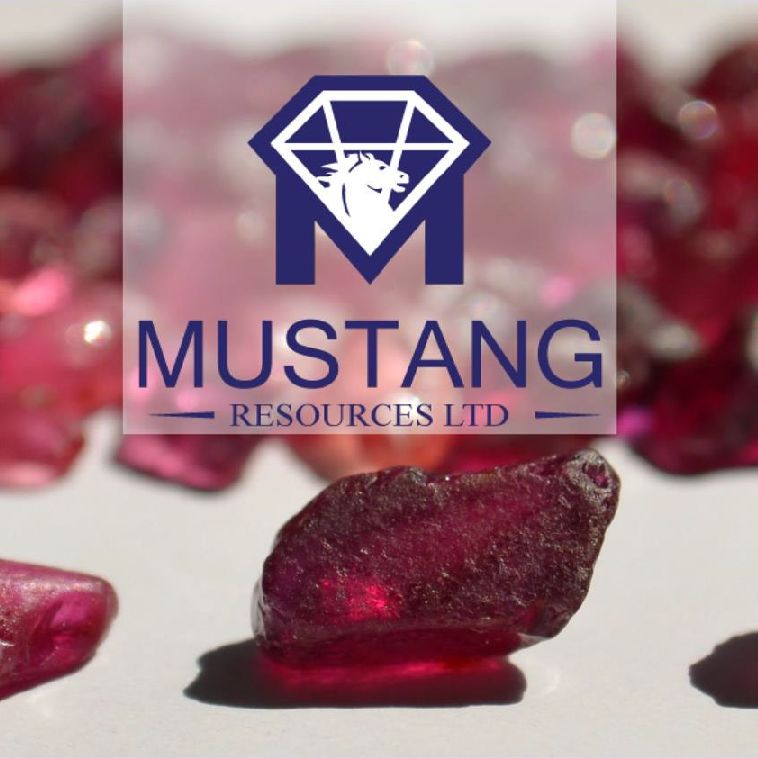 Ruby Project Operations Update
Sydney, Feb 13, 2018 AEST (ABN Newswire) - Mustang Resources (

ASX:MUS
) (

OTCMKTS:GGPLF
) is pleased to announce that bulk sample processing and exploration activities on its Montepuez Ruby Project, in Northern Mozambique are delivering increasingly strong results.
Key Points
- Exploration, pitting and trenching program increases known gravel extension from 3.3km to 4.2km
- Exploration program identifies additional gravel bed targets over a 3km-long river and associated tributaries system
- Optimisation of processing plant with improvements and upgrades completed during December quarter 2017
- Average grade increases 10% from October 2017 onwards compared with average grade for all previously processed material
- Ongoing bulk sampling and processing of stockpiled material delivers positive results
- 80,658 tonnes processed in Q4 2017 with 29,983 carats recovered at an average grade of 0.37ct / tonne
- 17,025 tonnes processed in Q1 to date with 7,495 carats recovered at an average grade of 0.44ct / tonne
The results demonstrate that Mustang's strategy to establish Montepuez as a world-class ruby project with consistent production and exploration upside is on track.
Mustang Managing Director Dr. Bernard Olivier said: "Having spent time on site in recent weeks, I am very pleased to report that exploration, bulk sampling and processing activities on the Montepuez Ruby Project are meeting our targets. These results reflect the skills and commitment of Mustang's motivated and experienced operational team.
"The Q4 2017 plant optimisation program is generating the intended results with further improvements and upgrades now being implemented. The overall results demonstrate that Montepuez is highly prospective and technically sound.
"We will provide an update shortly on the marketing and sales progress we are making."
Exploration
The ongoing exploration activities conducted during Q4 2017 and Q1 2018 have already delivered positive results. The exploration, pitting, trenching and bulk sampling program has now extended the gravel bed extension from 3.3km to 4.2km. At total of 69 sampling pits were developed and processed during the period while a total of 14,502 tonnes of material were excavated and extracted as part of the bulk sampling process. The geology team has also analysed the exploration dataset and selected further targets for additional pitting. During the remainder of Q1 2018, the exploration program will focus on identifying further high-grade targets for large-scale bulk sampling excavation and processing, as well as further delineating the dimensions and ruby distribution of the deposit, which remains open in all directions.
Bulk Sampling and Processing
During Q4 2017, significant improvements were made to the processing plant to optimise its efficiencies and reduce processing costs. Average grades increased by more than 10% from October 2017 onwards compared with the total average grade achieved from previous bulk sampling.
Mustang is also implementing further processing, sorting and grading improvements to increase overall efficiencies.
Ongoing processing of bulk sample material since October 2017 has returned the following results:
- 80,658 tonnes processed in Q4 2017 with 29,983 carats recovered at an average grade of 0.37ct / tonne
- 17,025 tonnes processed in Q1 to date with 7,495 carats recovered at an average grade of 0.44ct / tonne
As at 31 January 2018, the Company had inventory available for sale of 302,028 carats.
To view figures, please visit:
http://abnnewswire.net/lnk/OF38WC3N
About Mustang Resources Ltd

Mustang Resources Limited (ASX:MUS) (FRA:GGY) is an ASX listed company focused on the development of the Caula Vanadium-Graphite Project in Northern Mozambique, located along strike from the Syrah Resources Ltd (ASX:SYR) Balama Project. In July 2018 Mustang announced a maiden vanadium JORC Measured Resource for Caula of 22Mt at 0.37% V2O5 for 81,600 tonnes of contained vanadium pentoxide. The Company concurrently announced a 317% increase in its JORC Graphite Resource to 21.9Mt at 13.4% Total Graphitic Carbon ("TGC") (8% cut-off), for a total of 2,933,100 tonnes of contained Graphite, all in the measured category.
The Company has a highly experienced board and management team with a 15-year track record of investment and successful project development in Mozambique and the Africa region. With the aim to become a key provider of graphite and vanadium, both key components used in battery production, the company currently has a scoping study underway, which is due for completion in Q3 2018.
Visit the Mustang website at http://www.mustangresources.com.au for more information.
Media & Investor Relations:
Paul Armstrong
E: paul@readcorporate.com.au
T: +61-8-9388-1474
Related CompaniesMustang Resources Ltd