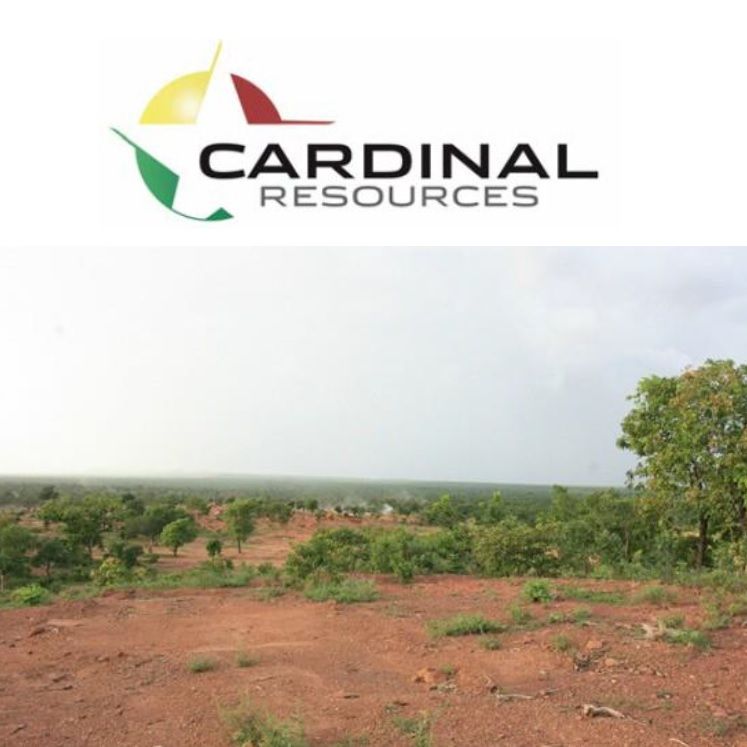 Namdini Infill Drilling Results Returned
Perth, Jan 22, 2018 AEST (ABN Newswire) - Cardinal Resources Limited (

ASX:CDV
) (

TSE:CDV
) ("Cardinal" or "the Company") is pleased to report assay results from its continued infill drilling programme of the Namdini Gold Project in Ghana.
Cardinal's Chief Executive Officer / Managing Director, Archie Koimtsidis said:
"These results are particularly encouraging as they lie outside the expected starter pit area and continue to confirm the wide and ubiquitous extent of mineralisation at Namdini.
"Confidence in the continuity and robustness of the Namdini gold resource is increasing with the return of more results from the 9,000m infill drilling programme which began following the release of our September 2017 Mineral Resource update.
"When completed, we anticipate that results from this current 9,000m programme to lead to an upgrade in the current Mineral Resource in both size and category, which is anticipated to be reported during Q1 2018.
"Separate to the infill programme at Namdini, we have drill rigs active testing some of our regional exploration licences, and we look forward to providing information from these first pass drill programmes.
"We are also continuing to advance the Preliminary Economic Assessment which is expected to be reported in Q1 2018."
HIGHLIGHTS FROM NAMDINI 9,000m INFILL DRILLING RETURNED TO DATE
- 12m at 7.6g/t Au from 343m - NMDD132
- 27m at 6.0g/t Au from 231m - NMDD145
- 11m at 4.9g/t Au from 184m - NMDD128
- 17m at 4.8g/t Au from 368m - NMDD132
- 12m at 4.9g/t Au from 394m - NMDD144
- 10m at 4.3g/t Au from 447m - NMDD135
- 28m at 4.1 g/t Au from 318m - NMDD144
- 72m at 3.3 g/t Au from 348m - NMDD135
- 65m at 3.0 g/t Au from 189m - NMDD132
- 23m at 3.0g/t Au from 147m - NMDD135
- 16m at 2.7g/t Au from 431m - NMDD133
- 25m at 2.7g/t Au from 190m - NMDD123
- 37m at 2.6g/t Au from 254m - NMDD134
- 64m at 1.8g/t Au from 415m - NMDD136
- 30m at 2.2g/t Au from 100m - NMDD124
- 61m at 1.4 g/t Au from 277m - NMDD138
- 29m at 2.0g/t Au from 473m - NMDD136
- 54m at 1.5 g/t Au from 127m - NMDD145
- 26m at 1.7g/t Au from 208m - NMDD137
- 130m at 1.0g/t Au from 295m - NMDD150
Individual gold intersections are >0.5 g/t Au with no more than 3m of consecutive internal dilution at <0.5 g/t Au. Detailed results of the drill programme are included below and in the attached schedules.
DISCUSSION OF RESULTS
Infill drilling results have been returned from the comprehensive campaign to continue to add definition to the Namdini Mineral Resource. The infill drill results continue to support strong continuity of the mineralized zones.
Assay results are pending from a further nine diamond holes already completed, which will be incorporated into the database that forms the basis for a Mineral Resource upgrade expected in Q1 2018.
Figure 1 (see link below) illustrates a plan view of the collar locations of drill holes and a typical interpretive section through the mineralization which is displayed in Figure 2 (see link below). Meta Data for significant intercepts are tabulated in Table 1, Schedule 1 (see link below). Details of all significant intercepts are provided in Table 2, Schedule 1 (see link below).
To view tables and figures, please visit:
http://abnnewswire.net/lnk/V4N8M8Z9
About Cardinal Resources Ltd

Cardinal Resources Ltd (ASX:CDV) (TSE:CDV) (OTCMKTS:CRDNF) is a West African gold-focused exploration and development Company which holds interests in tenements within Ghana, West Africa.
The Company is focused on the development of the Namdini Project with a recently announced Maiden Probable Reserve of 4.76Moz and is now advancing the feasibility study supported by additional multi-disciplinary engineering activities.
Exploration programmes are also underway at the Company's Bolgatanga (Northern Ghana) and Subranum (Southern Ghana) Projects.

Archie Koimtsidis
CEO / MD
Cardinal Resources Limited
P: +61-8-6558-0573

Alec Rowlands
IR / Corp Dev
Cardinal Resources Limited
P: +1-647-256-1922
Related CompaniesCardinal Resources Ltd