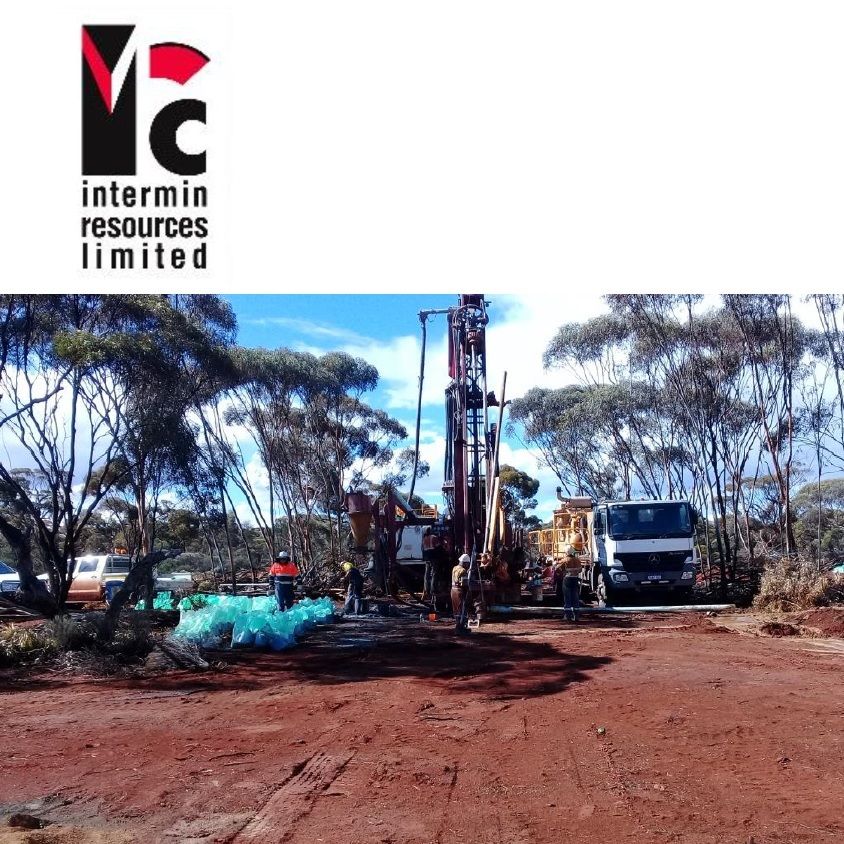 Jacques Find Continues to Deliver Excellent High Grade Results
Perth, Nov 29, 2017 AEST (ABN Newswire) - Intermin Resources Limited (

ASX:IRC
) ("Intermin" or the "Company") is pleased to announce further exciting reverse circulation ("RC") drilling results from the 100% owned Teal gold project located 11km northwest of Kalgoorlie-Boulder in Western Australia (see Figure 4 in link below).
HIGHLIGHTS
- Follow up drilling completed at the new 100% owned Jacques Find discovery, part of the Teal gold camp 11km from Kalgoorlie-Boulder
- Significant high grade downhole RC intercepts include (see Note 1 below):
o 27m @ 4.16 g/t Au from 45m (JFRC1711)
o 1m @ 9.53 g/t & 10m @ 2.59 g/t Au from 71m (JFRC1713)
o 2m @ 3.38 g/t Au from 31m (JFRC1712)
- All holes successfully intercepted significant mineralisation beyond the current Resource envelope to the north, south and at depth
- Excellent grades and widths in the oxide supergene zone together with primary high grade mineralisation demonstrate potential for both open cut and underground mining
- Major follow up drilling program to commence in the March Quarter 2018
- Updated Mineral Resource expected in the June Quarter 2018
Commenting on the drilling results, Intermin's Managing Director Mr Jon Price said:
"Jacques Find is shaping up as a significant new discovery within our 100% owned asset portfolio and will be the subject of a larger scale resource drill program in 2018.
"The latest results, particularly in the shallower supergene zone have demonstrated potential for both open cut and underground mining. Jacques Find is quickly joining Anthill and Blister Dam as a key part of Intermin's longer term production profile."
Overview
Five RC holes for 648m were completed at the Jacques Find discovery to follow up the highly encouraging RC drilling results announced to the ASX on 15 November 2017 including 26m @ 7.81g/t Au from 48m and 16m @ 5.33g/t Au from 86m in hole JFRC1704 (see Figure 2 in link below). Four of the latest holes targeted oxide-transitional mineralisation zones and one hole was completed as a re-entry of hole JFRC1701 which was interpreted to have finished short of the target zone.
All holes intercepted significant mineralisation beyond the extent of the current Mineral Resource envelope which remains open in all directions. Hole JFRC1711 was drilled 20m north of JFRC1704 and returned another outstanding intercept of 27m @ 4.16g/t Au from 45m. The result is significant as it is high grade, located within the strongly oxidised weathering profile and demonstrates the potential to define an oxide Resource (see Figure 1 in link below).
Hole JFRC1713 was located 30m south of JFRC1704 and intersected 1m @ 9.53g/t Au from 62m and 10m @ 2.59g/t Au from 71m and hole JFRC1712 was located 25m east of JFRC1704 and returned 2m @ 3.38g/t Au from 31m. These three results combined suggest the mineralisation intercepted in JFRC1704 is fault bounded and plunges to the south.
Hole JFRC1710 was located a further 80m north along the interpreted strike from the most northern intercept of mineralisation related to a black shale unit (12m @ 4.25g/t Au from 66m in JFRC1708 - see Note 2 below). An encouraging intercept of 7m @ 1.08g/t Au from 32m was returned from a depleted zone related to a black shale contact which has now extended the strike length of Jacques Find mineralisation to over 500m.
Hole JFRC1701 was completed as a re-entry to extend the depth a further 64m to 184m and returned 2m @ 1.96g/t Au from 142m and 3m @ 4.12g/t Au from 149m. Multiple mineralised zones were intersected on either side of the black shale unit, confirming a consistent geological interpretation in this area (see Figure 3 in link below). Strong quartz-pyrite veining and sericite-carbonate alteration was observed at 135m vertical depth and the hole confirmed the steep westerly dip of the Jacques Find mineralisation.
Next Steps
Intermin is at the advanced planning stages for a major Resource expansion drilling program at Jacques Find that will begin in the March Quarter 2018. The mineralisation is interpreted to be open in all directions and the drilling will test the northern and southern strike limits of known mineralisation in order to extend the strike length beyond the current 500m. Drilling will also be directed to target extensions to shallow oxide-transitional mineralisation that have the potential to be mined with open pit mining methods.
A program of RC and diamond holes will test the continuity of high grade mineralisation between 150m to 300m depth beneath Jacques Find and further drilling will be conducted along the Yolande and Peyes Farm prospect trends. It is currently planned to complete an updated Resource for the Teal gold project including Jacques Find, Peyes Farm and Teal Extended by the end of the June quarter 2018.
All gold assay results from the Jacques Find program have been received with drill hole collar details and significant downhole intervals >1.00g/t Au included in Table 1 (see link below).
Notes:
1 See Table 1 on Page 4, Competent Persons Statements on Page 6, Forward Looking Statement on Page 7 and JORC Tables on Page 8
2 As announced to the ASX on 15 November 2017.
To view tables and figures, please visit:
http://abnnewswire.net/lnk/PSOSHIX0
About Intermin Resources Limited

Intermin Resources Limited (ASX:IRC) is a gold exploration and mining company focussed on the Kalgoorlie and Menzies areas of Western Australia which are host to some of Australia's richest gold deposits. The Company is developing a mining pipeline of projects to generate cash and self-fund aggressive exploration, mine developments and further acquisitions. The Teal gold mine has been recently completed.
Intermin is aiming to significantly grow its JORC-Compliant Mineral Resources, complete definitive feasibility studies on core high grade open cut and underground projects and build a sustainable development pipeline.
Intermin has a number of joint ventures in place across multiple commodities and regions of Australia providing exposure to Vanadium, Copper, PGE's, Gold and Nickel/Cobalt. Our quality joint venture partners are earning in to our project areas by spending over $20 million over 5 years enabling focus on the gold business while maintaining upside leverage.

Jon Price
Managing Director
Tel: +61-8-9386-9534
E: jon.price@intermin.com.au

Lorry Hughes
Director - Business Development
Tel: +61-8-9386-9534
E: lorry.hughes@intermin.com.au

Michael Vaughan
Media Relations - Fivemark Partners
Tel: +61-422-602-720
E: michael.vaughan@fivemark.com.au
Related CompaniesIntermin Resources Limited