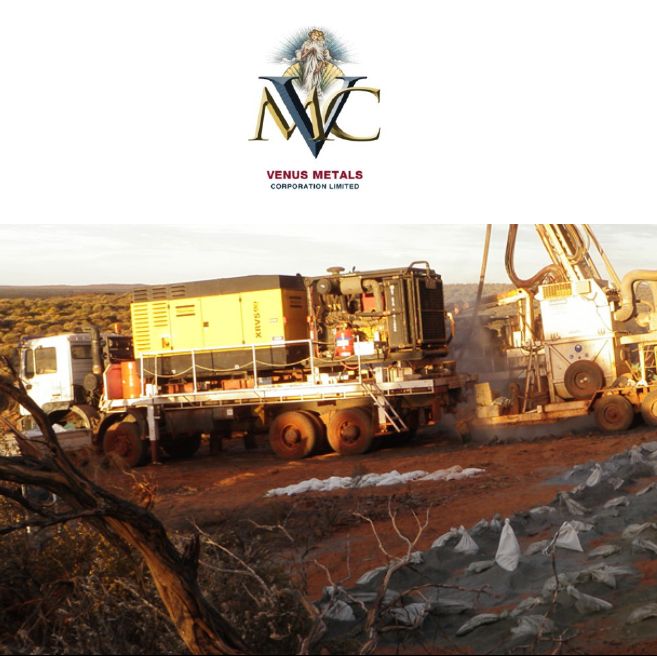 Quarterly Report and Cash Flow Report
Perth, Oct 31, 2017 AEST (ABN Newswire) - Venus Metals Corporation Limited (

ASX:VMC
) provides the Company's Quarterly Report and Cash Flow Report for the period ending 30 September 2017.
Venus Metals Corporation Limited's activities conducted during the quarter ending 30th September 2017 include
Youanmi Gold Project:
- Exploration targeting identified five significant gold targets (Pincher Hill area and Youanmi North) within the highly prospective/mineralised Youanmi Shear Zone and structural splays in the Youanmi Greenstone Belt of Western Australia (see Figure 1 in link below).
- High-grade gold ('Au') has been intersected in a number of drill holes completed by previous explorers at Pincher Hill including:
PWP 577 (see Note 2 below) 6m @ 11.15 g/t Au from 36m
Incl. 2m @ 23 g/t Au from 38m
PWP 393 (see Note 3 below) 3m @ 10.43 g/t Au from 56m
PW 096 (see Note 1 below) 1m @ 26.3 g/t Au from 5m
and 2m @ 18.45 g/t Au from 16m
(refer ASX release 25 August 2017)
- These high-grade gold intersections have yet to be followed up and tested utilising modern exploration methods. Venus is planning an aggressive exploration programme to test these high-grade gold targets including IP, EM and RAB /RC drilling.
Pincher Well (Youanmi) Zinc-Copper Project:
- The 2nd phase of drilling was completed which comprised of 10 RC holes for total 945m (see Figure 3 in link below). Out of 10 RC holes, 4 holes partially tested a high chargeability IP anomaly at North Dome's southern extensions and remaining 6 holes were vertically infill drilled to understand the structural disposition of the Zn-rich orebody within North Dome.
- The 4 drillholes at Southern extensions recorded anomalous Zn mineralisation and also intersected Au within the thick sulphide rich zone in VPW70 (3m @ 2.08g/t Au from 87m).
- The 6 vertical infill drilling intersected variable thickness and grades of the Zn mineralisation including 1m @6% Zn, 2% Pb and 1.31g/t Au from 85m in VPW 78.
- The phase 2 infill drilling at North Dome confirms folded and highly structurally controlled nature of the Zn mineralisation as reported in historical drilling.
- A close spaced EM survey is planned to define the spatial and structural disposition of Zn ore body before next drilling phase.
Lithium-Tantalum Projects:
- A reconnaissance geological mapping and surface sampling at Greenbushes East, Pilgangoora East-Wodgina South Li-Ta projects are in progress.
Notes: Bibliography
1. WAMEX Report A66606, 2003, Pincher Hill Project Annual Report, Snowpeak Nominees Pty Ltd
2. WAMEX Report A16704, 1985, Gold Exploration in E57/23 Pincher Well, BHP
3. WAMEX Report A16703, 1985, Mapping and Bedrock Geochemistry PW62-PW17 Area Pincher Well, BHP
To view the full report, please visit:
http://abnnewswire.net/lnk/O69N4A0M
About Venus Metals Corporation Limited

Venus Metals Corporation Limited (ASX:VMC) holds a significant and wide ranging portfolio of Australian base and precious metals exploration projects comprising lithium, cobalt, vanadium, copper, zinc, nickel, gold and platinum group of elements.
Key project areas in Western Australia include:
- Pincher Well Zinc-Copper Project (Youanmi): Over 5 km of under explored VMS trend with an Exploration Target of 15-20 Million Tonnes@ 2-8% Zinc,which also hosts a number of high grade lodes (>10% Zinc).
- Currans Well Cobalt-Nickel-Copper Project (Youanmi): Significant Cobalt mineralisation up to 1483 ppm Co in historical drilling. Extensive Lateritic Duricrust Co-Ni target areas identified.
- Curara Well Nickel-Copper-Gold Project (Doolgunna):10 km northeast of Sandfire Resources DeGrussa Copper Mine. Wide intercepts of disseminated Nickel Sulphides (Millerites) in Ultramafics.
- Southern Cross Vanadium Project (Youanmi): JORC 2012 Inferred Vanadium Mineral Resource of 167.7 Millions Tonnes @ 0.41% V2O5, 7.52% TiO2.
- Strategic Lithium-Tantalum Projects in WA.

Matthew Hogan
Non-Executive Chairman
T: +61-8-9321-7541

Kumar Arunachalam
Chief Executive Officer
T: +61-8-9321-7541
Fax: +61-8-9486-9587
E: info@venusmetals.com.au
Related CompaniesVenus Metals Corporation Limited