loading.........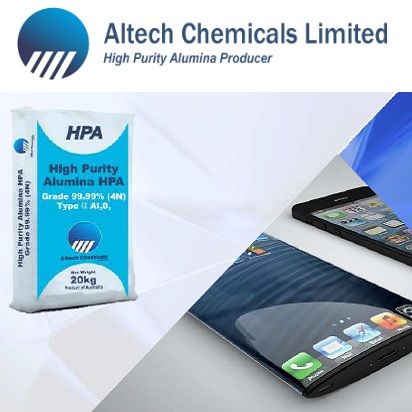 Perth, Oct 30, 2017 AEST (ABN Newswire) - Altech Chemicals Ltd (

ASX:ATC
) has announced the results of a Final Investment Decision Study (FIDS) for the development of a 4,500-tpa, High Purity Alumina (HPA) operation. This preceded the company's announcement of a successful AU$17 million capital-raising. Highlights of both announcements include the following.
- An increase in annual HPA production to 4,500 tpa (previously 4,000 tpa).
- Pre-tax NPV US$505 million (7.5% discount rate).
- Internal rate of return - 22%.
- Capital cost - US$298 million.
- Total target debt by KfW IPEX-Bank - US$185 million.
- Target date for export credit cover approval - 14 December 2017.
- Successful AU$17 million capital-raising at $0.14 per share.
Analyst comment: while the FIDS threw up a number of surprises, the underlying message - that Altech is on track to become one of the lowest-cost (Opex US$9.90/kg versus HPA spot US$35-40/kg), fully integrated HPA producers using kaolin as the feedstock - should not be forgotten.
The most notable change in the FIDS compared to previous studies was the increase in capital costs, which surpassed our expectations (US$298 million compared to TSI's estimate of US$85 million). That said, the increase in capital costs is accompanied by a significant increase in the targeted debt facility to US$185 million, which is in the final stages of approval process (expected date of approval - 14 December 2017).
Capital costs aside, the FIDS highlighted numerous positives, potentially the most significant being a number of assurances regarding the project's development from EPC contractor SMS Group. Firstly, the construction of the facility will be a fixed-price, lump-sum EPC contract, meaning SMS Group rather than Altech will cover any over-run in costs. Secondly, and more importantly, SMS Group will provide a throughput and process/quality guarantee. This unexpected assurance from SMS Group represents a massive vote of confidence, especially since Altech's is the first commercial HPA project of its type. Finally, SMS Group has contributed AU$5 million of the recent capital-raising, further emphasising its long-term support of Altech and belief in the project's potential.
Valuation: we have decreased our valuation for Altech to $0.43 /share (previously $0.55/share). The valuation comes with an additional 40% risk weighting (unrisked valuation $0.64/share). As development milestones are reached, we will reduce our risk weighting (the initial consideration being debt financing, which could be eliminated before year's end).
While our project NPV remains similar, our valuation on a per-share basis is reduced due to a forecasted increase in dilution (TSI assumption). The price of the future capital-raising, which at this stage remains unknown (TSI estimate - $0.14/share), will also influence our valuation. Moreover, when project financing concludes the additional risk weighting (5% debt and 20% equity) will be removed.
Publisher's note
TSI will only initiate coverage of a company that passes our internal investment checklist. Once a company has passed this checklist, we will initiate coverage of that company and follow up with ongoing updates and commentary on its activities. Articles and videos produced and published by TSI are NOT Research Reports in terms of ASIC Regulatory Guide 79.
To view the video, please visit:
http://www.abnnewswire.net/press/en/90622/ATC
About Altech Chemicals Ltd

Altech Chemicals Limited (ASX:ATC) (FRA:A3Y) is aiming to become one of the world's leading suppliers of 99.99% (4N) high purity alumina (HPA) (Al2O3).
HPA is a high-value, high margin and highly demanded product as it is the critical ingredient required for the production of synthetic sapphire. Synthetic sapphire is used in the manufacture of substrates for LED lights, semiconductor wafers used in the electronics industry, and scratch-resistant sapphire glass used for wristwatch faces, optical windows and smartphone components. There is no substitute for HPA in the manufacture of synthetic sapphire.
Global HPA demand is approximately 25,315tpa (2016) and demand is growing at a compound annual growth rate (CAGR) of 16.7% (2016-2024), primarily driven by the growth in worldwide adoption of LEDs. As an energy efficient, longer lasting and lower operating cost form of lighting, LED lighting is replacing the traditional incandescent bulbs.
About The Sophisticated Investor

The Sophisticated Investor is a new equity investment tool which seeks to assist investors in becoming more informed in their investment decision making. We show and tell investors about a company in a series of short, informative videos. We possess specialist equity analyst skills and are complemented by video professionals. We conduct site visits and interview management, in a way most investors simply aren't able to access. We promote long term value creation for investors by employing detailed financial analysis and intrinsic value calculations.
Adam Kiley
Director
TSI Capital Pty Ltd
M: +61 404 945 234
adam.kiley@tsicapital.com.au
www.thesophisticatedinvestor.com.au
Related CompaniesThe Sophisticated Investor
Altech Chemicals Ltd